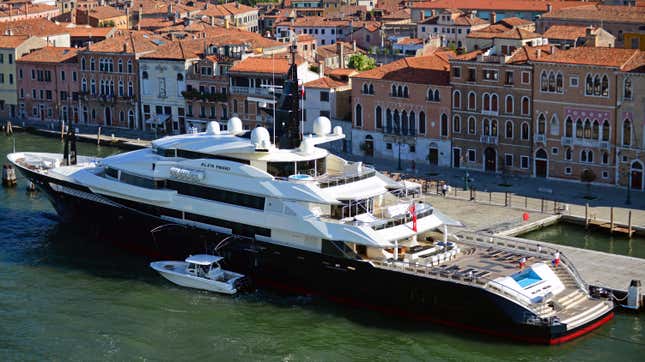 If you've got some deep pockets and a yearning for a superyacht, you may want to head to the island nation of Antigua and Barbuda in the Caribbean. Bloomberg reports that a 267-foot superyacht has been abandoned at a dock in the island nation. It's racking up dock fees and the government says if it isn't claimed soon, it's going to auction the ship.
For the last 18 months, the Alfa Nero has sat moored in Falmouth Harbour, but, this week, an Antiguan official said that whoever owns the yacht is running out of time to claim it. If no one does by Friday, it's going up for sale, the official told Bloomberg.
Like other superyachts around the world that have been seized in the wake of the Russian invasion of Ukraine, it's been racking up fees. The government has been footing the bill for everything from food for the crew to fuel, totaling more than half a million dollars. While it's sat, mystery has surrounded the Alfa Nero, as no one seems to know who the yacht belongs to.

In a release by the Antigua and Barbuda government, Russian billionaire Andrey Guryev is purportedly listed as the yacht's owner. But according to his lawyers in London, the yacht doesn't belong to him. From Bloomberg:

"As we have informed the Antiguan authorities Mr. Guryev neither owns nor controls the Alfa Nero and has simply used the vessel from time to time under commercial charter since 2014," his legal representative wrote in reply to questions from Bloomberg.
If it does belong to Guryev, it would make sense that he would deny ownership. Like other Russian oligarchs, Guryev has been facing sanctions since the start of the Russian invasion. But with a net worth of over $10 billion, he's one of the few Russian billionaires that hasn't taken a huge financial hit due to the invasion.

Whoever owns the Alfa Nero better act fast. Otherwise, this could be someone's chance to snag a deal on a yacht that has a helipad that doubles as an infinity pool and a hair salon. So if you're the yacht's owner and you're reading this, you might want to book a flight to the Caribbean ASAP.