---
1st Gear: GM Vice Chairman and Chief Financial Officer Chris Liddell today announced that he will leave the company April 1, 2011 after just over a year with the just-emerged-from-bankruptcy-and-IPO'ed automaker. He'll be succeeded by Dan Ammann, 38, who's currently a GM vice president, finance and treasurer. Before coming to GM, the native of New Zealand worked for Morgan Stanley for 11 years. Sorry, hold on a second... wow, we just realized he's a 30-something becoming the CFO of the world's largest automaker? Jeez, what the hell have I done with my life.
---
2nd Gear: Could modern cars operating with the help of internal computers be vulnerable to hackers? Could someone tamper with your software-controlled brakes or stop the engine from afar? Not really, or, at least not easily. Why not? Nefarious no-goodniks can already steal your car with a smart key. And don't even get us started on road signs.
G/O Media may get a commission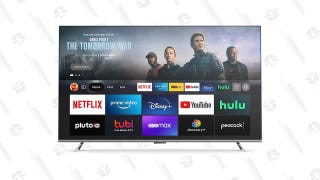 Save 46%
Fire TV 55" Omni Series 4K UHD Smart TV
---
3rd Gear: At 1.5 tons, this life-size model of the Chevrolet Orlando weighs just 369lbs less than the real thing. There's no driving this car, though. Built over two weeks by a team of eight sculptors, the car is parked on a London street as a publicity stunt. Just don't let any Kindergarten classes walk by. They might try to eat it. Or wait, was that paste? Hmm, I just remember paint chips.
---
4th Gear: The spike in the price of an oil barrel has been caused by "market pricing and risk premium on the future oil supply," not a lack of supply, Rex Tillerson, CEO and chairman of Exxon Mobil, told CNBC Wednesday. And by "market pricing," I think he means "market speculation." Well, whatever the reason, we're just glad we ran our how to save money on gas special yesterday.
---
5th Gear: Goodyear CEO Richard Kramer saw his compensation rise 69% to $8.5 million in 2010, up from $5 million in 2009. That's especially surprising considering the Akron, Ohio-based tiremaker lost $216 million in 2010 and closed a plant in Tennessee that employed nearly 2,000 workers. Guess reality is not always where the rubber meets the road.
---
6th Gear: Volkswagen's expected to confirm a full assault on the World Rally Championship before the end of this month, according to Autocar's sources. The German manufacturer, which has been linked to a WRC campaign since the series confirmed its new 1600cc-based regulations, is being tipped to announce its programme at a party on 22 March that will celebrate its Dakar rally raid success.
---
Reverse:
⏎ Cars.com released a free Android app. We have no idea what that means. [PR Newswire]
⏎ Ford and the U.S. are still in talks over the F-150 airbag recall. [Detroit News]
⏎ There's a 'Vette rebound! [Automotive News]
⏎ Ford Falcon set to get new Territory's electric-assist steering. [GoAuto]
⏎ 2011 Chrysler 200 falls short. [Detroit News]
⏎ The Lamborghini Aventador will have a similar production run size as the old Murcielago — about 4000 units. [Autocar]
⏎ Just give the Volt time and critics will warm up to it. [Detroit News]
⏎ To the guy who was formerly employed by New Media Strategies to tweet for Chrysler: Sorry we got you fired! [Automotive News]
---
Today in Automotive History:
Robert Kearns, who patented a design for a type of windshield wiper and later won multi-million dollar judgments against Chrysler and Ford for using his concept without permission, is born on March 10, 1927, in Gary, Indiana. [History]
Show us your tips!
Got tips for our editors? Want to anonymously dish some dirt on a competitor? Know something about a secret car? Email us at tips@jalopnik.com.
Lost in our new layout?
Click here for the Opposite Lock or Tips forums. Want a more "blog-like" look? Click the button up top next to "Top Stories."
Get more Jalopnik!
Want even more Jalopnik? Want to know which of your friends read us? "Like" us on Facebook and follow us on Twitter.