Today at the Los Angeles Auto Show, Audi showed off a big, sleek coupe called the Audi Prologue that will be the source of all their future designs. But as good as the Prologue looks, the real story might just be inside. What does that concept say about the future of car interiors?
Screens! Screens everywhere. That's what you get inside the Audi Prologue. On the dashboard display, to the left of the driver, in front of the gearshift, in the center of the dash, and on the right-hand side in front of the passenger. It's definitely clean and attractive, but does it spell the end for buttons?
Concept cars often come with crazy and unrealistic interiors that seem made more to show off a designer's imagination than anything else. It's rare for some of them to preview an actual production car, especially on something as theoretical as the Audi Prologue.
G/O Media may get a commission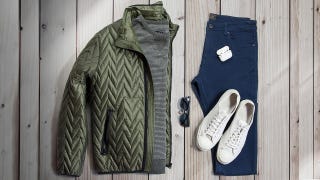 60% off
Jachs NY Fall Sale 60% Off
But I'm not sure that's the case here. I think the Prologue's interior may really be a prologue (sorry, I couldn't help myself) of things to come, whether it's from Audi or another automaker.
After all, screens have become mainstays in cars over the last five years or so. It's hard to find a new car at any price without a center display — even something as humble as a Ford Fiesta comes with a 6.5-inch touch screen standard. Digital dash displays are increasingly common, and some of them are actually pretty excellent. So why stop there?
A beefy German fellow standing next to the Prologue explained that it was "not possible" for me to sit in the car and play with the system, but he did let me take photos. Inside you can see a 3D map of Los Angeles in the display above the steering wheel, album art circling through the central display, climate information in front of that gearshift, more audio controls in front of whoever's riding shotgun, and another display that operates lighting and other assistance systems for the driver.
Basically, every control on this car — save for a few buttons on the steering wheel, which I would be thankful for if I was driving this thing — has been replaced by a touch screen.
To me, it just doesn't seem that unrealistic. It seems entirely plausible, if only for premium, higher-end cars at first. Increasingly, car interiors feel like they're trying to imitate the functionality and design of your smartphone; how many of those have buttons anymore?
Granted, this isn't anything new from a design perspective. Besides the aforementioned digital instrument clusters, remember the fourth-generation Honda Prelude, the one that had readouts that wrapped around the entire dashboard? Automakers have been experimenting with new ways to utilize interior real estate for a long time. Having more screens — especially ones easily accessible by passengers — seems like a reasonable next step from what we have today.
At the same time, this interior directly contradicts what we've seen from Audi themselves on current cars. Much has been made of their Virtual Cockpit on the 2015 Audi TT, which has a single large screen on the instrument cluster directly in front of the driver. If your passenger wants to tweak the music or use the navigation system while you're driving, well, they're just going to have to lean over. It's the only screen on that car.
You don't have to do that here. Audi says the passenger can dial in an address to the nav system using the screen on their side, and then send it over to the driver using a swiping motion. I have to admit that that's pretty useful.
So it's interesting to see Audi go in completely the opposite direction with the concept car they say is their future. From their own news release on the Prologue, emphasis mine:
The interior marks the beginning of a new design era at Audi, in which the architecture merges with the operating concept to form one unit. The surfaces for displays and controls are innovatively integrated into the instrument panel and console of the center tunnel, and the infotainment system brings driver and passenger into dialog with one another.
I take that to mean that Audi, and possibly other carmakers, will stop thinking of screens and multimedia systems as separate units tacked onto the dashboard. They could be much more integrated to the actual design of the interior, rather than afterthoughts.
I think it's also a good indication that screens aren't going anywhere in cars — very much the opposite, in fact. We're probably going to be seeing more and more of them in the future. My hope is that they're as artfully done as on this Audi concept, because it's actually pretty clean and attractive inside — much like the rest of the car.