Tesla's tax credit time is up, oil production is at all time highs, BMW isn't confident about next year, and an auto supplier founder is suing his daughter over the family fortune. All of this and more in The Morning Shift for Friday, Oct. 12, 2018.

First Gear: Time Is Running Out For Tesla Tax Credits
As Tesla has become ever more popular, and its production capabilities have started to catch up to demand, it was only a matter of time before it would hit the government's 200,000 vehicle cap on the $7,500 federal tax cut for electric vehicles. Form Reuters:
Electric carmaker Tesla Inc said orders for cars placed by Oct. 15 will be eligible for a full federal tax credit of $7,500 and these customers will get their cars delivered by the end of the year.

[...]

Buyers of electric cars get full tax credit for the quarter in which the company hits the 200,000 delivery mark and the next, according to Internal Revenue Service regulation.

This means Tesla has until the end of the year to hand out full tax credits, which could invite a further rush of orders and hit the company's already strained production and delivery chain

The 200,000 cap is only for a single automaker, so the federal tax credit still applies to other EVs on sale that haven't yet crossed the threshold into that cold, dark beyond that is a heftier price tag. Reuters points out Tesla losing the full federal credit makes upcoming competition from BMW, Mercedes and Audi even stronger.
It should be interesting to see how this impacts Tesla next year, as it can no longer ride on the promise of a full major federal discount in trying to sway people away from the bigger traditional automakers. While it may not matter as much to somebody buying a more expensive Tesla Model S or Tesla Model X, it could hit the less expensive Model 3 shoppers a lot harder as they won't be able to benefit on the less expensive $35,000 trim, which isn't even in production yet.
G/O Media may get a commission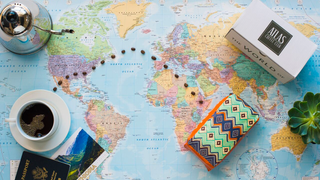 First Bag Free
Atlas Coffee Club - Free Coffee
Explore global coffee
With each bag, Atlas includes details on the coffee's tasting notes and a postcard about the region and its coffee history. And when you subscribe, you have options to tailor frequency, grind size, and roast preference of your beans, so you'll always be brewing the perfect cup.
The way the tax credit is set up, however, means it's reduced in value by 50 percent every six months after crossing the 200,000 cap until it's phased out for good, which means there should still be a pretty good federal discount of $3,750 for the next few months, not to mention individual state incentives.
Second Gear: Oil Use Is at an All Time High
Even though the Europe, China and the U.S. (sort of) are pushing to move to alternative energy production and new forms of transportation, that didn't stop demand in developing areas of the world from boosting oil production to a new record, Bloomberg reports.
Global supply rose to 100.3 million barrels a day in the third quarter, the International Energy Agency said Friday in its monthly oil market report. Output, which includes crude oil, natural gas liquids, biofuels and refinery processing gains, was 2.3 million barrels above the same period last year and 1.3 million barrels a day higher than the second quarter.

[...]

The output increase from the second quarter was led by OPEC, which boosted production by 500,000 barrels a day, and the Americas, which saw a rise of 400,000 barrels a day. Biofuel production also increased by 300,000 barrels a day from the previous quarter, according to the report.
If you're like me and still thinking about that report from earlier this week that detailed how the world will essentially turn to total shit by 2040 unless we dramatically transform the global economy and our current forms of energy use, this news is like an oily little cherry on top of a sundae of death!
The International Energy Agency also predicts the global supply of oil will rise even higher to 102 million barrels a day, so it isn't going to get better anytime soon.
Third Gear: BMW Claims U.S. and China Tariffs Will Ruin 2019
BMW has already predicted its profits will fall short of expectations this year in the wake of tariffs between the U.S. and China and it's only going to get worse in 2019, Reuters reports.
German carmaker BMW (BMWG.DE) expects a hit to earnings of up to half a billion euros ($579 million) next year if tariffs between the United States and China remain in place, Chief Financial Officer Nicolas Peter told Automobilwoche magazine.

Tariffs between the United States and China have knocked exports of sport-utility vehicles from its U.S. plant in Spartanburg, South Carolina, to China, resulting in a hit to earnings of just below 300 million euros, Peter said, according to an extract of an article due to be published on Oct. 13.
Even if we're pretending U.S. tariffs on Chinese goods were meant to protect American consumers and workers, Chinese tariffs on U.S. made goods are going to have just as much impact. What do we think is going to happen to U.S. workers if BMW tries to cut costs in its Spartanburg plant?
Fourth Gear: When Families Fued Over a Billion Dollar Auto Parts Fortune
The founder of major Canadian automotive supplier Magna International, Frank Stronach, has sued his daughter and a few others for $400 million over accusations of mismanaging the family fortune, Bloomberg reports:
The Stronachs "regret having to commence proceedings in the Ontario Superior Court against their daughter Belinda, Alon Ossip and others," the couple said in a statement issued by their law firms. "They only did so as a last resort, after having made considerable efforts over a period of almost two years to resolve the matters at issue on a consensual basis."

According to the Toronto Star, the Stronachs are accusing their daughter and Ossip of "having undertaken a series of covert and unlawful actions" contrary to the best interests of other family members. Other accusations include allegations of breach of contract, fraudulent concealment and unjust enrichment, the Star said.
Bloomberg projects that Stronach is worth at least $1.9 billion, so you'd think there's plenty of money to go around. But that's not exactly how billionaires tend to think.

A spokesperson for the daughter, Ossip, claimed she has always acted in the family's best interest, and it's Frank Stronach's "recent excessive spending and numerous failed ventures" that put the family fortune at risk.
Nothing has yet been proven in court, but the family appears to be going through the whole process, at least for now. This will get messy.

Fifth Gear: China Is Bracing For Growth Decline With Proposal to Reduce Taxes on Cars
As we reported yesterday, China is facing stalling automotive growth for the first time in decades, and now the country's major auto dealers' association is asking the government to cut taxes on car purchases to help, Reuters reports:
The China Automobile Dealers Association (CADA) submitted documents last month to the country's finance and commerce ministries proposing the 10 percent auto purchase tax be halved, two people at the industry body told Reuters.

The influential body has made proposals in previous years that have helped shape auto policy. When China last cut the purchase tax three years ago, car sales soared in the world's biggest auto market that is a key battleground for global car makers from General Motors to Toyota Motor.
Protecting the growth of its auto industry comes at a stressful time for China as it battles the U.S. over trade tariffs, and the country considers the health of its car market to be a key indicator of its economy at large.
The proposed tax cut only applies to 2.0-liter engines or smaller, which is similar to the tax cuts made a few years ago that spurred a year-over-year sales growth of 13.7 percent in 2016. The government has met with the dealer association but it isn't clear what action will be made just yet.
Some analysts claim a tax cut would only have short term impact, as it mostly just pulls shoppers potentially looking to buy a car into the dealership sooner, stealing sales from the next few years. Since it doesn't create any new demand, it won't be long until growth will stall out again.
Reverse: "USSR leads the space race" on this day in 1964.
The Soviet Union launches Voskhod 1 into orbit around Earth, with cosmonauts Vladamir Komarov, Konstantin Feoktistov, and Boris Yegorov aboard. Voskhod 1 was the first spacecraft to carry a multi-person crew, and the two-day mission was also the first flight performed without space suits.

Via History.com.
Neutral: Is Tesla Losing Its Tax Credit Such a Big Deal?
On the one hand, it seems like anyone who wants to buy a Tesla is going to do it regardless, on the other hand, no one should be comfortable losing $7,500. Will sales slip or will we all just move on?