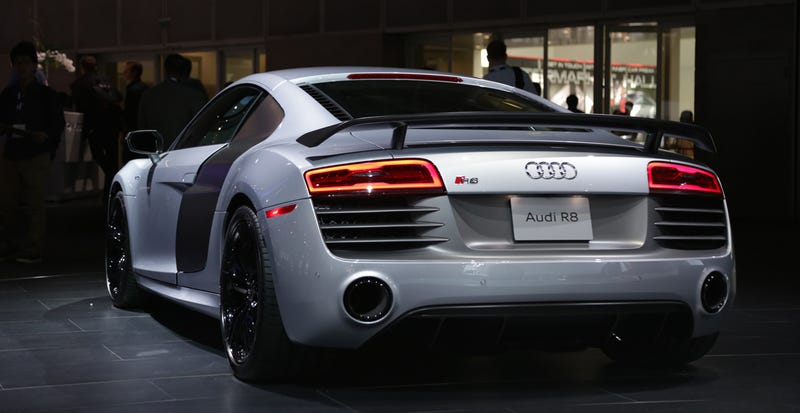 FACT: You can't spell "badass" without "R8." (Wait, you can. Shit. Never mind.) But maybe the 570 horsepower Audi R8 Competition is so badass that it bends rules like spelling or logic. Want one? Better act fast because they're only making 60 of them.
While most eyes were on the Audi Prologue Concept today, the brand wanted to show everyone that the R8 has aged like a fine wine, or maybe even scotch, and that while it's getting on in years and due for a Lamborghini Huracan-based replacement it can still party hard.
The Audi R8 Competition is the baddest R8 ever. It's up to 570 horses now, 20 more than the V10 Plus, and does zero to 60 mph in just 3.2 seconds. Audi likes to brag that it's the same engine as their R8 LMS car.
Carbon brakes are standard, but the only gearbox is the seven-speed paddle-shift S tronic. Not a bad thing at all. Other touches include a matte black carbon fiber wing, side blades and other aero parts.
And like I mentioned before, just 60 are coming to the U.S. market, so act now if you want one. I'm buying four, personally.