If you somehow need more evidence that car sideshows — the act of stopping traffic on the highway so you and your buddies can do donuts or burnouts — are supremely idiotic, then look no further.
KGO-TV reports that a two-year-old boy is recovering from neck surgery that occurred earlier this week after he was injured in a car crash during a California sideshow in late March. The boy, Corey Abrams, had disc fusion surgery on Wednesday.
The TV station reports that Corey was injured when a big rig crashed into the back of a car driven by his mother on Interstate 880 in San Leandro on March 20. Traffic came to a halt so at least one driver could do donuts, but the big rig could not stop in time and hit the family's car.
Some Good Samaritans helped them climb out of the wrecked car, and Corey was rushed to the hospital. He will have to stay at the hospital until he can walk on his own and will likely wear a back brace for three months.
G/O Media may get a commission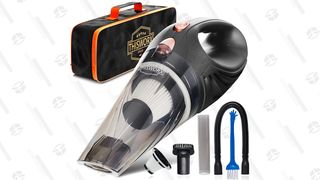 Save 50%
ThisWorx Car Vacuum Cleaner
The report says police have not identified the driver involved in the sideshow. I'm guessing it was more than one person involved, since it takes more than just one person to stop highway traffic.
We've seen a resurgence of these in recent months, including a sideshow in Oakland that drew the ire of both the cops and 4chan.
Hey, assholes: Corey's family will no doubt be loaded down with medical bills and he may suffer from his injuries for a long time. But it's all fine since you and your friends got to do donuts, right?
There are no words.
Photos credit KGO-TV
Hat tip to Brian