Today''s Nice Price or Crack Pipe Fiero has a full convertible top, but it's down below where the car needs attention, as its brakes are locked up, and its interior was the scene of a death. Will that all put the brakes on any interest in its price? You decide.
Alas poor Fiero, I knew you well. Pontiac's plastic fantastic never gained the sort of respect that, upon reflection, it was so dearly owed. These little two-seaters were snake-bit from the get-go, being forced to hide their true sports car nature under the cloak of commuter car econoboxiness so as not to threaten the Corvette dynasty and upset the GM apple cart.
That positioning led to the car being saddled with the iron puke as a base engine, a 2.5-litre four derived from the marque's 301 V8 and so rough and dull it's generally considered to be the government cheese of fours. Chevy's 2.8-litre V6 improved the outlook in the engine bay, but the taint of the puke remained for those without the wherewithal to check the correct option boxes.
It took Pontiac four years to unleash the Fiero's true nature, and as you would expect considering the car's history, that was only so that GM could rudely cancel the car, cruelly snatching defeat from the jaws of victory. Screw you GM, you always do that. Also, your ignition switches suck.
G/O Media may get a commission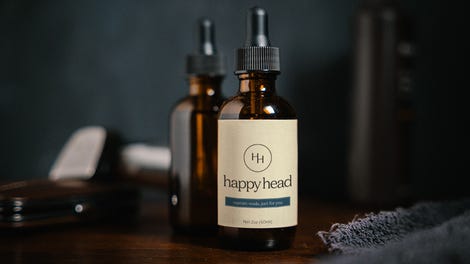 Like any underdog however, the Fiero has its supporters, especially among its very enthusiastic owner base. What GM thwarted, many current owners have taken upon themselves to realize, whether it be bigger motors, better suspensions, or, in the case of this 1986 golden oldie, a full convertible top conversion. These are not as rare as you might think.
This 2M6 (2-seats, mid-engine, 6-cylinders) looks otherwise stock, right down to the paint and its alloy wheels. Now, you might notice that the car is sitting on a trailer, and that's because it has suffered (it's a Fiero after all) some mechanical ignominy.
The seller notes that the fuel pump had failed, and that the additional bracing for the soft top frustratingly prevented removal of the fuel tank for its replacement. Apparently that has been rectified - both pump and bracing for future access - and now the 125-horse six gets its fuel on. Backing up that engine is a 4-speed automatic to add just one more element to the Fiero's tragedy.
Those aren't the only problems however, on this 79K-mile car. The front brakes are seemingly toast, although the seller says he has stock parts for their repair. He also has some fancy-pants units that he'll throw in to the deal... at a cost.
The ickiest issue with the car is the fact that there was a death inside. Disney may be the House of Mouse, but this Fiero apparently was Mickey's ride, and the mouse that using it as a car pool took leave of its corporeal bonds in the dash behind the glovebox. That's gotta' smell nice. The seller says that the car will likely need a new glovebox, carpet and maybe seats. Oh, and I'd also recommend a shit-load of those little green rear-view mirror trees.
Okay, so the ad doesn't paint that pretty of a picture for this car, but the fact of the matter is that it's far from long-gone. In fact, a weekend's work would probably fix all that's wrong with it mechanically, and that interior could be the temporary recipient of some floor mats, seat covers, and a gallon of Febreze. That's conjecture of course, and the question is; do you think that, as it sits, this project Fiero is worth $2,800?
That's the asking, and I now want your opinion on whether you think that to be a deal, or if that price is just another instance of a Fiero getting no respect.
You decide!
Dayton Craigslist, or go here if the ad disappears.
H/T to Peter Hess for the hookup!
Help me out with NPOCP. Click here to send a me a fixed-price tip, and remember to include your Kinja handle.