The Toyota 2000GT is an absolutely stunning car. They only made 351 of these (only 62 LHD) long, lithe lovelies, but this was the first car that proved Japan could compete with almost anyone when it comes to making advanced, fast, beautiful cars. And now that one's sold for $1,155,000, there's even less chance broke-ass schmucks like me will ever get one.
01:08
Danny DeVito Explains Old-School Car Customizing to His Daughter Lucy
Today 1:13PM
What's especially striking is that this million-plus 1967 Toyota is the same car that as recently as 2010 was selling for about $375,000. At that time, the car was sold to the Don Davis Collection, who, in the intervening years did a bit of freshening up:
... but during its time in the Davis Collection, it has undergone significant work to improve the restoration's authenticity, including painting the inside of the headlamp buckets black, applying the correct grey finish around the side window surrounds, finishing the wheels the correct color, and taking the Toyota down to bare metal and respraying the body its original Bendix Yellow.
So, if you think about it, that would make what amounts to a nice paint job worth around $775,000. I don't think it was just the paint that accounts for the dramatic increase in price.
These have traditionally been somewhat under appreciated exotics, their value for many years remaining low, crushed under the weight of old-school brand/nationalistic snobbery. It looks like those old attitudes are changing, and changing pretty dramatically.
G/O Media may get a commission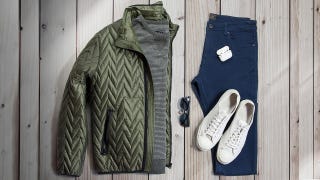 60% off
Jachs NY Fall Sale 60% Off
So, for those of us enamored with the E-Type-through-a-Japanese-lens look of the 2000GT, this is bittersweet, as it's a justification of the value of the car, and another leap out of reach of the car to most people. Of course, it was pretty out of reach to begin with. Luckily, the 2000GT had a little brother that has a the same charm, and a similar look, even if it lacked four of the big brother's cylinders: the Toyota Sports 800, still often attainable for around $15,000 or so.
Better snap them up now, before I'm writing another article about how I can't afford Sports 800s, either.
(Photo Credit: RM Auctions)