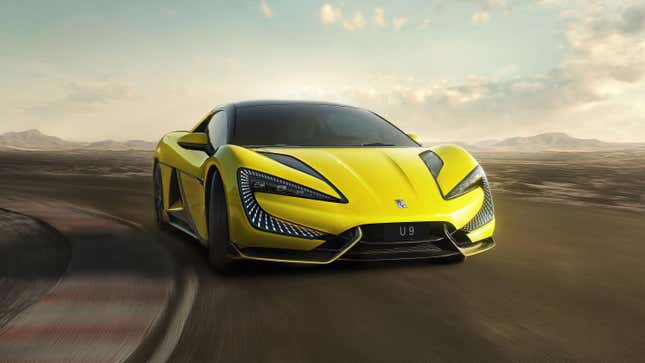 Now that BYD is ostensibly the largest EV maker in the world, the company is entering the luxury segment with the debut of Yangwang. The new BYD sub-brand is meant to compete with European luxury marques like Audi, BMW and Mercedes-Benz, according to the Financial Times. And it could do so beyond China by exporting fully-electric SUVs and supercars like the Yangwang U8 and Yangwang U9.
BYD teased the new brand last year, and the Chinese auotmaker was expected to debut it with the first model, a fully-electric SUV called the Yangwang U8. The off-roader looks like a Land Rover Defender, which makes sense given the plan to draw in luxury car buyers. But BYD also unveiled a fully-electric supercar called the Yangwang U9, which can reportedly go from 0-60 miles per hour in two seconds. The radical design makes it look like a render or design study, but Car News China says BYD chairman Wang Chuanfu rolled the car out in person at the brand's debut:
That's no guarantee the EV will make it to production — let alone export — but BYD claims both the Yangwang U8 and U9 are, indeed, on the way and will allegedly "reshape the contours of the global luxury car market." The Yangwang U8 could be released first, and the U9 later. Both will start at about ¥1 million, or just over $146,000 at current exchange rates.
The two EVs will use BYD's "Yisifang" platform, which gives the U8 and U9 similar capabilities. The EV platform uses four electric motors, one to power each wheel. There's no word on range, but the Yangwang EVs will use bladed batteries (the same ones BYD sells to Tesla in China) and their components will be IP68-rated; the FT even says the cars will be able to float on water.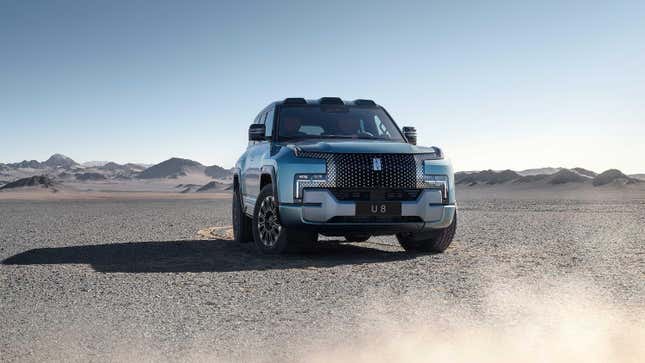 Each electric motor will reportedly make between 295 and 322 horsepower, which would easily make over 1,000 horsepower in total. Torque is claimed to be somewhere between 236 lb-ft and 310 lb-ft per motor. The ridiculous power isn't the only benefit of the four motors, however, since the EV's will also be able to drive a single wheel and modulate traction electronically, allowing them to spin in a circle while in place.

I'll believe it when I see it. Or when I can get dizzy on the roof of a Yangwang U9 as it turns like a tank on tracks. BYD is apparently loading up its new EVs to take on Europe's best. Not long ago, it would've been hard to believe a new EV brand from the relatively young BYD could pose any challenge to established auto makers, but Tesla itself proved that luxury brands have a lot to lose by outselling them in their own segment — panel gaps and all. If Yangwang can avoid shoddy assembly, maybe European automakers are right to be concerned.