For the past 17 years, the Ford-backed M-Sport World Rally Championship team has kept a fleet of Volvo S60s for crushing the toughest roads of the WRC. Now they're all for sale.
These are recce cars. The way that a stage rally works is that you're driving flat out on sections of closed public roads for mile after mile, then driving there and back and open public roads. It's racing, yes, but it's also a lot of navigating.
For navigating you need directions, and in the WRC you have to write your own, making two passes down each stage with the driver calling out how sharp each turn is, along with other bits of information you'd want to keep in mind. Don't cut this turn, for instance, because there's a giant rock hidden in the grass. Watch out for this bump right in the braking zone for this hairpin. On and on, for a whole day.
G/O Media may get a commission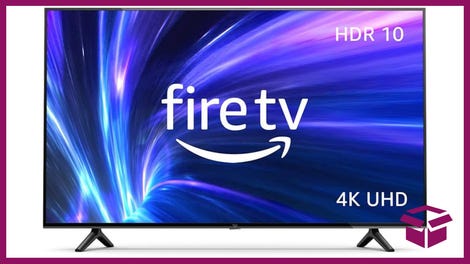 42% Off
Amazon Fire TV 50" 4K Smart TV
These directions are called "pacenotes," and the process is called "recce." It takes a full day before the flat-out driving of the rally begins in earnest.
On recce, none of the special stages are closed, so you go out not in your full-blown rally car but in a simpler, sturdier recce car. You don't need to go flat out, but you do want something that can handle all of the stage's rough roads at decent speed, while remaining reliable and comfortable.
For the job, M-Sport got a fleet of all-wheel drive Volvo S60s, a relic of the days when Volvo was part of Ford's Premier Auto Group, or Premium Auto Group, or whatever Ford called its bunch of Jaguar, Land Rover, Volvo, Aston Martin and probably something else I'm forgetting about but can't bring myself to Google.
These S60s have remained total tanks, in service for nearly the whole of the 21st century thus far. But apparently M-Sport is moving on. Top driver Sebastien Ogier has been using a Ford Focus RS as of late:
And other drivers have been making do with Ford Kugas:
So the S60s are finally getting retired. And these cars are in awesome spec. Caged, seam-welded, and they have the best rally suspension in the world. Here's the full (brief) sales listing on RallyCarsForSale:
M-Sport Ltd are pleased to offer For Sale a number of our iconic Volvo S60 Recce Car Fleet.

We have a number of cars available, varying in age, spec and condition.

These bullet proof fully prepared cars have been ran on WRC since 2001.

The majority of the cars are seam welded, with weld in cages and Reiger dampers.

Comprehensive spares packages also available.

Please contact us for further information.

The cars do kind of speak for themselves. They're for sale in the U.K., but I would buy these in a heartbeat if I had the scratch. Unbelievably cool.