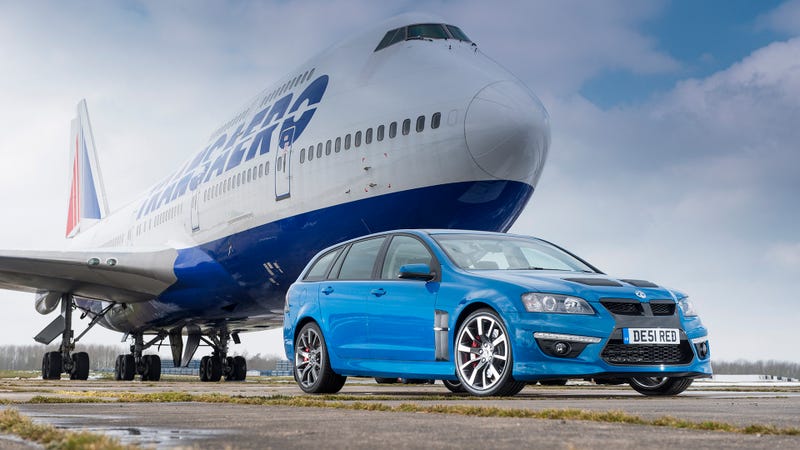 Since Cadillac is reportedly killing off its short-lived CTS-V Sport Wagon, if you want a really badass car with this body style in the US, you have to go for the awesome yet rather expensive Mercedes-Benz E63 AMG Wagon. Meanwhile in Great Britain, Vauxhall is giving people the new version of the VXR8 Tourer, a car that was clearly not designed with European fuel prices in mind.
Powered by the naturally aspirated LS3 6.2-liter V8 from the previous C6 Corvette or the current Camaro SS, this beast has 431 horsepower linked to a MM10 six-speed manual gearbox with uprated LS7 clutch or a six-speed automatic, each sending power through a mechanical limited slip differential to the rear wheels. There's launch control for less wheel-spin while the suspension has MacPherson struts/progressive rate coils at the front and a multi-link independent set-up at the rear so the VXR8 can get around a corner as well.
The British also get a lot of space for their £49,500 ($75,370), as this Australian machine has 31.6 cubic feet cargo space which can be increased to 70.6 with the rear seats folded down. That's great, because the VXR8 will also take your stuff to 62mph in 4.9 seconds, and keep going all the way up to 155 mph.
Full leather trim is standard just like the 20-inch alloys, the metallic paint, a two-tone exhaust, iPod support and Bluetooth with a 5-inch touch-screen that can even tell you the angle of your last drift. That's just bonkers, but that's how we like it.