Good morning! Welcome to The Morning Shift, your roundup of the auto news you crave, all in one place every weekday morning. Here are the important stories you need to know.
1st Gear: Another Attempt To Get California To Back Down
The Trump administration wants looser fuel-economy regulations. California, more than a dozen other states and even some major automakers do not, which could lead to an ugly legal battle if it keeps going the way it is. Now, Bloomberg reports that President Donald Trump has a new approach to take on California.
That approach, according to Bloomberg, has been rejected by federal courts twice already. From the story:
Federal regulators are drafting a proposal that takes aim at California's cherished authority to set its own smog-busting rules. A leaked draft of the plan that is being finalized for submission to the White House shows that it wouldn't outright revoke the state's ability to set pollution standards, but it asserts that a 1975 law prohibits states from setting their own limits on greenhouse gas emissions. [...]

Similar arguments were made by carmakers during the George W. Bush administration, but were rejected by federal judges in California and Vermont in 2007. Those rulings, plus a landmark Supreme Courtdecision that year that concluded the EPA could regulate carbon dioxide emissions, pose legal obstacles for the Trump administration, Carlson said.
G/O Media may get a commission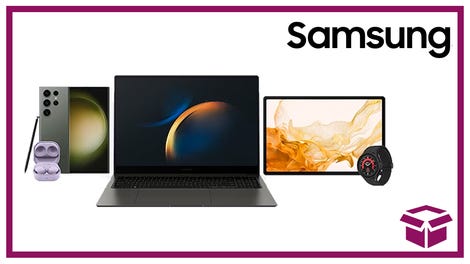 24 hour deals
Discover Samsung - Daily Deal
The fight between California and the Trump administration is long and ongoing, with California supporting tighter fuel-economy standards and Trump wanting to loosen them. The Obama administration locked carmakers into a standard of 54 MPG for light-duty vehicles by 2025, something that Trump has considered undoing since 2016. The administration has also considered freezing standards through 2026, according to reports.
Even though the strategy the Trump administration wants to use has failed twice, those polled by Bloomberg on it seem split on what could happen:
"It strikes me as an extraordinarily weak legal argument," said Ann Carlson, a University of California Los Angeles law professor. [...]

Other legal experts downplay the significance of those apparent obstacles, in part because appellate courts have never ruled on the matter.

"I think it really is very much an open question," said said Jeff Holmstead, a former assistant EPA administrator during the Bush administration.
Major automakers with the Alliance of Automobile Manufacturer want to avoid legal battles with California and support increases in fuel-economy standards through 2025, according to CNBC.
2nd Gear: Nissan's Giving Up On Diesels In Europe

Diesels aren't doing too well in the age of electrification and emissions scandals coming to light. Heck, even a German court said diesels can be banned in cities. Nissan's the latest to put diesels on a train straight to their grave, with Reuters reporting that the company will slowly stop selling diesels in Europe.
With diesel demand dropping off and regulatory crackdowns on emissions, a Nissan spokesperson told Reuters the company will begin "a gradual withdrawal of diesel cars in Europe." Here's more, from Reuters:
"Along with other manufacturers and industry bodies we can see the progressive decline of diesel but we do not anticipate its sudden end in the short-term. At this point in time and for many customers, modern diesel engines will remain in demand and continue to be available within Nissan's powertrain offering," said the Nissan spokeswoman.

"In Europe, where our diesel sales are concentrated, our electrification push will allow us to discontinue diesel gradually from passenger cars at the time of each vehicle renewal," she added.

Data earlier this month showed a sharp drop in demand for diesel cars in Britain, which is Europe's second-largest autos market.
Reports are that more automakers are considering following Nissan, which would make sense given the demand and regulations that continue to tighten.
Is it bad that I want to make a joke about how Nissan's singing "Bye Bye Bye" instead of "It's gonna be May" right now? Is it? Am I the worst?
3rd Gear: Can Y'all Just Not
Diesel news usually comes in pairs. Or in threes. Or it's just a continuous flow of news about diesels, because a lot of automakers cheated on them.
Yeah, it's the last one. Can you automakers just, like, not cheat for one day?
Almost three years after regulators made the first bust of the global emissions scandal with Audi's sister company Volkswagen, they're still busting carmakers for trying to cheat the same thing—Audi included. Does nobody learn? Nobody?
Audi's been made to fix cheating diesels before, but German regulators claim to have potentially found some more in the A6 and A7 diesels. Reuters reports that German motor vehicle authority KBA has called Audi for a formal hearing on whether the cars have been fitted with a defeat device to cheat emissions tests.
From Reuters:
In Germany, around 30,000 vehicles diesel vehicles fitted with 6-cylinder diesel engines may have been fitted with an illegal software emissions device, German weekly magazine Spiegel reported earlier on Tuesday.

"The KBA has requested a hearing on suspicion the Audi V6TDI A6/A7 models have been fitted with an illegal defeat device," Germany's Transport Ministry confirmed in a statement. [...]

Around 60,000 vehicles world-wide have been fitted with the suspect V6TDI engines, the transport ministry said, adding that the pan-European road certification of the Audi models in question was issued in Luxemburg.
Reuters reports that Audi was not immediately available for comment, hopefully because Audi was having a real heart to heart with Volkswagen about how they all need to be better and more honest people. (Yeah, right.)
4th Gear: Elon's Really Sticking It To 'Em
After an absurd investor call where Tesla CEO Elon Musk refused to answer "boring, bonehead questions" and the announcement of an unreal timeline for launching the new Model Y, he's really sticking it to us all by buying a ton of Tesla stock. (Musk apologized for how that call went after the call cost Tesla a lot of money on the market. Shares have since gone back up.)
Musk recently said he'd "burn" people betting against Tesla, and it looks like he's doubling down on the fact that Tesla cannot lose, despite not making an annual profit in the company's 15 years and burning through money every day.
Bloomberg reports that Musk bought almost $9.9 million in Tesla stock Monday, his biggest purchase since March 2017. From the story:
Musk, 46, already was Tesla's largest shareholder, and his stake is now approaching 20 percent, according to data compiled by Bloomberg.

The purchase comes just days after Musk taunted Tesla short sellers in a series of tweets about his combative earnings call last week. [...]

Short interest in Tesla has been unrelenting, increasing by almost 400,000 shares on Thursday, the day after the conference call, and exceeding 40 million shares for the first time, according to S3 Partners LLC.

"If short-selling demand continues to grow at this pace, short sellers will feel the angst that Tesla Model 3 buyers are feeling — with demand outstripping supply," Ihor Dusaniwsky, an S3 Partners managing director, wrote in a report Friday.
Bloomberg has more on what's going on with Tesla stock lately here.
5th Gear: Please Pause To Check Your BMWs, Minis And Rolls-Royces For Fire
All of those fire emojis you've been using to caption your Ghost on Instagram were definitely a foreshadowing.
We'd now like to take a moment to ask you to casually go check your BMW, Mini and/or Rolls-Royce Motor Car for fire. Hopefully those cars are outside and not inside, to, you know, contain any potential fires. BMW is recalling a whole list of vehicles through the U.S. National Highway Traffic Safety Administration, for issues with the electric auxiliary water pump that can cause the cars to overheat to the point of actual fire.
Here's the list, to see if you're among the doomed:
BMW of North America, LLC (BMW) is recalling certain 2011-2012 BMW 550i, 550i xDrive, 550i Gran Turismo, 550i Gran Turismo xDrive, 750i, 750Li, 750i xDrive, 750Li xDrive, 760Li, X5 xDrive50i, X5 M, X6 xDrive50i, X6 M, ActiveHybrid7, MINI Cooper S Convertible, John Cooper Works (JCW) Convertible, Cooper S Countryman, Cooper S Countryman ALL4, Cooper S, JCW, Cooper S Clubman, JCW Clubman, Cooper S Roadster, JCW Roadster, Cooper S Coupe, JCW Coupe and Rolls-Royce Ghost, 2011 BMW X6 Hybrid and 2012 BMW 650i Coupe, 650i xDrive Coupe, 650i Convertible and 650i xDrive Convertible vehicles.
BMW said in the recall that depending on the model, it has some parts needed to fix the problem, but "not all parts are available at this time." Owners will get notification about the recall on June 11 and another when the parts are available, and BMW recommends that owners park the cars outside until then. (Shocker!)
Hey, now you can officially say your Ghost is "straight fire" and not have to worry about whether that sounds weird out loud or not. It's just the truth.
Reverse: The First Patent Filing For A Gas-Powered Car
George Selden filed the first patent for a gas-powered automobile on May 8, 1879, according to Yahoo. He called it a "road engine," and got royalties from the Association of Licensed Automobile Manufacturers for years because of it. The best part is, Selden never even built a car based on his original design.
The wording around "first" is important here. Because of delays in getting the patent accepted through 1985, Selden was the first to file a patent for a gas-powered automobile. Karl Benz was the first to have a patent for one granted, which happened in Germany.
Neutral: Are You Numb To Diesel News Now?
This stuff has been going on for years, with no sign of stopping. Does the diesel news start to blur together as a sign of our doomed society for you, the reader, or are you just as fired up as you were when Volkswagen first got caught?