Happy Tesla Model Y day, everybody. People don't want to buy Boeing's planes now, the weather is bad, Audi doesn't like losing, and more for The Morning Shift this Thursday, March 14, 2019.
1st Gear: It's Tesla Model Y Time
Ever since Tesla started teasing the Model S a decade ago with a concept car at the Detroit Auto Show, people have been asking whether or not the young electric automaker can pull it off. Well here we are, a few hundred thousand electric cars later, about to start asking the usual questions all over again with the reveal of the Model Y crossover later tonight.
The difference with the Model Y is that it's probably the least-niche market Tesla has ever tried to tackle, with smaller, more affordable crossovers dominating the U.S. and global markets. Consumers can't get enough of them. The question now is, can Tesla appeal to a demographic outside of its raving enthusiasts?
G/O Media may get a commission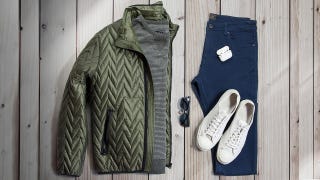 60% off
Jachs NY Fall Sale 60% Off
Here's some good thoughts from USA Today:
Tesla must deliver a functional interior and improved reliability to appeal to pragmatic, family-oriented compact SUV buyers, said Jessica Caldwell, an analyst at car-buying advice site Edmunds.
"This is not a sports-car segment," Caldwell said. "These are not young Tesla enthusiasts thinking this is my way into a Tesla. Will it have smart packaging on the interior that will actually work for families?"

Karl Brauer, executive publisher of Cox Automotive's Kelley Blue Book and Autotrader, said "the clock is ticking" for Tesla to deliver a compelling product because competitors are rapidly catching up. That makes it critical for the company to pull off the Model Y launch without a hitch.

"Every day that goes by, it's less interesting for any single (electric) SUV to hit the market than what was a day before, and that include Teslas," Brauer said.

The people who waited two years for their Model 3 deposit to materialize into a car may love the minimalist interior and giant, over-functional tablet screen slapped on the dashboard, but can something so overtly counter-culture to the products currently on sale by mainstream automakers appeal to people who don't follow Elon Musk on Twitter?
Will a broader group of people put up with calibrating their lives around charging their car instead of filling it up? Can Tesla convince people to convert to EVs with Volkswagen, GM, maybe Rivian, hot on their heels?

I'm just as tired of writing about Tesla riding the knife-edge as you probably are reading about it, but they keep barely pulling it off and pulling ahead, and you have to wonder if the day will ever come where Tesla runs out of steam.
2nd Gear: Boeing's Customers Are Rethinking Their Orders After Crashes
In news that will shock absolutely nobody, customers who put down orders for Boeing's updated 737 MAX airplanes are now questioning their decision following two fatal crashes involving the model in the last six months. Boeing faces over $600 billion in cancelled orders.
Here's more from Bloomberg:
Boeing Co.'s $600 billion-plus order book for its 737 Max began shaking after several big customers threatened to reconsider their purchases in the wake of the Ethiopian Airlines crash, the second deadly accident involving the plane since October.

VietJet Aviation JSC, which doubled its order to about $25 billion only last month, said it will decide on its future plans once the cause of the tragedy has been found. Kenya Airways Plc is reviewing proposals to buy the Max and could switch to Airbus SE's rival A320. Russia's Utair Aviation PJSC is seeking guarantees before taking delivery of the first of 30 planes.

Some companies have allegedly already decided to drop their orders of the best-selling plane in the industry, as Bloomberg reports:
That's as Indonesia's Lion Air firms up moves to drop a $22 billion order for the 737 in favor of the Airbus jet, according to a person with knowledge of the plan. Separately, Garuda Indonesia plans to cut orders of the Boeing plane and a $5.9 billion order from a unit of Saudi Arabian Airlines hangs in the balance.

I struggle to sympathize with Boeing, as it seems they were very reluctant to ground their planes after the second recent crash, but official word on what actually contributed to either fatal crash is still being investigated.
The Ethiopian Airlines crash on Sunday killed 157 people, and the Lion Air crash back in October killed all 189 on-board.
3rd Gear: Bomb Cyclone Shuts Down Interstates, Grounds Nearly 3,100 Flights
A major winter storm moving through the central U.S. has forced nearly 3,100 flights to be cancelled and shut down major interstates across Colorado, South Dakota and Utah.
From CNN:

More than 2,000 flights were canceled Wednesday and an additional 1,021 had been dropped by the early morning Thursday, according to data from Flightaware.com.

Most of the cancellations are at Denver International Airport where all runways were closed Wednesday because of icy conditions and extremely poor visibility caused by the intense winter storm, the airport tweeted. Roads around the airport were also closed or blocked by traffic accidents for much of the day.
The storm is still kicking, though, bound to cause trouble as it moves East across the Great Plains. It's already causing problems in other areas of the country, even posing a new risk of tornadoes in some areas. Again, from CNN:
While the bomb cyclone has brought blizzard conditions to Colorado, it has caused flooding in Iowa, Illinois and Missouri — mostly along the Mississippi River.

It also has unleashed high winds across several states. Hurricane force winds could be felt from Colorado all the way to Amarillo, Texas.

Wind gusts of 50 to 70 mph are expected through Thursday morning across Colorado, New Mexico, Texas and Oklahoma, CNN meteorologist Monica Garrett said. Some areas could see gusts as strong as 110 mph.

Severe storms, flash flooding, dense fog, and possible tornadoes are also threats as the storm moves across the central part of the country.
Vast spans of I-25, I-26, I-70, I-76, I-80, and other major roadways in Utah, South Dakota and Colorado have been closed. Colorado Public Radio reports one fatality so far, a state patrolman who was struck and killed by a motorist who lost control of their car.
4th Gear: People Still Not Down For Self-Driving Cars
The number of American's who are freaked out by self-driving cars hasn't really changed since last year, with about seven in 10 people understandably concerned about letting go of the wheel.
Here's more on the study from Bloomberg:
The portion of Americans who fear autonomous vehicles—71 percent in the American Automobile Association's latest survey—is virtually unchanged from a year ago and up eight percentage points from 2017. While public skepticism isn't new, its consistency is noteworthy. Last year's survey, in which 73 percent expressed anxiety about self-driving cars, came out just nine weeks after an autonomous test vehicle operated by Uber Technologies Inc. killed a pedestrian in Tempe, Arizona.

[...]

"It's possible that the sustained level of fear is rooted in a heightened focus, whether good or bad, on incidents involving these types of vehicles," Greg Brannon, AAA's director of automotive engineering, said in a statement. "Also it could simply be due to a fear of the unknown."

This hesitation persists even as 55 percent of the people surveyed believe a majority of cars will be capable of self-driving by 2029. It's not doubt that the technology won't be available, for most people, they'd just rather continue driving themselves. At least for the time being.
Only 19 percent of people said they would be comfortable putting their kids into a self-driving car. If it's ever going to happen, it's going to take billions-more miles of development testing and massive, years-long campaigns by the companies involved in development to curate demand for cars that drive themselves.
5th Gear: Audi Caught Slipping Behind BMW and Mercedes
As we've been reporting on for some time, Audi is deep in considerations for cancelling the R8 and TT sports cars, in part so help save costs as it ramps up spending on electric vehicles. It has to do that because the brand is now convinced it's slipping behind German competitors BMW and Mercedes.
Here's more from Bloomberg:
"We're going to work hard on our cost structures," Audi Chief Financial Officer Alexander Seitz said Thursday at a press conference in Ingolstadt, Germany. "But operationally we're going to face a year of cleaning up."


Audi's struggles from higher spending on electric models like the E-Tron crimped returns last year to 6 percent from 7.8 percent, as global deliveries fell. VW's largest profit contributor was also hit by a 800 million euro ($904 million) fine by German authorities triggered by the diesel-emissions scandal. Audi has widened an efficiency push to save 15 billion euros by 2022 after a tumultuous year that culminated with the temporary arrest of former Chief Executive Officer Rupert Stadler over his role in VW's biggest corporate crisis.


Audi targets slightly higher deliveries and revenue this year, and an operating profit margin between 7 percent and 8.5 percent. That should shift to between 9 percent and 11 percent as early as next year, helped by moving the accounts of some companies doing business for other VW group brands to the parent company. Sister brand VW made similar changes earlier.
Audi is Volkswagen's "largest profit contributor," so if they don't get its future right, the other automakers under the umbrella are also going to suffer. Personally, I'm just tired of companies complaining about EV development eating into profits.
For the first time in over 100 years there's a major shift in automotive technology. It's exciting. Embrace it and remember to have fun.

Reverse: Mack Trucks Founder Killed in Pennsylvania Trolley Crash in 1922
Neutral: Who's Holding Out For a Model Y?
So you've made it this far without buying a Tesla Roadster, Model S, Model X, Model 3, and now there's going to be a Model Y—an electric compact crossover that arguably has the broadest appeal to current consumers tastes. Will it be a bigger hit than what's come before it?