What do Frank Sinatra, Levi's Jeans and Don Knotts have in common? Special edition cars. When a trend gets too popular and a car company gets too desperate, they find ways to merge the two into a steaming pile of car crap — otherwise known as a trendy special edition. We thought we knew them all, but when we asked you about your favorite trendy special edition car we got quite the mix. Below are the ten weirdest responses we received, complete with a poll so you can help us select the strangest special car of them all.
1982 Frank Sinatra Edition Chrysler Imperial


Chrysler Chairman Lee Iacocca had a friend in Frank Sinatra, and it was hoped that Old Blue Eyes could sing the company's way into the hearts of consumers. Not so much. But Iacocca did thank his friend by releasing the Frank Sinatra Edition Imperial Coupe, which featured a briefcase full of Sinatra tapes and a special silver-blue paint job. Despite the blessing of the former Rat Packer, people weren't biting and the FS edition was dropped, much to the dismay of MechiMike.
1996 Volkswagen Harlequin Golf


G/O Media may get a commission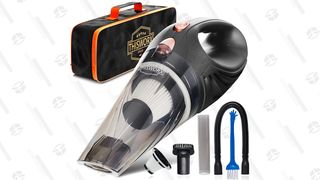 Save 50%
ThisWorx Car Vacuum Cleaner
We have Maymar to thank for reminding us of about the Harlequin Golfs, which are certainly the most colorful special edition on the list. It was 1996 and it would be another four years before VW released a new Golf. To keep interest in the brand, Volkswagen swapped out the body panels on 264 red, green, blue and yellow Golfs. The result is one of the rarest VW editions ever and, without a doubt, one of the most noticeable. [Photo: Wiki]
1979 Bill Blass Edition Lincoln Mark V


Take clothing designer Bill Blass' wearable designs and combine them with the Lincoln land yachts of the 1970's and you get the Bill Blass Edition Lincoln Mark V. A classic example of the clothing design/car crossover product tie-in, this Lincoln features the classic two-tone Bill Blass paint scheme as well as a Cartier Quartz electronic clock and luxo-reclining seats. Classy. The price of all that class? An average of 7.0 mpg, making it one of the biggest guzzlers of all time. Still, Isetta would take one in a heartbeat. [Source: Significant Cars]
2000 Snoopy Edition Mitsubishi Pajero Mini


The Japanese are often in the lead when it comes to automobile trends, so don't be surprised to see a Peppermint Patty Dodge Durango as a follow up to the Mitsubishi Pajero Snoopy Edition that Tonyola located for us. The vehicle is festooned in and out with drawings of snoopy as the flying ace, including on the wheel hub covers, spare tire compartment, speedometer, tachometer, pillars and door trim. There's also an autograph by Charles Schultz on the outside of the little SUV. We're not sure how much Schultz made for this, but it's not enough.
1972 Levi's Edition AMC Gremlin


As if the AMC Gremlin wasn't already one of the coolest cars ever, the company offered a special Levi's edition in the early 1970's to take advantage of those "jeans things" everyone seemed to be wearing. The interior featured denim-covered seats front and back with copper rivets instead or buttons. Though the look was unique, we have to imagine those copper rivets probably left burn marks on unsuspecting passengers on hot days. The company tried to follow the success of this model with an acid-washed AMC Eagle in the 1970's with disastrous results. [Hemmings]
1995-1997 Orvis Edition Jeep Grand Cherokee


The Jeep Grand Cherokee had a rough time trying to keep up with the more luxurious Ford Explorer and it's ubiquitous Eddie Bauer editions. To compete, Jeep tapped rugged outfitter and rod-maker Orvis. Though JSmith53 may argue that this Grand Cherokee offered better performance than the Explorer with similar luxury touches, the Orvis edition's color scheme was probably a deal-breaker for a lot of people. Though produced for three years, the gold, green and red of the Jeeps lost out to the easier-on-the-eye beige and green Fords. [Source: Jeep Orvis]


1979 Cadillac Seville by Gucci


Oh daddy, what Elhigh wouldn't do for a Gucci Caddy. Taking the automaker/designer to its ultimate extreme, Cadillac dealers teamed with Gucci to create the most luxurious 1979 Seville ever. The custom "double G" gold Gucci hood ornament makes this car easily recognizable as something special. And what's hinted at on the outside, is beaten to within an inch of its life on the inside. Gucci logos, Gucci cloth and a matching set of five Gucci bags let other Seville owners know that you are too chic to be trifled with. [Source: Boompa]
1970's Champagne Edition Beetles


When you think of the VW Beetle you don't necessarily think of bubbly, but Volkswagen clearly realized there was a group of affluent would-be owners waiting for a luxury edition Beetle. These "Champagne" editions came with a special metallic paint, Blaupunkt AM/FM speakers, a Quartz Clock (a must for the 1970's) and burled elm dash. Now the best StairCar can do is a little dinky plastic flowerpot. [Source: SeBeetles.com]
Oleg Cassini AMC Matador


If you're good enough to design over 300 outfits for Jackie O, you're good enough to design your own AMC Matador. Drawing from the same geometric shapes and rich fabrics that made up the first lady's ball gowns, Cassini models included thick carpeting everywhere as well as a number of Cassini medallions. The best touch is the ultraplush seating with copper buttons that would look more at home in Indi's 1970's-era living room than an AMC. With only a few thousand of these versions made, they're among some of the most collectible Matadors. [Concord.edu]
"The Dude" Edition Dodge Truck


As opposed to the relative opulence of the Cassini Matador or Champagne Beetle, the randomly named "The Dude" edition dodge sport trim package is basically a 1970's sweptline Dodge truck with a "paint and tape" package that utilizes mostly striking colors and a "The Dude" logo to move inventory. What makes this specific truck special is the inclusion of Don Knotts in the truck's advertising, for reasons that defy human comprehension. The Dude abides. Credit to both Squablow and Slantstick. [Source: Sweptline.com]
Gawker Media polls require Javascript; if you're viewing this in an RSS reader, click through to view in your Javascript-enabled web browser.