White may be the most popular car color, but as this year draws to a close, we're reminded of all the strangely-painted rides we've turned up. These ten are the most outrageous.
Click on images for full details
10.) Lingerie-Themed Mini Clubman
Agent Provacteur is known for its provactive lingerie and its cop-meets-panties paint scheme definitely raised some eyebrows. Or maybe it's because the only photos you can find of it come covered with scantily clad women (click on the pic for more of that).
9.) Volvo Custom Vinyl Wraps
Vinyl wrapping isn't new to cars, but this Europe-only OEM vinyl package for the Volvo C30 is something unique. They come in eight different varieties including rainbow, zebra and woodie.
G/O Media may get a commission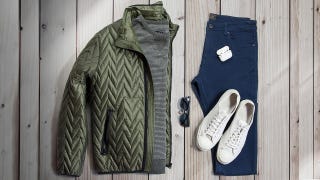 60% off
Jachs NY Fall Sale 60% Off
8.) Trippy Alan Aldridge Mini
The Mini is one of those most popular platforms for custom paint and this version may remind some of a bad, drug-induced dream. That's because it was painted by famed free love-era artist Alan Aldridge.
7.) Matte Black + Gold Tetsu Bentley Continental GTR
Cars that are painted with a gold scheme and cars painted with matte black hoods aren't unique, but the combination of the two on the fastest production Bentley is something altogether different and frightening.
6.) Custom Tequila Sunrise Prius
When you think custom car you'd be forgiven for not immediately picturing a Prius. These guys saw the eco-driver and immediately thought tequilla sunrise!
5.) Gold Leaf Aston Martin
An Aston Martin DB7 covered in gold flake paint would no doubt top any list. Unfortunately, the owner didn't have the scratch or ability to paint the entire car. What remains is just ridiculous.
4.) Snakeskin Citroen Saxo
Yes, you're looking at an econobox Citroen covered in snakeskin. Real snakeskin. What more is there to say?
3.) Swarovski Crystal-Covered Patriotic Mini Cooper
The Swaovrski-covered Benz was classy in a crazy Dubai sort of way. The crystal-covered Mini is just insane. It's an American patriotic version of a British car built by Germans and featured in London. We totally dig the crystal space shutle.
2.) Matte Black Rolls Royce Phantom
The Rolls Royce Phantom is all about bling and flashiness and standing out. What could possibly stand out more than a Phantom that doesn't stand out at all?
1.) Chrome Mercedes McLaren SLR
We've seen chrome on cars, we've seen black chrome on cars and we've even seen all-chrome cars but never did with think someone would have the audacity to make an all-chrome version (including the windshield!) of the über-amazing McLaren SLR. In this trim it isn't just blindingly fast, in the right sunlight it is probably actually blinding.
Click on images for full details