Don't be sad because you can't afford a weekend car for venting your inner hoonage. Be happy you get to drive a hoonmobile every day. Here are Jalopnik readers' ten most hoonable daily drivers.
Welcome back to Answers of the Day — our Jalopnik summer feature where we take the best ten responses from the previous day's Question of the Day and shine it up to show off. It's by you and for you, the Jalopnik readers. Enjoy!

10.) Mercedes-Benz E63 AMG Wagon
Suggested By: Kenny Starr
Why It's Hoonable: Sneaky enough to blend in at work or in the carpool line to pick the kids up at school, but fast enough to scare the bejeezus out of all the other office monkeys and soccer moms. They won't know what hit them when 518 horsepower peels out in front of them, leaving clouds of smoke and shredded tire out the back of a wagon.
G/O Media may get a commission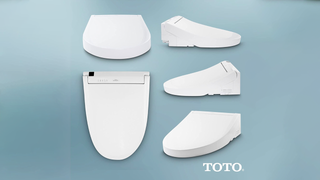 44% off
Toto Washlet Electronic Bidet Toilet Seat
Photo credit: midweekpost, flickr

9.) Subaru WRX STI
Suggested By: QuickSteel48
Why It's Hoonable: The STI is a little more conspicuous than the regular WRX, what with its ginormous wing and bulging wheelarches, but it's also that much more fun. In wagon form it can still haul the dog to the vet, the kids to soccer practice, and new plants home from the garden center, while pinning them to the doors during cornering.
Photo credit: JSFauxtography, flickr

8.) Mazdaspeed 3
Suggested By: Jackie
Why It's Hoonable: In a similar vein, if the all-wheel drive Subaru's too much, perhaps the Speed 3 is more to your liking. In either the crazy-excited-to-see-you current body style or the more sedate previous generation, the Mazdaspeed 3 is a handful, but a hoot to drive. It's still good for 263 horsepower and 280 pound feet of torque, so have fun out there!
Photo credit: static416, flickr

7.) Jaguar XJ V8 Supercharged
Suggested By: C3
Why It's Hoonable: If you really need to blend in at work, a big sedan is probably the way to go. No one needs to know that there's a 4.2 liter supercharged V8 under the hood, and the entire body is made of aluminum for lightness. The interior is still luxuriously appointed, but it'll travel a lot faster than your coworkers would ever imagine.
Photo credit: madrigar, flickr

6.) Mini Cooper S
Suggested By: Gamecat235
Why It's Hoonable: It's true that this car is bigger, heavier, and more complicated than the original Mini. But it's also far more useable on a daily basis. It still feels go-kart quick, and looks cool. Every day when you leave work you can smile because you're driving something that's almost too much fun, while your office mates are stuck in a soul-sucking beigemobile.
Photo credit: cfour33, flickr

5.) Mazdaspeed 6
Suggested By: MissingInTraffic
Why It's Hoonable: If the Speed 3 is too boy-racer for you, and your'e ready for something a little more grown up-looking, then the Mazdaspeed 6 is your answer. It comes with the same 2.3 liter four-banger from the Mazdaspeed3 with a six-speed manual transmission and AWD drive. Spiders are optional.
Photo credit: Andrew Vicars, flickr

4.) Pontiac G8 GXP
Suggested By: teampenske3
Why It's Hoonable: If you can find a Pontiac G8 GXP, consider yourself lucky. Only 1,829 of the cars were built before Pontiac shut its doors, but those cars are awesome. It's got an LS3 V8 up front, producing 415 horsepower and pound feet of torque, stiffer suspension than the regular G8 sedan, and big Brembos up front. The run to 60 miles per hour comes in 4.5 seconds while seating four adults comfortably. Bring a little joy to your office parking lot. Find a GXP and do a burnout right outside the door.
Photo credit: zombieite, flickr

3.) Acura NSX
Suggested By: SennaMP4
Why It's Hoonable: Now that the NSX is into normal-people used car prices, there's no excuse not to give it a shot. As SennaMP4 so wisely noted, they don't call it the everyday supercar for nothing. The thing can be as docile as your sister-in-law's Civic, or balls-out nuts as the Ferraris it went toe-to-toe with back in the day. Just be ready for a flock of girls asking your son to take them to the prom.
Photo credit: jquiz, flickr

2.) Volvo V70R
Suggested By: snapoversteer
Why It's Hoonable: There is absolutely no reason not to find a V70R and drive it like you stole it. In certain parts of the world, (I'm looking at you, southwestern Connecticut and Westchester County) you'll be absolutely invisible and able to blend in in the blink of an eye, while having more fun than literally every person in every car around you, all the time.
Photo credit: ericgoodwin, flickr

1.) Cadillac CTS-V
Suggested By: ReeeeealBad
Why It's Hoonable: For the ultimate in parking-lot stealthiness though, look no further than a CTS-V. Other than the badges on the back, the V treatment is discrete, until you fire it up and growl out of the office lot. Little Johnny's friends won't know why they feel the need to back away when you pick him up at school, and the other team at weekend soccer games will start feeling inexplicably concerned for their health when Johnny shows up with Mom behind the wheel of the Caddy. 556 horsepower is a scary thing.
Photo credit: JSFauxtography, flickr