From secret Cold War nuclear bunkers to intercontinental Maglevs, these are the most ambitious subways ever devised. And even though most look impossible, more of them were built than you think.
---
10.) The Marmaray Tunnel
The deepest immersed tube tunnel sits 198.4 feet below the Bosphorus Strait, which divides Europe and Asia. It is the Marmaray Tunnel in Istanbul. It only opened a few months ago, and remains controversial with regards to earthquakes, as The Guardian reports.
Suggested By: Solidstate89, Photo Credit: Muhammed Enes Okullu/Wikimedia
---
9.) The Cincinnati Subway
G/O Media may get a commission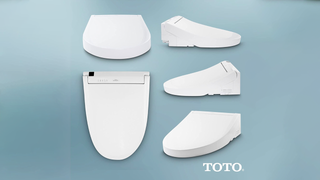 44% off
Toto Washlet Electronic Bidet Toilet Seat
You're looking at the largest abandoned subway system in the United States. Yes, in the first half of the 20th Century, Cincinnati built an entire underground system, and it never saw a single passenger. Read more on the failure right here.
Suggested By: Arch Duke Maxyenko, Photo Credit: ProgressOhio
---
8.) New York City's 1939 Expansion Plan
What's most impressive about NYC's massive expansion plan from 1939 isn't just its scale, but that today's subway system has come pretty close to realizing its goal.
Suggested By: My X-Type is too a real Jaaaaaaaaaaaaaaaaaaaaaaaaaaaaaaaaaaaaaaaaaaaaaag, Photo Credit: The Independent Subway System via Wikimedia
---
7.) The Paris Metro
Reader owen-magnetic puts it best.
The densest subway system in the world running under a city that is already sitting on swiss cheese of tunnels and catacombs. Also, the addition of rubber tires in the 50s make it bad-ass to Jalops everywhere as the acceleration and braking is greatly improved. Reminds us of a time when the French were world-beating civil engineers with an eye for function and form.
Suggested By: owen-magnetic, Photo Credit: Fabio Venni
---
6.) Stalin's Secret Metro 2
The Moscow subway was already among the biggest in the world when Stalin started construction of his own underground lines in complete secrecy. It's still unclear how big they actually are. You can read more about Stalin's best kept secret right here.
Suggested By: Brian, The Life of, Photo Credit: huan-carlos.livejournal.com
---
5.) The London Underground
It might seem ordinary now, but don't forget that London's system includes the very first underground railway. Opened in 1863, it only spanned 6 kilometers (3.7 mi), but it remains an amazing achievement.
Suggested By: KirkyV, Photo Credit: The Metropolitan Railway via The History Blog
---
4.) Budapest's M1 Line
The second oldest electric underground line is in, surprisingly, Budapest. Reader doodon2whls explains why this was such an undertaking back in 1894-96.
Budapest's M1 line was the first electrified underground on the European Continent and the second oldest underground railway in the world (Started in 1894, Completed 1896) and in constant operation since it's completion. It is extremely SHALLOW at only 2.7m deep (<9ft). The roadway is mere feet above compared to the very deep underground tunnels that came later.

It was constructed with a 'cut and cover' technique that means they excavated a trench for the railway, and then built a 'roof' on which the roadway was constructed. I have ridden on this line and it's a pretty neat experience... You only descend one short flight of stairs into the stations...
Suggested By: doodon2whls, Photo Credit: metros.hu
---
3.) New York City's Pneumatic Tubes
Amazingly, New York City's first subway system was pneumatic. The Breach Pneumatic Transit Co. built the city's first subway line in 1870. The pump was a giant Roots blower as Columbia University explains, like in the Corvette ZR1.
Suggested By: XJguy, Photo Credit:Columbia University
---
2.) The Chunnel
The longest undersea portion of any tunnel in the world goes to the Channel Tunnel. That's 23.5 miles underwater out of a 31.4 mile line. And it was all chewed out by giant mechanized worms.
Suggested By: Monsterajr, Photo Credit: Thomas Whiteside: The Tunnel under the Channel (1856)
---
1.) The Transatlantic Tunnel
Constructing the Chunnel was a challenge. I can't even imagine how difficult it would be to build the 3000+ mile proposed train line between North America and Europe. The idea has been popping up since the late 19th century. The most recent imaginations hinge on a 4000 mph Maglev line, as put forward in Popular Science nine years ago.
Suggested By: dreygata and ArchDuke Maxyenko, Photo Credit: Jules Verne
Welcome back to Answers of the Day - our daily Jalopnik feature where we take the best ten responses from the previous day's Question of the Day and shine it up to show off. It's by you and for you, the Jalopnik readers. Enjoy!
Top Photo Credit: the NYC MTA