These ten cars could not have been made anywhere else besides their home countries.
---
Australia: Holden Ute
Australia is a crazy, wonderful, wild place filled with crazy, wonderful, wild people. The Holden Ute is a crazy, wonderful, wild car that could only have come from Australia.
A Holden Ute just screams "hoon me!" every single time you look at it, and as we know, Australia is the country that gifted the world hooning.
G/O Media may get a commission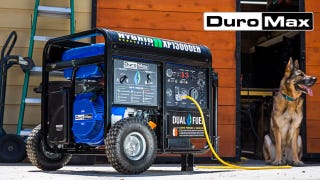 Black Friday Sale
DuroMax Generator Sale
Suggested By: MonkeyPuzzle and 10642 others, Photo Credit: Holden
---
India: Hindustan Ambassador
From our own Jason Torchinsky's review of the legendary Amby:
"The one car I knew I had to drive if I ever went to India was the Hindustan Ambassador. Going to India and not driving one would be like going to Philadelphia and not eating a cheesesteak, or going to Paris and avoiding the Eiffel Tower, or going to Colombia and not swallowing several condoms full of cocaine. You just can't avoid it.

The Hindustan Ambassador is India. If there was a big parade with every country getting one car to represent them, India wouldn't even have to vote. Of course it'll be the Ambassador. Hey, by the way, someone should do that parade."
Suggested By: Cheekzilla, Photo Credit: Andrew Bone
---
England: Range Rover
You could argue for many English cars in this spot, but it really has to go to the Range Rover. A Range Rover proclaims "I want to conquer the world, but I'm going to do it in luxury and I'm not missing tea dammit."
Plus, like all great British cars it's beautiful, capable, unreliable, and fetishizes tradition.
Suggested By: NoahTheFerrariGuy, Photo Credit: Land Rover
---
Russia: Lada Niva
We called the Niva the greatest Soviet car of all time, and there's a good reason for that. It has everything great and terrible about Russian cars.

It was sort of cobbled together like a lot of Soviet creations, and in spite of its humble origins the thing just works.
Suggested By: As Du Volant, Photo Credit: Jason Torchinsky/Jalopnik
---
Germany: Mercedes-Benz 600
If the stereotype of German cars is obsessive over-engineering and a very serious demeanor, I don't think any car embodies those things better than the mighty 600.
This was built when a Mercedes-Benz was more like Fort Knox on four wheels than an automobile. With its absurdly complex hydraulic system and imperious looks, the 600 was really the ultimate.
Suggested By: Cé Hé Sin, Photo Credit: Mercedes-Benz
---
Italy: Alfa Romeo Giulia
An Alfa Romeo, like the classic Giulia, is beautiful, modern, and completely unbothered by the trappings of daily life.
When you break it down it's a bit of a mess, but then you look at it and it tugs at your heartstrings, and when you go for a drive it hits all the right buttons. You won't care that the 2nd gear syncros are nonexistent, the build quality is suspect, and that they'll cost a fortune to fix.
Alfa doesn't care about making a good car. They're more concerned with making great cars. Could a carmaker be any more Italian than that?
Suggested By: Datsun73, Photo Credit: Alfa Romeo
---
Japan: Honda City Turbo
A great Japanese car extracts the most out of the least, and does it with style. This is necessary in a country where space is a premium and fuel is expensive.
The lovely City Turbo is a Kei Car that managed to squeeze 108 hp (in Turbo II form) from a tiny 1.2 Liter four and is surprisingly spacious for such a small car. Responsible fun.
Honda cleverly packed the City Turbo with a folding scooter called the Motocompo which was designed to fit in the trunk. An incredible mix of practicality and fun.
Suggested By: CKeffer, Photo Credit: Honda
---
Sweden: Volvo 240 Wagon
The most sensible car from one of the world's most sensible nations. It's a shoebox made of granite, that has some wheels, an engine, and seats for people inside.
Obnoxious autojournalist cliche warning: it's the perfect car for taking to Ikea.
But seriously though, the venerable 240 is wonderfully, deeply, Swedish.
Suggested By: As Du Volant, Photo Credit: Volvo
---
France: Citroën DS
Close your eyes and imagine a Parisian street scene. There's a DS in there, right? How could there not be – the DS is as quintessentially French as the Eifel Tower, Chanel, and Baguettes.
It is France in its most romantic idealized form.
Suggested By: CP, Photo Credit: Citroën
---
United States Of America: Ford GT/GT40
At its best, America is a nation that can achieve greatness when it puts its mind to it. That is the GT40 and the subsequent GT, which conquered the world after borrowing some ideas from the British and taking them to the extreme.
Also, as Regular Car Reviews stated in their review of the Buick Grand National, Americans love a good story above all else, and the story of the GT40 is one hell of a thing.
I mean Henry Ford II signed a blank check to destroy Ferrari out of spite. What's more American than that?
Note: As you have noted, yes, this was built in England. America is a melting pot. - Ed.
USA! USA! USA! USA! USA!
Suggested By: Cherry_man1, Photo Credit: Ford
Welcome back to Answers of the Day - our daily Jalopnik feature where we take the best ten responses from the previous day's Question of the Day and shine it up to show off. It's by you and for you, the Jalopnik readers. Enjoy!
Top Photo Credit: Ford (Pictured: USA! USA! USA! USA! USA! USA!)
---
Contact the author of this post at chris@jalopnik.com