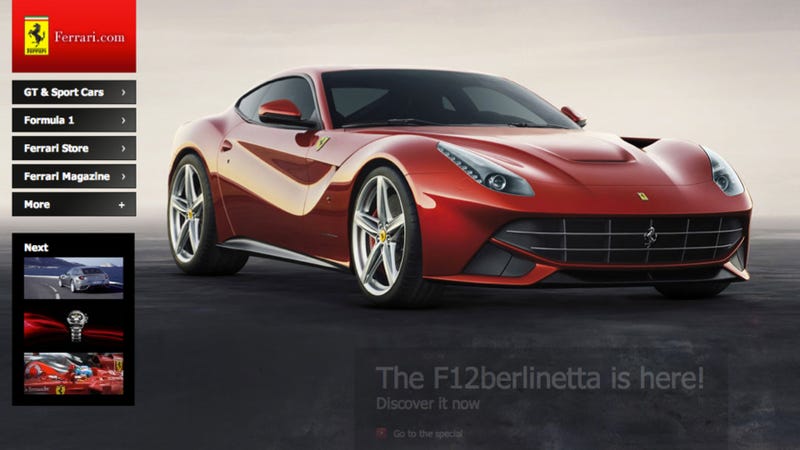 Websites have become one of the main sales tool for carmakers. Some aren't great, some are fantastic. These are Jalopnik readers' picks for the ten best car company websites.
What makes a great automaker website? A design that doesn't give you a headache, the ability to find what you want to know quickly and efficiently, and a general sense that the company wants to present a good face to the world — because, increasingly, that's what this is. A fun configurator and some appropriate goodies never hurt, either.
Welcome back to Answers of the Day — our daily Jalopnik feature where we take the best ten responses from the previous day's Question of the Day and shine it up to show off. It's by you and for you, the Jalopnik readers. Enjoy!
10.) Scion
Suggested By: CanuckChinaman
Why it's such a nice home: Toyota's brand for the Facebook generation needs a first-class website as much as it needs a dealer body. It works, combining plenty of product and special-offer information with a great configurator with enough lifestyle goodies to keep everyone amused without getting too busy and overwhelmed with everything.
9.) Acura
Suggested By: Chairman Kaga
Why it's such a nice home: Boring cars, great website. In striking contrast to parent company Honda's bland clutterpile, their upmarket brand manages the exceptionally difficult task of being reasonably clean, visually interesting, and intuitively understandable at the same time. If you have to have it all on one page, this is your template.
8.) Morgan
Suggested By: Sam I - Texalopnik Ambassador
Why it's such a nice home: We have no idea why the cheerful eccentrics in Malvern Link who still fiddle with ash frames and sliding-pillar suspension thought they needed a top website, but we're happy they did. More than just a pretty bunch of pictures and measurements, Morgan's site makes their whole works seem relevant and appealing in an often-alienated world. Also: Trikes.
Suggested By: zacarious
Why it's such a nice home: The least patronizing automotive website currently in existence, and a study in focused cool intensity. They know why you're there, they know what you're thinking and wanting, they deliver. Not at all dumb or inelegant, but also utterly free of fluff or pandering — a good kitchen knife in a big box of plastic utensils.
Suggested By: rigidjunkie
Why it's such a nice home: This is a kit-car site? The beneficiary of a recent overhaul, the online home of the popular Cobras-and-more maker is a serious first-class presentation and makes a mockery of some of the less focused mainstream manufacturer sites. It's attractive, it's easy to understand, it's informative, it's not full of extraneous garbage — the perfect thematic match for the products.
5.) Bugatti
Suggested By: Guaca12berlinetto
Why it's such a nice home: Website as jewelry store. The most gorgeous photography-in-motion of any manufacturer's effort (it takes a while to load but is well worth the wait) and the most-over-the-top configurator online anywhere. It's perhaps a bit sterile, but so are a lot of other exclusive high-modern lifestyle accents, so we'll trust that it's the right attitude.
4.) Chevrolet
Suggested By: teampenske3 - sponsored by Shell/Pennzoil
Why it's such a nice home: Solid, straightforward, honest, and attractive. The best of the mass-market manufacturer sites. Whoever decided to keep the small print under the "fold" deserves an award; it's there, it's accessible, but it's not in your face the whole time while everything else is presented clearly and beautifully. Very nice.
3.) Dr. Ing. h.c. F. Porsche AG
Suggested By: SennaMP4
Why it's such a nice home: Can a car company take itself too seriously online? Porsche's encyclopedic website manages to corral a constantly-growing model lineup, a steady feed of deep technical information, an absurdly comprehensive and beautifully-done configurator, and any number of other necessary and vital bits of information (racing cars for sale!) in a supremely understandable and usable layout.
2.) MINI
Suggested By: lurch70
Why it's such a nice home: The opposite of Porsche's icy cool while matching its superlative quality, the Mini site is a pricelessly cheeky and funky place with character and design details to perfectly match the cars. The configurator can almost be too much of a good thing, the fun stuff is constantly updated, it's so much of a good time that it will remind you to get back to work once in a while if you're not careful.
1.) Ferrari
Suggested By: Viperfan1
Why it's such a nice home: Not so much a sales tool as a portal into the complete world of the Cavallino Rampante, Ferrari's site shoulders an immense burden — promotional device AND sports-team news source AND corporate history AND clientele hub (and lifestyle-accessory boutique) — and does it all with style. Add in the best configurator out there, a gleeful amount of media, and a pleasant sense of being both upscale ande inclusive, and it's the king.