Two compact Nissans as the SUV-pocalypse's latest victims, Dieselgate troubles, a Faraday Future delay and more await you in The Morning Shift for Wednesday, Sept. 12, 2018.
1st Gear: Goodbye to Those Little Nissans

The global SUV and crossover craze have claimed two more victims. This time, it's two Nissans that are only sold in Europe.
In June, Nissan ended production of the Pulsar hatch in Europe. It will also stop building the Almera sedan in Russia soon. The automaker has said that a "consumer swing away toward SUVs" is the reason, reports Automotive News Europe. This is my surprised face.
From the story:
The decision was made in response to "a rapidly increasing switch by European customers from traditional vehicle segments to crossovers," Nissan said in a statement. "The story in Russia is similar," a spokesman said. The electric Leaf is the only remaining non-SUV compact car sold by Nissan in Europe.
G/O Media may get a commission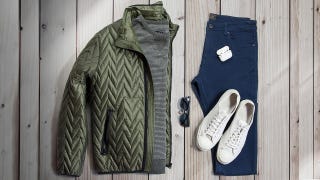 60% off
Jachs NY Fall Sale 60% Off
Nissan, then, sounds like it's following the Ford trend of killing off small cars and chasing those sweet SUV profits. The Almera was a model exclusive to Russia and was actually the Japanese automaker's top-seller there in 2014. Now that it's being phased out, the current Nissan lineup in Russia will be made up of only SUVs and the GT-R. Talk about extremes.
Now, I'm not saying that the Almera and the Pulsar (a competitor to the VW Golf and Ford Focus) were exciting by any means. But at least they gave consumers an option to, you know, buy something that wasn't an SUV. Options are nice and it seems like we're getting fewer and fewer of them every year.
Now it's like you can have any car you want, as long it's an SUV.
2nd Gear: No Escape
Dieselgate! Does it seem like a never-ending problem? If yes, then you've got a pretty accurate feel for the situation.
In terms of court fees alone, the automaker had allocated some $32 billion for settlements and damages, but it now faces more than $10 billion in further claims from pissed off investors and customers, reports Bloomberg.
From the story:
"The investigations are grinding away at VW like sand in a machine," says Uwe Wolff, a crisis communications consultant in Berlin. "It's a huge burden for the company, and it's absorbing too much of its energy."

The legal wrangling kicked off on Sept. 10, almost three years to the day after the first revelations that VW had installed software designed to clean up the emissions from its diesel engines when the car was being tested. Officials in the city of Braunschweig, a half-hour's drive from Volkswagen's headquarters in Wolfsburg, had to construct a makeshift courtroom in the local civic center to accommodate the legions of lawyers, shareholders, and media expected for a €9 billion ($10.4 billion) lawsuit by investors who say they lost money because VW failed for months or even years to disclose the cheating.
On top of all that, over 20,000 German VW customers are suing and looking for compensation. They claim that they've taken a hit on the resale value of their cars. All of those disgruntled VW buyers will soon be able to roll their complaints together into a class action suit, once Germany introduces a new law later on this year.
Back in May, the German cabinet approved a consumer protection draft law that let "organizations to litigate on behalf of the consumers they represent," which cuts down on the lofty legal fees that might intimidate people from seeking legal action, reports Reuters.
A state-financed consumer protection group called vzbv said that it will show that VW, Audi, Skoda and Seat customers with the EA 189 diesel engines were "intentionally harmed" by the automaker, which used software that let the engines cheat emissions tests.
From the story:
Volkswagen said the possibility did not change its view that there was no legal basis for consumers to make claims in connection to the diesel issue in Germany.

Vzbv said it wanted to get compensation for some 2 million owners of diesel cars that were not as environmentally friendly as VW said they were at the time of purchase.

Nearly all U.S. owners of affected cars agreed to take part in a $25 billion settlement in 2016 in the United States that addressed claims from them, environmental regulators, U.S. states and dealers and included buyback offers and additional compensation for about 500,000 owners.

VW had rejected criticism that the compensation for U.S. car owners was not extended to other jurisdictions.
Resolving all of this will definitely take years. It will be painful and tedious and very expensive.
3rd Gear: More Expensive Than Previously Thought
But it doesn't do to just keep funneling money into Dieselgate, there's a car company to run and a reputation to fix. Last year, Volkswagen said that it would put a huge investment toward electric cars. You know, to invest in the future and probably also to earn some good will from the general public.
It also said that it would offer an electric version of each model, but that's turning out to be more expensive than it initially estimated, reports Bloomberg. From the story:
VW had originally earmarked the shift to battery power to cost 20 billion euros ($23 billion). Now Chief Executive Officer Herbert Diess says this won't suffice, without providing a new figure. The company needs to reduce expenses more to be able to invest in future technology and weather crises, he said.

"The burden for our company, such as the cost of bringing to market electric cars, will be higher than expected," Diess said in a joint interview with labor head Bernd Osterloh in VW's internal newsletter. "This is particularly so since some of our competitors have been making more progress."
Making cars is hard. And also expensive. Between the legal fees and this, it seems like Volkswagen is in an extremely tight spot right now.
4th Gear: Faraday More in the Future Now
Faraday Future said in July that deliveries of its first car, the FF 91, would start this December. That date has since been pushed back, according to a company press release.
The line is buried at the bottom of the release, but it reads, "The order book for FF 91 early users – aka "FF Futurists" – is open with first deliveries commencing during the first half of 2019." There is no word on why.
Still, though, the car is supposed to have over 1,000 horsepower, so there's that to possibly look forward to. If it happens.
5th Gear: Bracing for Florence
Car dealerships in the Carolinas are hunkering down in preparation for Hurricane Florence, a Category 4 storm that's headed straight for North Carolina.
The dealerships spent yesterday preparing by sending its employees home and securing their inventory, reports Automotive News. From the story:
That means taking computers off the floor in flood-prone areas and putting new-vehicle inventory in secured locations, he said.

At Team Auto Group in North Carolina, preparations began three days ago when the group reached out to peers in Florida, including some Germain dealerships in Naples, which got hit by Hurricane Irma last year, in order "to get out in front of this," said Matt Raymond, Team Auto's director of business development.

Vehicles at the group's Team Chevrolet store in Swansboro have been moved to higher ground or put indoors. After 2 p.m. Tuesday, that store will shut down until further notice. For locations away from the coast, "The company is playing it by ear," Raymond said. "Depending on the winds and the speed [of the storm], we may be able to squeak out the whole week."
Many dealerships learned about hurricanes the hard way last year during Harvey. It was a difficult time, but it also yielded some very useful experience that's helping them get ready for Florence. Let's hope that this one won't be as bad.
Reverse: New Bridge
Neutral: Will You Buy a Faraday Future Car?
Or nah?