Saleen is well-known as the purveyor of go-fast upgrades for the Ford Mustang and the outfit that finalized the S7 supercar. In the last few years, it seems that the company has gone through difficulties. Yet this month, it came out of nowhere with a seriously cool-looking performance machine promising production and a $100,000 price tag in the near future.

The specs on the Saleen S1 are the stuff of dreams. A mid-mounted 2.5-liter turbocharged inline-four cylinder engine rated at 450 horsepower and 350 lb-ft of torque is mated to a good ol' three-pedal six-speed manual and the whole car, made of a carbon fiber body wrapped around an aluminum tub, is supposed to weigh a scant 2,685 pounds.
What's most mind-blowing is the fact that Saleen's reps are saying the entire thing, including the chassis and engine, are made in-house by the small company. That'd be an impressive feat for a full-sized automaker to execute. For a little shop that was broke a few years ago , it'd be one of the most impressive auto industry phoenix-from-ashes situations in recent memory.

So consider me... skeptically supportive. Saleen's PR chief Cam Benty assured me that the car, in all its scratch-built glory, was and is really happening and that I might even be able to drive one in the near future. Apparently the car was on a Chinese reality TV show, but I haven't been able to find the clip.
G/O Media may get a commission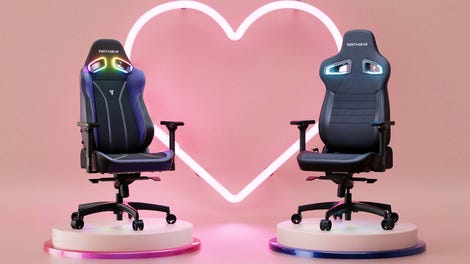 Up to $150 off
Vertagear Gaming Chairs
A press release published along with the car's presentation ostensibly ascribes the ascent to an injection of Chinese money:
"Jiangsu Saleen Automotive Technologies Group (JSAT) is a new, separately owned automotive company based in China. JSAT is building a billion dollar, modern manufacturing facility to produce Saleen vehicles in China for worldwide distribution."

"The genesis of the Saleen 1 began with JSAT purchasing the tooling and remnants of the Artega GT. JSAT asked Steve Saleen to assist in modernizing the Artega GT for today's sophisticated consumer. In reality, such an 'update' was not feasible, which resulted in a new vehicle being designed and built from scratch."
Ah yes, the Artega GT.
Don't worry, I had to look it up too.
The Artega GT was a vaguely Porsche/Ferrari-mashup looking supercar designed by Henrik Fisker toward the end of the 2000's. It was supposed to be slated for production around 2008 with a 500-car production run and cost $100,000 to buy.

Like the S1, it had a pretty sweet spec sheet: VW VR6 engine, sub-2,500 pound curb weight. And the Artega did come to life. And for long enough for at least one publication to drive and review it. GT Spirit went all-in in 2011 and called it "a superb handling sports car with not a single failure." Fail it did though, a year later, when the company reportedly went bankrupt and production halted.
Flash forward to this year's LA Auto Show and Chris Schuttera, Gary Ragle and Jon Hull, who all work at a place called Hydra Design Labs (and told me they were big Jalopnik fans, so here's your shoutout!) told me they had designed the S1, and also were completely confident that the car was really truly coming to life soon.
Now, if you look at an Artega GT, and then a Saleen S1, and back at the GT, you'll be able to see clearly that the cars have remarkably similar looking middle-sections:
Benty explained to me that while the designs were similar, nothing from the Artega GT has been re-used and that despite the cars sort of sharing a silhouette, the S1 was wholly made by Saleen.

"If you had seen an Artega GT up close," Benty said on the phone "you would understand why we didn't want to re-use anything."
I was a little confused there, since the Artega GT was a monocoque car and if the S1 has the same cabin, maybe it has the same underpinnings. But what I'm hearing is that that the S1 is a derivative in the aesthetic sense only.
What we now know for sure is that the Saleen S1 looks lovely and has set stratospheric expectations on what it will deliver when and if it's delivered to us. We also know that building a car from scratch is extremely difficult and expensive. Combine that with Saleen's financial troubles in the recent past and the mysterious origins of its last home-brewed supercar and, well, I think this will be an interesting story to watch develop one way or another.
I'd love to see a small outfit like Saleen produce a car as cool as the S1, especially if it can be delivered at a downright reasonable $100,000. At the very least, I hope this thing makes the rounds long enough to make it into some video games.