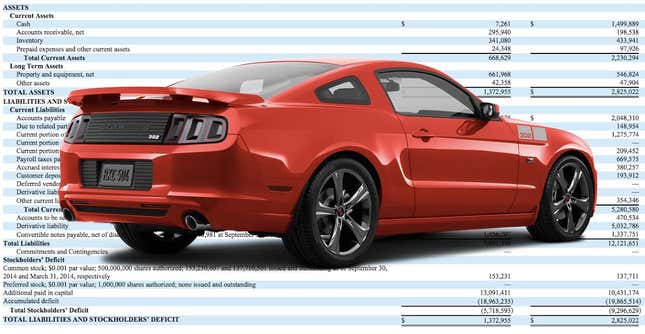 Saleen Automotive, creator of crazy Mustangs and the gorgeous Saleen S7 supercar, is in a bad way. According to its own quarterly earnings report the company is getting sued by its bank, it owes its law firm money, it's resorted to paying contractors in stock, it's looking for a buyer, and, as of September 30th, 2014, it only has $7,261 in cash left.
$7,261 is not enough to run a car company.
The company's most recent quarterly earnings report filed with the Securities and Exchange Commission, or Form 10-Q, is horrific. But the nature of it can only hint at what potentially lies beneath the surface for Saleen.
It's full of painful admissions and sad disclosures, like the one admitting that it might not be around much longer if it doesn't find a buyer, and another saying that it has failed to pay back its bank loans.
In short, the company's financial health is a mess. We've reached out to the company for comment on its earnings report, but a planned interview has yet to happen. Company founder Steve Saleen was forced out in 2007, after his eponymous company declared bankruptcy, leaving him without his own name. By 2012 he was back in charge of Saleen with his own name.
In 2013, Saleen entered into a reverse merger agreement in order to become publicly listed, under the ticker symbol OTCBB: SLNN. Essentially, what happens in a reverse merger is that a privately-owned company acquires a publicly-traded shell, and then the shell assumes the identity of the privately-owned acquirer. We could spend hours delving into the long and complicated history involving reverse mergers, but the pertinent point to us is that it lets us look into the company's financial health.
Here are the hard numbers as they reported last quarter:
The company only has the aforementioned $7,261 in cash on its balance sheet.
Saleen's total current assets come to $668,629
The company's total current liabilities, or things it owes people, comes to $5,634,841, including $583,900 in unpaid payroll taxes
That nearly $5,000,000 discrepancy is a problem.
But if you go through the rest of the company's 10Q, the problems only get worse. The company's revenue has shrunk by nearly half, year-over-year, and in the three months from July to September, the company lost more than $2 million which is up from the $1.1 million it lost during the same three months in the preceding year.
And the slight bleeding that can affect any car company has turned into a veritable torrential hemorrhage. Saleen Automotive began July of 2014 with about $1.5 million on hand. It quickly burned through nearly all of that.
Where did it go? And where did that cash come from, to begin with?
It's hard to say, just from the balance sheet. Where that $1.5 million came from to begin with is the easier part of the equation. They say $719,933 came from customer deposits, likely for upcoming vehicles like the Saleen 302 Black Label, and the hotted-up Tesla Model S, the Saleen FourSixteen.
Where it went is perhaps even more troubling. You would think that Saleen's biggest costs, right now, would be research and development. Squeezing 640 horsepower out of a new Mustang, and getting more speed out of the already-absurdly fast Model S, would not be the things you'd think would come cheap.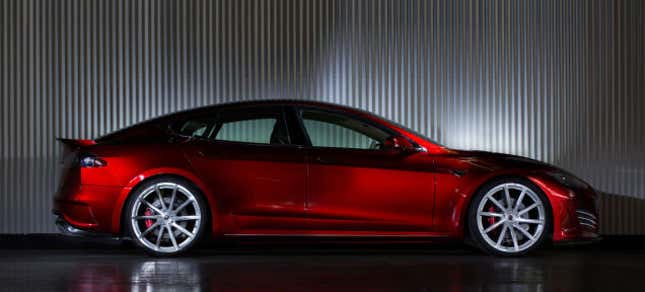 But the company spent only $250,130 on R&D over the summer. It spent almost double that, or $443,767, on sales and marketing costs, like photo shoots and auto shows. The vast majority of the rest of its expenditure went towards general administrative costs.
Though Saleen says that they've already started deliveries of the FourSixteen to customers, it's unclear what is going to happen to the company. So in the end, we're mostly just left with questions about the fate of the company. And Saleen itself doesn't sound too confident (emphasis mine):
During the six months ended September 30, 2014, the Company incurred an operating loss of $3,056,980 and utilized $1,714,196 of cash in operations. The Company also had a stockholders' deficit and working capital deficit of $5,718,593 and $4,966,212, respectively, as of September 30, 2014, and as of that date, the Company owed $583,900 in past unpaid payroll taxes; $1,148,574 of accounts payable was greater than 90 days past due; $352,795 of outstanding notes payable were in default; and $398,176 is owed to a bank as of November 2014, which the Company has not paid and expects to be in default unless the bank agrees to another extension. These factors raise substantial doubt about the Company's ability to continue as a going concern.
Unpaid taxes, unpaid accounts past due by over 90 days, and hundreds of thousands owed to a bank definitely, definitely raise substantial doubt as to whether or not Saleen can continue operating at all, let alone past the end of the year.
The company says that even in its current state, it can continue operating until December 31st, 2014.
It's been paying contractors in stock, which has fallen in value to just 2 cents a share. The bank that was keeping the company afloat through loans filed suit over non-payment back in February of 2014. Saleen Automotive quickly agreed to a settlement that involved a payment plan in exchange for an extension, but still has not even paid the balance on that.
The company "expects to be in default" unless another extension is granted, but which had not been by the time of the filing.
Saleen's only saving grace, by the company's own admission, could be some sort of mythical wealthy benefactor, ready to inject millions into the moribund business, like a knight in shining armor made entirely of money.
But of all the things that have been looking unlikely with Saleen Automotive, that might be the most unlikely of all.
Photo credit: Jim Cooke/Saleen Automotive