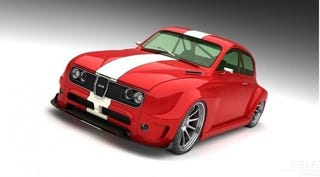 Word is, the first product of a Spyker-owned Saab could be a modern re-interpretation of the '50s Saab 93. There's also talk of a Saab-bodied Spyker supercar. Here's what those cars could look like.
This retro teardrop is actually styled after the Saab 96, the car that replaced the 93. Produced from 1960-1980 it was equipped first with an 841cc two-stroke inline-three and later a choice of 1498 or 1700cc four-stroke V4s. Perhaps its most famous design feature are the rounded-off square fender front fender flares that you can see so dramatically re-interpreted on this concept design.
This supercar is the work of Trolhattan-dwelling designer Eduard Gray. He envisions a vehicle sitting on one of Spyker's mid-engined platforms, then skinned in the clean surfaces and hockey stick roofline that define the Saab brand.
Will either of these two cars ever happen? Probably not like this, but both highlight the rich history and modern credibility the brand has to draw on. Retro models could be equipped with an utterly modern level of aerodynamics, while a modern supercar could achieve something similar to the Audi R8 in making a supercar appeal to non-supercar buyers. Like, for example, liberal college professors with corduroy elbow patches.
[Saab 96 by Bo Zolland via Vizual Tech Sweden, check out VizTech for more custom cars and hotrods; Saab 9+ via GrayDesign]