This amazing concept from 1985 also made it into Back to the Future II and had more eighties vibe than Jerry Wiegert and young Charlie Sheen floating on a cocaine cloud. Too bad Saab didn't follow up on it, because that could have changed everything.
The Ford Taurus Is Reborn — But Only For the Middle East
Experimental Vehicle 1 was developed in 1985 as a fully working future study based on the brand new 16 valve version of the Saab 900 Turbo.
The wedge-shaped 2+2 coupé was the child of Saab's Head of Design Björn Envall, who made the first clay model of the car at home on his kitchen table, Director of Engineering Gunnar Larson, who wanted to show what the 900's platform could do and prototype specialist Leif Mellberg, who turned Saab's long list of futuristic ideas into a fully drivable show car for the Los Angeles Auto Show. He also fitted it with five-way adjustable power seats from a Corvette. Maybe he knew what was coming.
G/O Media may get a commission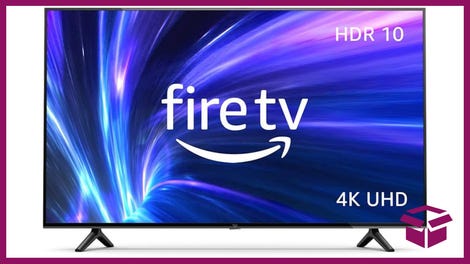 42% Off
Amazon Fire TV 50" 4K Smart TV
The EV-1 shocked the audience (and Road&Track) with such advanced features as a 66 cell solar panel mounted in the glass roof powering the interior fans when the car was parked, a giant glass hatch for easy loading, highly flexible bumpers made of Kevlar composites and carbon fiber impact beams in the doors for outstanding crash protection.
The 2.0 turbo four was also tuned to produce 285 horsepower at 16.2 psi of boost with a larger turbo and injectors, upgraded connecting rods and better airflow, which together with the improved aerodynamics turned the EV-1 into a 168 mph Saab.
Its 0-62 mph acceleration time was so impressive at 5.7 seconds that the EV-1 easily made it into Back to the Future II as a future car despite being four years old when that hit the big screen in 1989. The same year in which the car division of Saab-Scania was restructured into Saab Automobile AB, with 50% of its shares controlled by General Motors.
With its additional luxury and safety equipment such as the (later signature) night panel dash illuminating only the active part of the speedo with the rest of it turned down and all other lights completely switched off, the integrated seat belt tensioners hidden in the B-pillars, the panoramic greenhouse with a removable tinted glass roof and defrosters all around, unidirectional cast-alloy Ronal wheels and Pirelli P700 tires, the EV-1 had everything the customers could expect from a stylish European 2+2 in the mid-eighties, plus more.
Maybe if Saab pushed its lineup harder in this direction by actually making a halo cars like this, we could have ourselves a Scandinavian BMW today instead of the Saab we knew from the nineties on up until badge-engineering master GM eventually pulled the plug in 2009.
Or at least one hell of a futuristic turbo car in our garage.
The weirdest thing is that somehow it reminds me of Saturns, a brand General Motors established on January 7, 1985...
Photo credit: Saab