There are people who are comfortable enough with the idea of regularly sleeping in a car out of preference and not necessity. I'm not one of them. Give me a van, however, and I'll happily drive across the country for years. Enter the Roadtrek CS Adventurous, aiming to be the Goldilocks of premium van-based recreational vehicles.

(Full Disclosure: Roadtrek, through GoRVing.com, arranged for us to take this van for a little over a week last summer and provided some basic camping supplies. They also took care of a small dent we put in the roof.)
There's no perfect RV for everyone but, given the mesmerizing variety of offerings from the industry, there's a model designed to fit just about anyone's taste (assuming anyone in this case has some money to spend.)
In particular, the burgeoning Class B segment has everything from a Ram Promaster-based Winnebago at around $85,000 to the full monty Airstream Interstate that's almost twice the price. Given that these are still big boxes on wheels filled with the basic living necessities, it's worth investigating how much more you really get for the money.
G/O Media may get a commission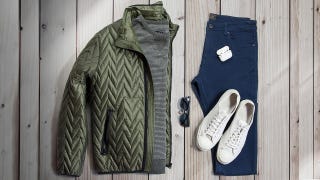 60% off
Jachs NY Fall Sale 60% Off
That's why I was so curious to try out the Roadtrek CS Adventerous, which appears to offer a suite of options similar to the flagship Interstate at a starting price of $129,714, which is one Honda Accord less than the Airstream.
To get a better feel for the vehicle we brought it with us on our Pebble Beach Week adventure and shared it with The Wirecutter's Christopher Mascari and our friend and coworker Julia Alvidrez, who drove it up and down the coast.
The Basics
It doesn't take long to understand why the Roadtrek CS is more expensive than any of the Ram-based vans out there. As a FWD platform, the Ram Promaster offers some advantages as a base for a small caravan and it is lighter, but it's still basically a Fiat van. The Roadtrek is a big Mercedes with a potent diesel engine and a proper RWD configuration.
Specifically, the 170-inch long wheelbase grandaddy underpins the CS Adventurous and gives the RV enough space to comfortably sleep a couple of adults and one large dog or two small children. Because the Mercedes is the Mercedes of vans, much of the original vehicle's cockpit is retained with all the standard equipment you'd find in any other Sprinter.
The same goes for the powertrain, which features the same 188 horsepower, 325 lb-ft of torque 3.0-liter diesel V6 and five-speed automatic transmission, allowing the rig to tow up to 7,000 pounds and just generally carry its own heft while being better on fuel than anything powered by Ford's ubiquitous gas V10.
As an RV, the Roadtrek comes standard with a 26.6 gallon fresh water capacity, propane furnace, on-demand instant hot water heater, internal batteries, and external power hookup. Our model also came equipped with the EcoTrek lithium-ion solar battery system. There are a lot of power options for the Roadtrek depending on the configuration, giving you the ability to combine the diesel engine, shore power, solar power, propane, and a ton of batteries to give you a lot of off-the-grid time.
The Layout
Given the somewhat limited space inherent in a Class B it's all about prioritizing between travel comfort, living comfort, and sleeping comfort. Fitting its Goldilocks approach, the CS tries to balance all three but tends more towards living comfort at the expense of travel comfort.
What do I mean? While most Class B van-based RVs use a folding bed in the back with a galley/bathroom combo in the middle, the CS Adventurous differs slightly here by removing the typical set of two captain's chairs aft of the driver and instead substitutes in one large captain's seat/bed and extends the galley.
If you're a family with two kids or a foursome crossing the country this is less-than-ideal because it means someone has to ride all the way in the back, but since I suspect most people buying these are couples who are post-children this is a positive.
The result is a setup that gives you the ability to make and store a lot of food and bring a lot of gear with you. Mascari noted the "kitchen was equipped with every appliance you'd ever need, especially the microwave/convection oven combo." And while the bathroom employes the combo shower/toilet arrangement that you're essentially stuck with in a vehicle of this size, the CS does offer the ability to move the walls out of the bathroom out a little more to give the user more room.

Said Mascari: "The bathroom, although small, was surpassingly functional even when showering. This experience alone has made me want my own adventure that has a bathroom for the convenience." There's also an external shower, which Mascari particularly liked to use after going for a surf, a real thing that people in California just casually do.
I want one of these in New York merely because it's impossible to find a bathroom in half the city and the need to shower on the street is a real thing I'd like sometimes.
In the rear there's the standard "bedroom" area, with a large bench seat that folds into a comfortable enough almost-king-sized bed or two separate twin-sized beds. I imagine most people who buy these take a thin mattress pad to put on top but, for a while, it's actually quite comfortable.

When you're parked the big sliding door opens nice and wide and there's a large awning/shade that rolls out to provide a nice seating area, especially when you install the small table in the fore part of the cabin.
What's It Like To Drive?
It's worth restating here that the Mercedes Sprinter is an excellent platform for an RV, offering both a rugged suspension capable of absorbing the vehicle's heft and enough tuning and assistance (hello Crosswind Assist!) to make driving it as comfortable as anything this big.
We drove the big RV through long stretches of highway where the diesel let us achieve mileage in the 16-19 MPG range and through the twisty Highway 33 without turning over. In many ways, it feels like a much smaller vehicle. The Sprinter's ergonomic cockpit is also a plus, with simple and straightforward controls that make it easy to keep eyes on the road where they belong.
For three passengers, the CS Adventurous is a fine way to get around, with a nice third captain's chair just behind the front seats. If you're any of the other passengers, however, you're riding all the way in the back. That's fine if you're a full load of six people, but it's a bit awkward if there are four of you given how remote the rear of the cabin feels.
The Sprinter is also attractive, particularly in our darker grey model, and props to Roadtrek for not mucking it up with unnecessary chrome or the kind of redneck Lisa Frank hieroglyphics so popular on too many RVs. The simple look is the best look for these big vans and people definitely took notice, stopping us numerous times to ask us about the vehicle.
While the visibility is good for a large RV, the roof is very high and we managed to bump it into an awning. That was not a design flaw but merely a side effect of us having a very long day and getting too comfortable with driving the vehicle. Definitely get good insurance or be journalists if you're going to buy or rent one of these.
What's It Like To Live In?
This is where preference is going to play the biggest factor in whether or not the CS Adventurous is right for you. Because Roadtrek positioned the van heavily for a couple of people who intend to spend a lot of time living and cooking in the van, there's more kitchen storage, a big fridge/freezer, microwave/oven combo, and a nice space in which to cook.
If you're going to Costco and then going straight to a beach for a month then this is going to be appreciated because it'll reduce the amount of time you'll need to stray into town to get more gear.
However, this design has its drawbacks.
"Julia and I discussed this at length and agreed that the layout made the cabin narrow and hard to live comfortably in," noted Mascari. "Best example: If the dining table was setup, people struggled to enter or exit the van through the big sliding door."
The Airstream Interstate doesn't have this problem because of the fourth seat and the smaller galley, but food preparation and storage is also more challenging in the more expensive RV.

Another clear delineation between the Roadtrek and the Airstream relates to the overall philosophy each has of controlling your environment. In classic Airstream style, the Interstate and vehicles like it try to make everything as simple as possible so the user is left with a few simple choices but less overall control.
With so many systems integrated into one vehicle, the Roadtrek is definitely more versatile and allows the user to balance the various power systems. The drawback to this is the Roadtrek requires a lot more education and preparation on the part of the user and we found ourselves unable to eliminate a beeping noise on our own.
The finishes in the van, while nice, are also more of the traditional wood-on-wood RV design and not the private-jet-van-like Airstream. Ultimately, while most of the differences between those vans are just about design choices and not value, that's where the money seems to be going if you get the Interstate.
Are some nicer cabinets in a van this small really worth all the money, though? That depends on what kind of buyer you are.

There's also an entertainment system in the CS and you can connect your own phone, which is not an option you get with every RV, but as Millenials we were more inclined to use our own devices for entertainment.
The Verdict
Most of the shortcomings of the CS Adventurous have to do with the company's positioning of this specific model for a market that wants real RV amenities in a smaller package. While I enjoy the RV lifestyle that being a journalist has afforded me at basically no cost, I'm not quite as advanced as a lot of people in this market and thus the set-it-and-forget-it Ron Popiel style of the Airstream is appealing.
Still, there's nothing you can do in a more expensive van that you can't do in the Roadtrek CS Adventurous and, befitting its name, this van would be as home at the Mint 400 as it would at Pebble Beach. For individuals or couples it really doesn't get much better.
We took this vehicle to the most luxurious car gathering in the world and fit right in with cars that were ten times the price that didn't offer a bathroom, kitchen, or a bed. That's value.
This vehicle, but with a smaller galley and another captain's chair, would be close to perfect and, lo and behold, Roadtrek makes a version that does exactly that in the RS Adventurous, which is somehow even cheaper than the CS.
Hmm... maybe next year?