By now you'll have seen the shiny shiny new Amos Automobili Delta Integrale Futurista. You'll probably have thought "hey, it's like Singer but for Lancias," and you'll have cursed the fact that it'll set you back $350,000 and you'll probably never own one. However, fear not, because the guy behind the car and Amos Automobili, Eugenio Amos, is a badass, and he's going to build more kickass cars in future.
Though he didn't say whether they'd be Integrale-based. I grabbed a few words with him at the car's lunch at the Grand Basel show to go through the finer points of the 330 horsepower Mega-grale. It's a more interesting car than you'd think.
First up, why did he want to go with the Integrale? I mean, there's a ton of people out there poshing up Porsche 911s, why not join them?
G/O Media may get a commission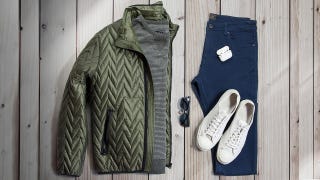 60% off
Jachs NY Fall Sale 60% Off
"Because it's the car that made fall in love with cars... It's the car of my dreams," he told me. Fair enough, chap, fair enough.
What he's done with it is pretty special. He and his team seem to have made it go, stop, handle, and look like the car he lusted after when he was a kid.
"[What's changed?] I think everything," he said. "From the engineering part as we changed the suspension. It used to be MacPherson, now it's wishbone, the integrated roll cage, engine-wise, suspension-wise, aesthetic-wise."
They're building 21, with 20 for customers and one for Eugenio. And if you're one of the twenty customers to get hold of one, Eugenio said there's plenty you can do to make the car you own, budget and approval dependent, of course.
His reasons for making the car, though, aren't financial. "If I wanted to be rich I wouldn't have done this project," he said, "Trust me." His impetus was more because he's bored of seeing the same people make the same kind of cars.
"I've been a collector myself before being a manufacturer, if I can say it like that. These brands [Porsche, McLaren, Ferrari] release a hypercar every other day. Last week there wasn't one and I was surprised… This has been done by me, for me. And for others like me."
If you've seen Automobili Amos' Intagram account and its, er, honest use of language, you'll get that they don't really care about the pomp and circumstance of the automotive industry. Hell, there's a Honey Badger on the side of the car and as well all know: Honey Badger don't care.
This, to me, seems like a rebellion of sorts. With the established set releasing hypercar after hypercar, and special editions of all of the cars, some high value petrolheads like Eugenio are getting fed up. For him, it seems, being sold a version of the latest megacar with a new stripe designed to give the most so-called-special customers the edge over their mates at the country club is getting old.
So rather than pander to the whim of marketing departments he's taking things in to his own hands. In a way, it makes his Integrale seem more rebellious than anything else. I can dig that.
We all have that one car that got us in to cars. For some it's a car seen on a magazine cover, for others it's something they saw in the metal. Whatever it is, it's the standard to which everything else needs to live up to. For Eugenio it's this.
Our time together was short, and though the preview day at Grand Basel wasn't heaving, the Integrale was drawing a crowd, but before he moved on to the next "Can I just grab five minutes of your time..?" he told me that something else was coming. He didn't say what, but something.
By the looks of the reaction to the Integrale, I've a sneaking suspicion that the next announcement won't be far off.

Here's the thing: If you had the readies to remake or improve the car that got you in to cars, what would it be and what would you do to it? I'd take a B5 Audi RS 4, keep the power the same, fix up the interior (keep it as original as possible but make it a bit nicer), and sort the ride/handling out. I'd make it feel like the car I thought it was when I was young.