This past week at the LA Auto Show, we covered the launch of Honda's HR-V, which is basically a beefed-up Fit that's designed to compete with the RAV-4 and Rogue and al those smaller SUVs. Yawn. What many don't realize is that those same three letters were once worn by a cooler car. A Much cooler car.
That original HR-V never came to the US, which is likely why many of our readers aren't familiar with it. It was also a small SUV, sure — and smaller than what we're used to. The original HR-V, which began production in 1998 (as a 1999 model) was based on the supermini Honda Logo platform, and came with two basic engines, 1.6L fours making about 103 HP (123HP if you paid extra to have VTEC kick in, yo).
G/O Media may get a commission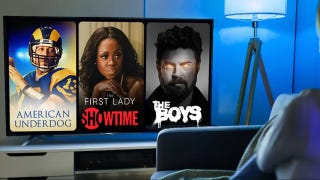 UNDER $1
99¢ Prime Video Channels
The HR-V started life back in 1997 as a Honda concept car called the J-WJ. The name was supposed to suggest "wild and joyful wagon," though it's not clear why there's two J's and only one W, when you'd think the reverse would make more sense. Who knows. It was the 90s! We were all doing designer drugs or ketamine or something.
The concept was a very clean, purposeful-looking, high-riding two-box wagon. It was boxy, but not overly tall, and had something similar to traditional shooting-brake proportions. The detailing and design vocabulary sort of suggested a Land Rover of the era as well. It was handsome.
Happily, the production version remained pretty close to the orginal concept. The production model had a lot of advanced features, including ABS, electronic brakeforce distribution, and used the hydraulically-actuated 4WD system found on the larger CR-V.
The HR-V came in three-door and five-door variations. I personally like the shooting-brake-in-hiking-boots look of the three-door, but both are pretty tidy and striking-looking little wedgy packages of SUV. I especially like the siamesed double-round headlights. Even in 1998, these didn't look like every other thing on the road, and I think it's a real shame Honda didn't look to these first HR-Vs more directly when designing the new one.
The ads for this thing seem to be pretty great, referencing when Japan forgot to pay their gravity bill in the late '90s, and having this awesome tagline: Jet-feel hi-rider.
If you're in Europe or Japan, Australia, New Zealand, or the Pacific Rim, you may very well be able to pick up one of these early HR-Vs, and that makes me feel some small-SUV envy deep down in my distended envy-gland.