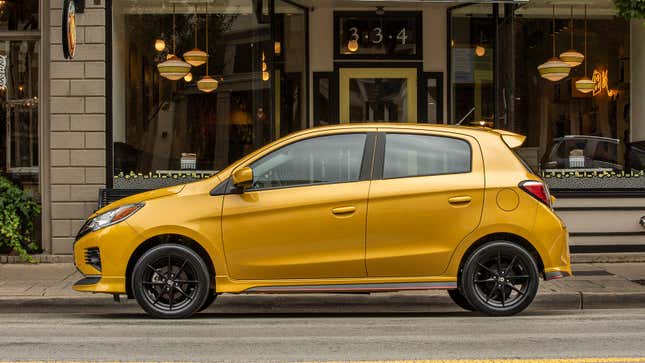 The Mitsubishi Mirage has lived out its existence toiling at a thankless deed, as the cheapest — or one of the cheapest — new cars available to buy in the U.S. over the past decade. The Japanese automaker has never moved a ton of the things, selling just under 23,000 units in 2021, but the Mirage has helped Mitsubishi squeak by during times when it had no vaguely redeeming product to speak of. Those times are beginning to change, because the new Outlander is good enough. And so, the Mirage's long trudge, longer than anyone would've ever expected, is coming to an end. At least, in its home market.

My First Car: Danielle Moné Truitt's 'Blue Magic' Mitsubishi Mirage
Indeed, if you visit Mitsubishi Japan's Mirage site, you'll see a message that reads, translated, "Since Mirage is discontinued, body colors, options, etc. may not meet your request. Please contact our sales staff for details." The outgoing sixth-generation Mirage first entered production globally in 2012, so this marks the end of a nearly 11-year run for the jelly bean on wheels in the country. And given that Japan's where the Mirage is disappearing first, it's not a stretch to assume the subcompact's days may be numbered elsewhere.
Mitsubishi Motors North America isn't saying as much yet, telling Autoblog that "the Mirage remains an integral part of our U.S. line-up at this time." That's how this tends to go — we can all see the writing on the wall, but the car ain't technically dead until it is. Ask the Kia Stinger. For 2023, the Mirage has already lost its only calling card for slow-car-fast enjoyers: the five-speed manual.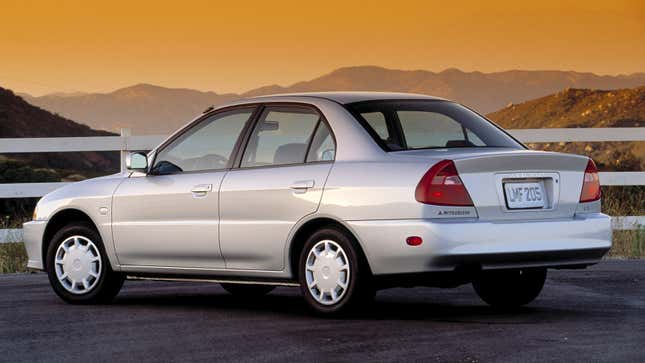 And predictable though the Mirage's end may be, what with Americans' ever-deepening abhorrence of small cars and ever-tightening emissions regulations pushing them even out of Europe, it's nevertheless worthy of mourning. Cars like the Mirage are easy to hate. They're not good, but they're not supposed to be. Almost every automaker that's contributed anything to the cause of cheap, simple transportation in the U.S. has since given up; if Mitsubishi goes, only Nissan and Kia will remain.
That's sad, but at the same time, this seems like something that had to happen for Mitsubishi eventually. With the Outlander, the brand has finally got that mass-market winner it's needed for so long, that might just spur Mitsubishi into its next era — whatever that looks like. Maybe the company can begin to dream again, ideally in Ralliart colors. Foreign markets will get a Mirage successor in the form of a Renault Clio-based Colt, but it's inadvisable to hold your breath for that one appearing on your local lot.