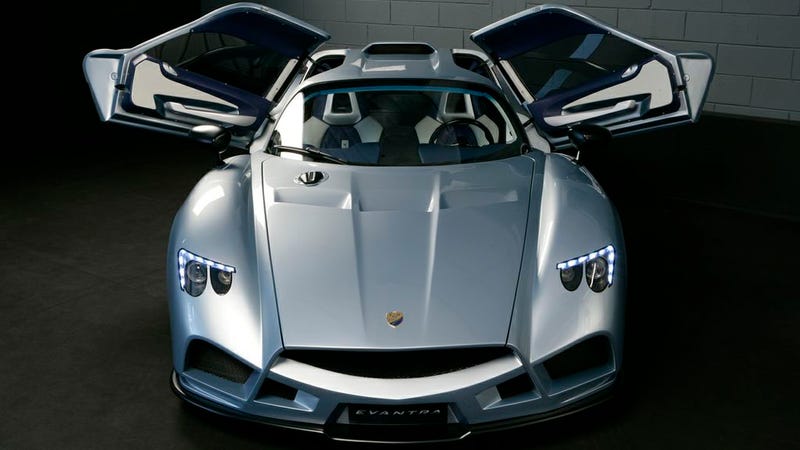 Three years ago, Italian boutique manufacturer Faralli and Mazzanti came out with the $473,000 Vulca S. Designed by fellow Hungarian Zsolt Tárnok, it was a nice looking car with allegedly the build quality of a Lada Niva. Today, Faralli is gone, but Zsolt has penned a new supercar called the Evantra.
Let's start by making clear that I don't like it. At all. It looks like the bastard child of a Noble M600 and the Pagani Huayra. But since it's certainly out of my price range, they shouldn't worry about my opinion of it.
Future customers can choose between a turbocharged six-cylinder with up to 600 horsepower, or a 7.0-liter V8 with 701 horses and 625 foot pound of torque. The transmission is a Sila Holding developed 6-speed sequential unit, while the brakes under the 20" custom OZ wheels come from Brembo. For a bit of cash, they can also be made of carbon, just like the body panels, which are aluminum as standard. But even with the metal body, the Evantra keeps its weight under 2,870 pounds. Sixty from halt will come at around 3.2 seconds the say.
From the outside, the most striking feature apart from the split rear windows are the rear-hanged butterfly doors. Other than that, you get LEDs and massive air intakes everywhere to cool the beast. There's also a dry-sump oil system just in case you want to push it further, but since they only plan to make five each year, it's not really made for that.
The interior was designed by Zsolt as well, with a speedo-integrated Nardi wheel and the engine start button mounted on the roof. Also, the prototype had lots of purple leather, but the great news is that an Italian fashion label will offer a clothing line that goes with the Evantra. I guess it can't be worse than the Bugatti driving shoes...
While it's a bit pointless and certainly not as revolutionary as a Pagani or a Koenigsegg, it's nice to see a young designer from Hungary getting a chance at making a supercar. I'm sure the Mazzanti Evantra will gather crowds wherever it appears.