Times are a changin', and with every automaker making a pivot to hybrids, plug-ins and all-electric vehicles, the enthusiast community is losing big, powerful engines. It may be time to pour another one out: As reported by Motor1, the BMW 5-Series could be losing its V8 in all models except the M5.
BMW has already started on its pivot to electrified drivetrains. The new 7 series, revealed in April and set to go on sale in spring of 2023, has a new design and hybrid and all-electric drivetrains.
So, it's only natural BMW would look to do the same with the 5-Series as it works to refresh and rebuild its portfolio. And don't forget the European Union's emissions and fuel-economy regulations, which are getting more restrictive — and, consequently, killing our ICE darlings.
According to BMWBlog, insiders have indicated that the V8-powered M550i will lose its V8, potentially to be replaced by a hybrid M560e. That new 5-Series would include the same mild-hybrid technology found in the 7-Series, with a 3.0-liter inline-six battery-boosted to as much as 570 hp.
As of right now, the M5 gets to keep its twin-turbo V8. But remember, BMW already hinted at a hybrid variant, and eventual all-electric version of the super-sedan in the future, and it has already been confirmed the M5 is gaining a charging port sometime soon. The 4.4-liter V8 will be paired with the same hybrid unit from the 760i to produce a whopping 750 horses.
G/O Media may get a commission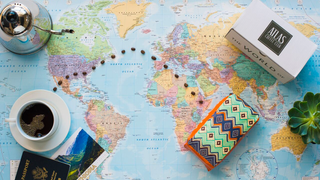 First Bag Free
Atlas Coffee Club - Free Coffee
Explore global coffee
With each bag, Atlas includes details on the coffee's tasting notes and a postcard about the region and its coffee history. And when you subscribe, you have options to tailor frequency, grind size, and roast preference of your beans, so you'll always be brewing the perfect cup.
I reached out to BMW for comment, and they've said they haven't released any information on the 5 series powertrain, so they cannot comment at this time.
So I guess, stay tuned.