When the 2020 Jeep Gladiator debuted at the 2018 Los Angeles Auto Show, many complained that the first Jeep truck since 1992 was too big. "I want a regular cab," the masses of internet truck-diehards yelled in all caps. Well, there's some good news for them, as last week, Jeep showed off exactly that in the Jeep J6 Easter Jeep Safari concept.
I myself am a huge fan of the regular cab, long-bed configuration, which is why I often find myself laying on my concrete driveway, staring and drooling at my Jeep J10 pickup. And it's also why I like the new Jeep J6 concept, which the brand will be letting journalists drive at the Easter Jeep Safari in Moab, Utah next week (I hope to be there, but things aren't looking good):
Okay, so I should put "long bed" in quotes, because this is only a long bed insofar as its six-foot bed is a foot longer than that of the 2020 Jeep Gladiator.
Basically, what Jeep did here is take a Jeep Wrangler Unlimited JL, and replace the back section with a box made of two cut and welded together Jeep Gladiator boxes. That means the wheelbase is the same as that of the Wrangler at 118.4-inches. Overall length is a bit more at 201 inches, but those two figures are about 17-inches and 19-inches smaller, respectively, than those of the new Gladiator.
G/O Media may get a commission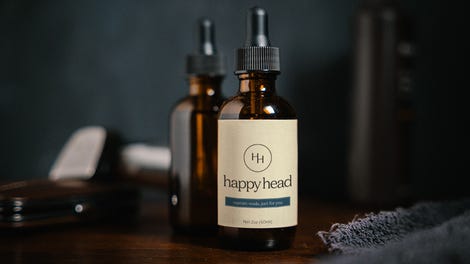 Jeep says the truck was inspired by the original J-Series, but to say that connection is clear would be a bit of a stretch. This thing looks nothing like a J-truck, even with its "hot rodded" variant of the Brilliant Blue color that was offered on 1978 Jeep Honcho trucks, and even with its vintage badging (which—and I will continue to yell this from the mountaintops—needs to be stamped into that tailgate):
The powertrain is essentially stock, but it's tasked with spinning 37-inch tires on 17-inch beadlock wheels (which clear the body thanks to a two-inch Jeep Performance Parts lift kit), and with lugging around a big 2.25-inch roll bar in the bed, which has body-color bedliner in it and a spare tire:
You'll also notice some LED lights on that roll bar; there are lots of these on the J6. Just look at the base of the cowl and on the front "stinger" bumper:
I guess the roll bar-mounted lights do remind me a bit of the J-truck from the Helen Hunt/Bill Paxton movie "Twister," (and of old Honchos from the '70s) and the badges have a nice font, but otherwise I don't see a lot of J-truck-ness. Still, the important thing, here, is that Jeep has built a regular cab Wrangler-based truck, and I, for one, think it's lovely and needs to enter production so that zero of the thousands of internet complainers can actually go out there and buy one.
More images: