Immolated supercars have become a pretty frequent sight here on Jalopnik and in other news outlets. Once, these mighty machines dropped jaws and panties with their stunning looks and obscenely powerful engines.
Then a fire happens, and they're reduced to something that looks like an over-toasted marshmallow at a Boy Scout jamboree campfire. A marshmallow that was built in Italy, cost six figures and used to do 0-to-60 in under four seconds.
The thing is, supercars never seem to simply "catch fire" - they always burn hard and fast until they're just completely obliterated. Just last week, Jalopnik reported on a Ferrari 458 Italia that burned up on a Swiss highway. Luckily, no one was injured, which is miraculous considering what could have happened.
G/O Media may get a commission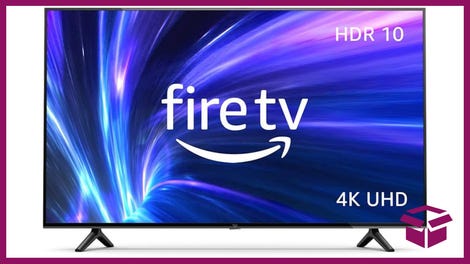 42% Off
Amazon Fire TV 50" 4K Smart TV
We all like to have a good laugh whenever we see these fires. Maybe it's because the owners tend to be a bit relaxed about the whole thing; maybe it's a bit of schadenfreude and envy on our part when we see some millionaire's toy get lit up.
But there's no getting around the fact that this is a serious and persistent safety problem. None of us would find it funny if a Honda Accord — or some other common car we trusted our families' lives to every day - did the exact same thing.
At the same time, most stories about supercar fires don't really go into why they happened. Typically, it takes time for fire investigators to determine the exact cause of a blaze. But for this article, I did some digging to find the exact cause behind some recent exotic car fires.
Ferrari 458 Italia
Although the 458 is a relatively newer supercar, it has already established itself as the reigning champion of exotic car fires. Back in 2010, just a year after the car was introduced, Ferrari issued a recall — as we first reported — that cost more than $330 million and affected some 1,200 Italias. By then, four or five cars had burned, including one in the U.S. The cars were replaced at no charge, the New York Times reported.
Photo credit Autogespot
Cause of fires:
The National Highway Traffic Safety Association's recall on the 458 blames the fires on a special adhesive glue on the wheel arch that was prone to melting. The rear wheel arch heat shields could come too close to the exhaust, which causes the adhesive to ignite and melt the car's aluminum body.
Ferrari FF
Ferrari's fancy new AWD shooting brake hasn't had quite as many devastating fires as its little sister the Italia, but a few have been documented. As of May, three have been reported in China, Germany and Poland. We reported that the latter one burned hot enough to melt the car's reinforced steel A-pillars. Sheesh.
Photo credit: Kontakt24
Cause of fires:
Unlike the Italia, I could find no official recalls in either the U.S. or Great Britain for the FF. But Autoguide reported that the cause may have been defective heat shields near the exhaust — not unlike the Italia.
Lamborghini Aventador
The Aventador is one of the best performing and best looking supercars ever made. Unfortunately, one high-profile fire this spring made headlines here and elsewhere. Jason Schultz, a potential buyer, was test-driving the $374,000 beast in Southern California this April when it caught fire during the drive. The Aventador melted into a steaming pile of metal, and Schultz's posing for the camera after the fire catapulted him into meme-status. Thankfully, no one was hurt.
Cause of fires:
I could find no recalls for the Lamborghini Aventador on the NHTSA website. At the time of Schultz's drive, Lamborghini said they were working to determine the cause of the fire. I found no other examples of Aventador fires in my research, so maybe it won't become a persistent problem.
Lamborghini Gallardo
Until the Ferrari 458 Italia came around, the Lamborghini Gallardo was the undisputed king of supercar fires. Search Google or Jalopnik and you'll be truly shocked at the number of Gallardo conflagrations that have occurred over the years. I'm fairly sure they're actually made of gasoline-soaked wood, not metal.
Cause of fires:
Oddly enough, I found no fire-related NHTSA recalls of the Gallardo since its production run began in 2003. (Yeah, the Gallardo is almost 10 years old.) I've never driven one of these -– is there a self-destruct switch?
Photo credit Wrecked Exotics
Lamborghini Murcielago
The V12 Murcielago isn't quite as prolific as its little brother the Gallardo when it comes to fires, but there have been a few noteworthy ones over its lifespan. Aside from the normal fire risk that comes with owning an Italian exotic, it may be best to avoid aftermarket DVD players. Side note: You own a Lamborghini. Why the hell would you want to watch DVDs in a car like that? Just go drive it. That has to be way more entertaining than any movie.
Cause of fires:
The NHTSA website lists a recall for the 2007 and 2008 Murcielago and Murcielago Roadster. It says the welds holding the fuel pump support inside the fuel tank could detach, possibly leaking fuel that subsequently causes a fire.
Fisker Karma
I don't really consider the Karma to be a supercar, but it is exclusive, expensive and full of enough new technology that it could be thought of as an exotic. But while it may not be as fast as a Ferrari, it's just as good at burning up. The government-financed Karma has been beset by numerous technical problems including several fires.
Cause of fires:
The NHTSA lists two recalls on 2012 Karmas. They say that certain hose clamps within the high-voltage battery may have been positioned incorrectly during the car's assembly. If this is the case, coolant could leak from the hoses into the battery compartment, possibly igniting a fire. The recall began in January of this year, and Fisker was supposed to notify their customers. Another recall was issued in May for the same reasons.
Fisker announced last week that another recall was on the way after a recent fire was linked to a faulty cooling fan.