With a Prius-meets-Acura NSX look, the production version of Honda's FCV Concept will be launched in Japan in 2016, with America and Europe to follow. It'll also come with a backup power unit to bring life to your home in a disaster.
As you remember, Honda and Toyota made an alliance supported by the Japanese government to beat the competition together in fuel cell technology.
Toyota will introduce the Mirai sedan next year and promises that it can travel 300 miles on a single tank of hydrogen and get refueled in under five minutes while emitting only water vapor.
Honda's FCV Concept promises roughly the same starting in March of 2016.
G/O Media may get a commission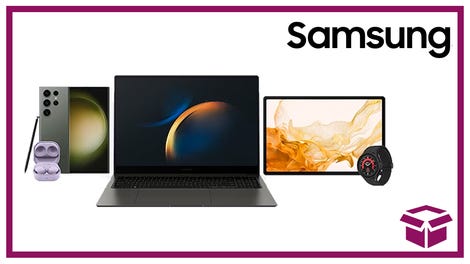 24 hour deals
Discover Samsung - Daily Deal
Since the complete fuel-cell powertrain fits in the front engine compartment, Honda says their hydrogen car will be comfortable for "up to" five people (that's more like four in English). As far as the technology goes, here are the numbers:
Significant technological advancements to the fuel-cell stack have yielded more than 100kW of power output. The power density is now 3.1kW/L, an increase of 60 percent, with the stack size reduced 33-percent compared to the Honda FCX Clarity. The next-generation Honda FCV is targeted to deliver a driving range of more than 300 miles with a quick refueling time of about three to five minutes at a pressure of 70 MPa.
Honda is not new to this as they've collected a bunch of fuel cell firsts in recent years. Their FCX was the world's first production fuel-cell vehicle, introduced to the U.S. and Japan in December 2002. It was also the first fuel-cell vehicle to start and operate in sub-freezing temperatures, and the first fuel-cell vehicle leased to an individual customer (July 2005). Finally in 2008, they dedicated an entire production line for the FCX Clarity.
This year at the Los Angeles Auto Show, expect an announcement about Honda's commitment to help expand and accelerate California's public hydrogen refueling station network. Infrastructure will be the key question here, just like with EVs.
To go one step further, the FCV Concept also comes with an external power feeder they call the Honda Power Exporter.
According to the Japanese press release, that's meant for disasters, which makes sense in the land of tsunamis, earthquakes and Hot Lava Fridays.
Basically, you get a handy generator that uses those fuel cells to give you regular AC output that can power your home.
Well, do you prefer this, the Toyota Mirai or a Tesla Model S?