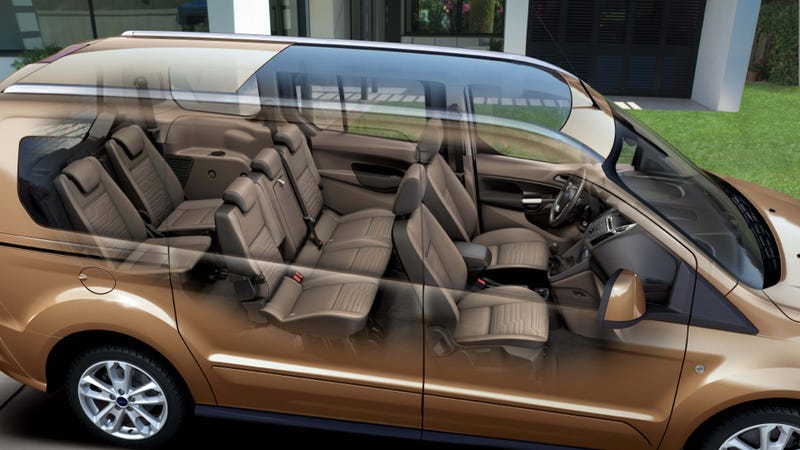 There is nothing you can buy in this country that delivers comfortable seven passenger people hauling and over 30 MPG on the highway. Ford wants to change that with a squat, roomy, efficient, seven-passenger people hauler.
Arguably, when you can buy the newly introduced Ford Transit Connect Wagon you may have the same difficulty as a fully loaded up one may not be able to reach the suggested 30 MPG highway. That's not a critique of Ford, or the 1.6-liter EcoBoost four-cylinder we swooned for in the 2013 Ford Escape.
It's just a giant box that can tow, we're told, 2,000 pounds while shouldering a 1,200-pound payload bigger than what you can store in a Mazda5. Although, maybe you don't want to try all of the Transit Connect Wagon's capabilities at once.
Given our love of van culture and the growing realization among many consumers that the minivan is neither sexy nor the best use of space, the Transit Connect is close to our ideal family vehicle on paper (well, until they give us a Ranchero with rear-facing B.R.A.T-like seats).
Ford will offer the Transit Connect here with the choice of their dull 2.5-liter four-cylinder rental fleet engine and their more interesting EcoBoost 1.6-liter four-cylinder, which should produce something close to the Escape's 178 horsepower and 184 lb-ft of torque. (ignore the manual transmission in the shot above, there's no manual transmission available). It won't be fast, but that's not really the point.
Compared to lumbering minivans or wasteful SUVs, the Escape is something you could reasonably own in a city or crowded suburb with a family. Sure, there are crossovers (Ford builds a reasonable competitor) but this is a Wagon, dammit! You can even have your choice of a liftgate or side-hinged cargo doors.
If Ford fails in the coming years we should shoulder part of the blame. We told them to make the Fusion the Mondeo (they did), bring us the new Focus and give us the ST (they did), and deliver unto us a Fiesta (they did that, too).
Now we're getting into random requests. We've always wanted a more featured Transit with optional seven-passenger seating (though, we'd probably buy the five-passenger version). Now we have that too. Maybe we should keep pressuring them to bring over the European Ranger, because we're running out of stuff to ask for.
Anyone out there with a family who thinks this might meet their needs when it goes on sale late next year?