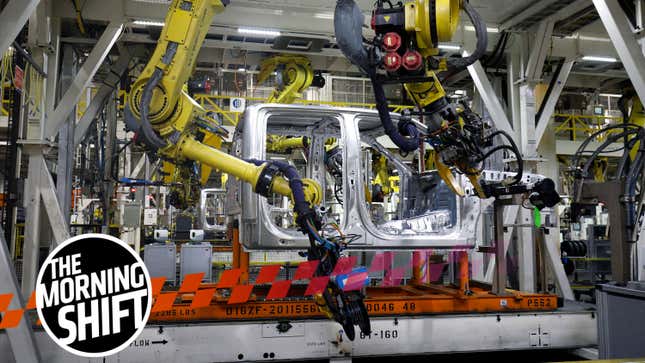 Some very grim scenarios regarding a potential U.S.-Mexico border closure, a bizarre tweet, Ford's plans for China and more await you in The Morning Shift of Wednesday, April 3, 2019.
1st Gear: Well, What Did You Expect?
The wall between the U.S. and Mexico has been something the President Donald Trump has been running on since day one, and without it, he's now threatening to close the border entirely. It's unclear if or how he plans to actually do it, but what is pretty clear is that such a move would be calamitous to many industries, including the car industry.
While it's true that farmers and consumers would also be hit pretty hard, the American car industry in particular should be feeling very nervous about all this. American car companies, their employees, parts suppliers and regional economies in the Midwest, Texas and California would all be affected, according to the Detroit Free Press:
"I don't know why we're talking about avocados & strawberries (as much as I love both), when the whole flipping auto industry could be shut down in a matter of days if we close the US-Mexico border," tweeted Kristin Dziczek, vice president of industry, labor and economics at the Center for Automotive Research in Ann Arbor.

"Go back to what Michigan looked like in 2009," she told the Free Press on Tuesday. "It's pretty dire. Everybody was laid off or idled and it was economically devastating to the state."

Jeoff Burris, founder of Plymouth-based Advanced Purchasing Dynamics, a supply chain consultant to auto suppliers primarily in North America, said the effect would exceed that of a natural disaster.

"We have seen Mexico earthquakes, coastal-labor disputes at ports of entries and tsunamis. All pale in comparison to the impact a prolonged border shutdown would have on suppliers, dealers and industry employees," he said.

"Complex assemblies include components and raw materials that cross the border multiple times before a finished car is delivered to a dealership," he said.
Car parts are regularly imported from Mexico and Dziczek notes that about 37 percent of U.S.-made parts go to Mexico just as part of the manufacturing process. Disrupting that supply chain system could shut down factories and impact "hundreds of thousands of people immediately."
Burris agreed, saying, "A shutdown would be disastrous for hundreds if not thousands of suppliers on both sides of the border. For both economies, it would be mutually assured destruction."
In any case, the President said he still prioritizes stopping refugees from seeking out a better life over Americans having jobs, reports Bloomberg:
"Let me just give you a little secret: security is more important to me than trade. I'm totally prepared to do it. We're going to see what happens over the next few days."
Perfect. Can't wait. Maybe this will all tie in with that recession we're headed for.
2nd Gear: A Very Strange Tweet
The saga of ex-Nissan boss Carlos Ghosn has been a decidedly strange one, with highlights that include talk of being whacked and disguising himself as a worker in public to mask his whereabouts. And it just got a little stranger, this time with a very unexpected tweet.
A tweet posted at nearly midnight last night from an account with the handle @carlosghosn read, "I'm getting ready to tell the truth about what's happening. Press conference on Thursday, April 11."
First of all, Ghosn is on Twitter? The profile section says that the account was created in April 2019 and there are only two tweets, both about "the truth" with one in English and the other in Japanese. No time or place of this press conference was mentioned. Uh?
It was bizarre, man. Its authenticity was of course questioned (there are plenty of trolls on Twitter because Twitter is bad), according to Reuters, "[The tweet] left journalists unsure of its authenticity - particularly as the conditions of Ghosn's $9 million bail preclude him from using the internet."
Seriously! But then:
"Forty minutes later, when the blue tick appeared, the tweet swept across social media and the account's followers swelled to almost 20,000, from just a handful earlier."
Still, we don't know if Ghosn himself actually sent the tweet or someone did it on his behalf. His bail conditions dictate that he can access a computer at his lawyer's office, but he can't use the internet, Reuters also notes.
Also, I'd like to emphasize the use of "the truth" here, as though implying that what's been reported and said are untrue. I don't know about you, but I am very much looking forward to the press conference where Carlos Ghosn Speaks Out At Last.
3rd Gear: Ford's on the China Offensive
China's car sales went down for the first time in two decades, it was reported at the beginning of the year. It had to at some point, but for automakers who rely on Chinese purchasing power, this wasn't a good thing. But some are still working hard at that China angle. Ford in particular.
The American automaker said previously that it wants to launch 50 "new or significantly redesigned" cars in China beginning in 2018 and through 2025, reports Reuters and has since provided some more clarity on those plans.
Ford Motor plans to launch more than 30 new models in China over the next three years of which over a third will be electric vehicles, the U.S. automaker said on Wednesday, as it seeks to reverse slumping sales in the world's top auto market.

Its China operations chief Anning Chen said the automaker is committing itself to improving its relationships with Chinese joint-venture partners and localizing its management teams by hiring and promoting more Chinese nationals and global talent with Chinese expertise, among other initiatives.
Keeping up the momentum there makes total sense, as China is Ford's second-biggest market. But can Ford keep its head above the slipping sales waters? Can anybody, really?
We'll see.
4th Gear: Toyota's Royalty-Free Patents
Here's a bit of lighter and more cheerful news: Toyota just said that it will offer access to its electrification-related patents in a grant period that will start immediately and go through the end of 2030, according to a press release. All free of charge.
The plan appears to be two-pronged:
"First, Toyota announced that it will grant royalty-free licenses on nearly 24,000 patents it holds (including some pending applications) for vehicle electrification-related technologies."
"Second, Toyota will provide fee-based technical support to other manufacturers developing and selling electrified vehicles when they use Toyota's motors, batteries, PCUs, control ECUs, and other vehicle electrification system technologies as part of their powertrain systems."
Toyota believes that if it opens up this channel of knowledge to the public, it'll help to overall to combat climate change. It's similar to how Tesla open-sourced all of its patents in 2014.
Hopefully, governments, innovators and other companies will use this resource to further sustainable solutions. We can't really afford not to at this point.
5th Gear: Remember This Guy?
Last September, we reported on a wild case that involved Champion Porsche, a Florida-based dealership, alleging that its ex-vice president of marketing, Shiraaz Sookralli, skipped town with $2.5 million in deposits that he fraudulently took from customers.
The dealer later said that it would reimburse the scammed victims.
Well, Sookralli has been arrested, though the how or where details are scant, reports Automotive News. From the story:
U.S. Attorney Ariana Fajardo Orshan, of the Southern District of Florida, announced the arrest Tuesday along with other federal agencies and Broward County Sheriff Gregory Tony. The statement offered no details on how or where the arrest was made.

Sookralli is charged with mail fraud, wire fraud, conspiracy to commit mail and wire fraud, and money laundering. Sookralli made his initial appearance Tuesday, and is scheduled to appear before U.S. Magistrate Judge Patrick Hunt on Friday for his pretrial detention hearing.
With the use of a string of shell companies, Sookralli allegedly convinced customers to sign fake sales contracts because they believed that they'd scored a really rare and valuable Porsche. But the cars never existed. Sookralli disappeared and the bank account he opened to accept the money was cleaned out.
Guess the law finally caught up with him.

Neutral: What Do You Think Will Happen to the Car Industry If the Border Is Closed?
Do you think it'll be as catastrophic as the industry experts predict it will be? Or will it bounce back?