This is the Morning Shift, our one-stop daily roundup of all the auto news that's actually important — all in one place at 9:00 AM. Or, you could spend all day waiting for other sites to parcel it out to you one story at a time. Isn't your time more important?
---
1st Gear: Citroen Numero 9 Smells Like [Insert French Joke Here]
Everyone thought that this concept car Citroen will present at the upcoming Beijing Auto Show would be named the DS9. Nope. Instead, it'll be dubbed the "Numero 9" — part of an attempt by the brand to associate itself with French luxury goods, notably Chanel SA's iconic "Nº 5" perfume. Jokes about it smelling like a French whorehouse, eating a baguette with stinky cheese and surrendering at the first sign of danger aside, the "Nº 9" — an attempt at signaling the future design cues of C- and D- segment sedans and an SUV — actually is fairly pleasing to the eyes. Well, as long as you don't look to closely at the grille. Because that looks like someone stuck the Citroen double-arrows inside the air intake of a Ford Fusion/Aston Martin/Kia Optima/Chevy Impala/everything-else-with-that-same mouth. Also, don't look at the side profile view. Ever. In fact, it's no wonder that in almost every one of CarScoop's 120 pictures of the car, it's partially obscured.
---
G/O Media may get a commission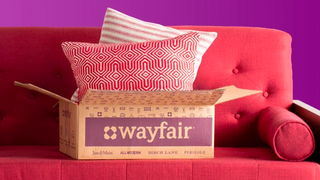 Big deals
Wayfair Surplus Sale
2nd Gear: Chrysler Claims NHTSA Investigation Limited To 2010 Jeep Wranglers
Chrysler's taking issue with news accounts saying the federal government is expanding its investigation into fires in 2010 Jeep Wranglers — an investigation we broke the news on at the start of this month. USA Today's Chris Woodyard says the automaker claims "the scope of NHTSA's official investigation of the Jeep Wrangler has not been expanded beyond the 2010 model year." Apparently, according to Chrysler, the National Highway Traffic Safety Administration has asked Chrysler for data on other model years of Wranglers, from 2007 to this year. But they are apparently using the data as a point of reference to look for problems in the 2010, not for an expanded investigation, according to the automaker. Of course this is the same automaker that was attempting to get at least one Wrangler owner to keep quiet about his Jeep fire. We'll be calling our sources this morning to find out for sure.
---
3rd Gear: Parents Don't Want To Bother Understanding Car Seats Because They're Hard
AOL/AOL Autos/Huffington Post reports this morning on a new study by the Insurance Institute of Highway Safety that says carmakers are, in large part, ignoring standards that would make car seats easier to install. That's right, they're burying latches in between seats and making tethers hard to find. That means those poor parents who can't be bothered to take the time to root around a little bit are installing seats that are too loose and could jerk around in an accident, putting children at risk. Apparently just 21 of the 98 vehicles tested by the institute passed the group's car seat installation test. David Sullivan, a car product analyst at consulting firm AutoPacific, agrees. "A car seat and a car are two totally different things, so how do you make everything compatible?" Sullivan said. "It's not always easy." I know. Sullivan's right. Those poor parents, having to actually do research and test things out when it comes to their kids' safety. Something must be done!
---
4th Gear: Hyundai Used To Be A Joke
Eight years ago when John Krafcik joined Hyundai, Americans laughed at the Korean brands cars. Of course they did. The cars were ugly, smelled funny, and often broke down. The only reason to buy one was because it was cheap. But nobody's laughing now. Thanks to products that are not only competitive but also, in some cases, segment-leading — and some very smart marketing — the brand went from zero to hero almost overnight. Or as overnight as you can in an industry with five-year product cycles. Check out this great interview from the Associated Press with Krafcik here at Boston.com.
---
5th Gear: Maserati Will Launch Three Products Next Year
Maserati will launch three new products in the next two years, the trident-badged brand announced in a press release yesterday. Although no vehicles were named, we already know that it'll be the Kubang SUV, a new Quattroporte and an itty-bitty baby Quattroporte. And that's all that we have to say about that.
---
6th Gear: Ford Escape Pricing Starts At $23,295
Ford announced pricing of the new, Focus-based 2013 Escape crossover will start at $23,295, including destination. That pegs the price-point at $200 less than the outgoing model. The price pops up significantly for a fully loaded 2013 Escape in new Lincoln-replacing Limited-replacing Titanium trim. That'll sticker for $31,195, including $825 destination.
Dealers have begun taking orders for the redesigned Escape, which'll show up on dealer lots later this spring with production beginning this week at Ford's Louisville, Ky., assembly plant.
---
Reverse:
GM to kill Chevrolet Avalanche. [Detroit News]
How to Drive a Ferrari in New York? Carefully. [New York Times]
Chevrolet to pull all 11 IndyCar engines. [Associated Press]
The race to become the world's uber-automaker. [CNN Money]
At the Auto Show, Chevy Panders to the Pooches. [New York Times]
Kurt Busch to drive Nationwide car for brother Kyle starting at Texas. [CBSSports.com]
More than moving metal; Hyundai drives brand makeover. [Reuters]
---
Today in Automotive History
On this day in 2009, former Major League Baseball all-star pitcher Mark "The Bird" Fidrych is found dead at the age of 54 following an accident at his Massachusetts farm involving a Mack truck he was working on. Fidrych, the 1976 American League Rookie of the Year, suffocated when his clothes got tangled in the truck's power takeoff shaft. [History]
Show us your tips!
Got tips for our editors? Want to anonymously dish some dirt on a competitor? Know something about a secret car? Email us at tips@jalopnik.com.
Lost in our new layout?
Click here for the Opposite Lock or Tips forums. Want a more "blog-like" look? Click the button up top next to "Top Stories."
Get more Jalopnik!
Want even more Jalopnik? Want to know which of your friends read us? "Like" us on Facebook and follow us on Twitter.