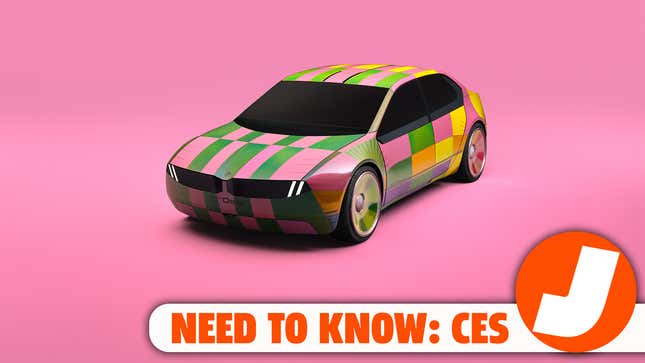 Remember BMW's weird Dee activation on Twitter, when the company's global account got "taken over" by a character that was really into talking about Arnold Schwarzenegger? Well, we now know what that's all about, and it's exactly as weird as we've come to expect from modern BMW: A concept sedan based around virtual reality.

The i Vision Dee, named for its "Digital Emotional Experience," is the company's big reveal for this year's Consumer Electronics Show. Its body is color-shifting, its windows implement mixed-reality tech, and its headlights and grille can change shape in order to "produce different facial expressions." Y'know, just in case you wanted your car to give you a little :3 face while you try to find it in a parking lot.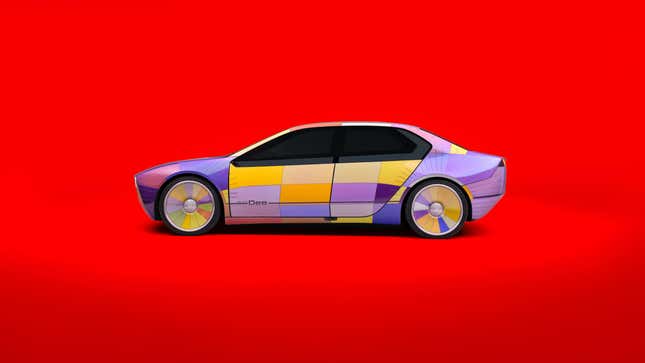 The color-changing tech comes from BMW's CES tradition: A full-body E Ink wrap. This 32-color version finally lives up to the promise BMW trotted out before last year's show, and even allows for animations to be played on the car's body.
As for the Digital Emotional Experience of it all, the i Vision Dee combines two forms of existing automotive technology in some interesting ways. First, it broadens the concept of an in-car HUD to now span the entire windshield, and seemingly to the car's other windows, in order to create full augmented reality beyond the vehicle. Then, it makes those same windows out of electrochromic glass, allowing them to be completely dimmed — turning an AR driving experience into full-on VR. The whole system is controlled by a "mixed reality slider," that allows the user to control how much of the real world seeps through the windows into the car.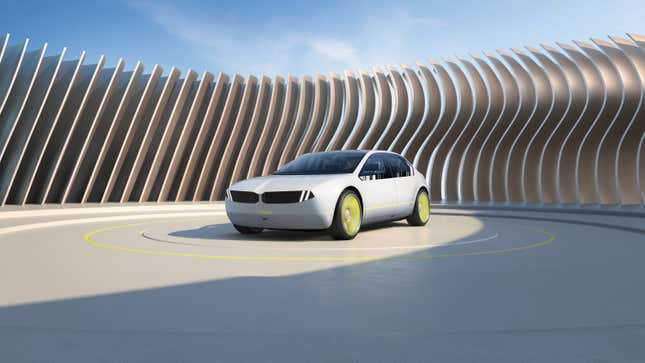 While a full virtual reality cockpit isn't likely to show up in production cars any time soon, the tech presages a full-width HUD on the windshield of BMW's coming EVs. The company hasn't yet announced what data will occupy all that visual real estate, but it could be useful for things like turn-by-turn directions layered over the roads ahead of you.
Perhaps the greatest innovation in the i Vision Dee, however, is its styling. The concept's simple design looks like a German take on the fan-favorite Nissan IDx, with its hard edges and smooth lines. BMW, I've defended the M4 snout and the 7 series's headlights for years. Please — give us a production version of this shape.