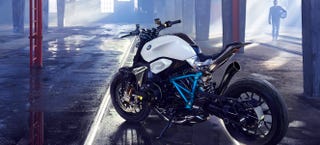 The stylish Mini Touring Superleggera Vision isn't the only roadster BMW debuted at this weekend's 2014 Concorso d'Eleganza Villa d'Este. This is the BMW Concept Roadster, and it's so light and simplified it only has two wheels!
It's definitely a different use of the term "roadster" than we're used to, but the bike is so good looking that I'll give it a pass. At last year's Concorso, BMW debuted their Concept Ninety bike to celebrate 90 years of motorcycle production. This year's bike is decidedly more modern — much like the BMW i8 in design.
Powered by a 125 horsepower, 1200cc boxer twin-cylinder engine, the Concept Roadster boasts a tubular space frame, lots of aluminum, LED light banks in the headlamp, and a sleek, stripped-down design. It looks about as naked as naked bikes get.
Here's what BMW says about that:
The interplay between the fuel tank, seat and radiator is modelled to perfection in flowing style. The experienced hands of the BMW modellers have given the surfaces an emotional quality that no computer would be capable of recreating. The surfaces provide a detailed reflection of the characteristics of the BMW Concept Roadster: the sculpturally designed fuel tank in Sparkling Light White expresses the forward-looking orientation and dynamic performance of the BMW Concept Roadster with its precise modelling. Its shape also provides an ergonomically perfect knee grip for optimum handling. A cover made of matted stainless steel adds a high-end yet robust accentuation at the centre of the fuel tank.
No word on production plans, but I think it'd be a hit if it were produced. Chalk this roadster up as a design win for BMW, even if it's not a sports car.