During a BMW meeting today in Munich, the chairman of the BMW board Harald Krüger confirmed that the BMW 8 Series Coupe is slated for arrival in 2018. Today is a very good day.
Later this month, BMW will show us a design concept at the Concorso d'Eleganza Villa d'Este, which it says will give an "exclusive look" at the upcoming coupe. In the meantime, here's a sketch that doesn't really tell us much.
"The BMW 8 Series Coupe will build on our tradition of luxurious sports coupes and add a genuine dream car to our line-up—a slice of pure automotive fascination," said Krüger. "The 8 Series Coupe will underpin our claim to leadership in the luxury segment. I can tell you today that this will be a true luxury sports coupe."
This news comes right after we learned that the 6 Series Coupe has been discontinued, leaving an executive coupe-shaped hole in the BMW lineup.
G/O Media may get a commission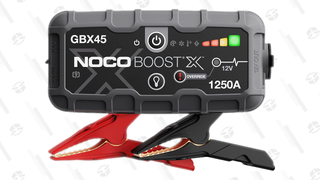 13% Off
Noco Boost X GBX75 Jump Starter
Rumors of the 8 Series' return have been circling for years and it looks like it's finally happening. BMW currently does not have a luxury flagship like Mercedes does and it's about time the 8 Series changed that.
Only one car has borne the 8 Series mantle before—the big grand tourer built from 1989 to 1999 that famously came in V8 or V12 flavors. The original 8 was a technological powerhouse, but ultimately a failure in the marketplace, doomed by the rise of SUVs at the expense of coupes, its monstrous price tag and its complicated nature. In the years since it's become coveted among enthusiasts willing to put up with its many quirks in exchange for its bold looks and power.
We'll see if the new 8 Series can do it all better.