Aston Martin offers a V8 Vantage that costs under $100,000. That means you can cross-shop a new Aston with a Jaguar F-Type R. But is the 2015 V8 Vantage GT a bargain, or a desperate ploy to sell a 10-year-old sports car facing its end times. We found out.
(Full Disclosure: Aston Martin wanted us to drive the V8 Vantage GT so bad, they flew me to the UK to see how its new cars are made, and how its old cars are re-made, and then to Germany to the Nürburgring 24 to see Chris Harris help race one of their Vantage racecars to a class podium. I'd never been. Next year, I want to go back and camp in a Unimog. Who's in?)
Suppose you could walk into a BMW dealer today and get a 2004 BMW E46 M3, brand new, for $30,000. How about a 2005 Acura NSX with a warranty and the smell of fresh adhesives thick in the air for $60,000 out the door? What about a 2006 Ferrari F430 with zero mileage for less than $130,000? I'm willing to bet – to paraphrase Martin Landau's washed-up producer in "Entourage" – that's something you might be interested in.
How about an Aston Martin V8 Vantage GT for under $100 grand? It's the same principle, but this one is real.
Ten years ago, Beyonce was the middle one in Destiny's Child, Justin Bieber was in fourth grade and naming a web site "Jalopnik" seemed like a good idea. And the Aston Martin V8 Vantage was mere weeks away from being delivered to its first customers.
G/O Media may get a commission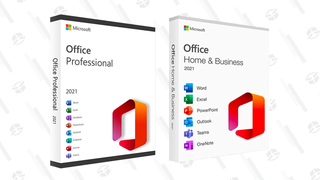 95% off
Cyber Monday - Lowest Price Ever - Microsoft Office Lifetime License
First shown as a concept in 2003 at the Detroit auto show, the V8 Vantage was a "new direction" for the then-Ford-owned Aston Martin. It was a smaller than its Aston contemporaries, built with a high-tech Erector set of bonded aluminum called VH (vertical, horizontal). The name wasn't a technical description. It meant the platform was adaptable to a full line of cars of differing wheelbase lengths, a fact made clear by its initial use: underpinning the larger, V12-powered DB9.
Next to the sexy DB9, the Vantage looked like an English bulldog puppy, but was closer in attitude to a bantam rooster. It had a front-mid-mounted, 4.3-liter V8 connected by carbon-fiber prop shaft to a transaxle at the rear. It had a taut, curvy body shape designed by Ian Callum and Henrik Fisker, who found a way to make the Vantage look fresh, not a pastiche of past designs. It was quick enough and mercifully well-balanced, the most driver-focused Aston Martin built since the late '50s. And it had an intriguing base price of around $110,000, making it the most affordable Aston as well, roping in buyers long priced out of the company's fold.
Fast forward to 2014. Jalopnik is still here, and not much has changed with the V8 Vantage, except the price (yes, higher). The engine displaces more volume (4.7 liters) and makes more power. With the V8 Vantage S, introduced in 2011, the steering rack quickened, the suspension stiffened and its engine aggresiv..., er, aggressened to 430 hp at 7,300 rpm and 361 lb-ft at 5,000 rpm. Weight went down and braking force went up. Add to that build-quality improvements and subtle refinements that come from doing the same thing over and over for an entire decade, and you're starting to get why the new V8 Vantage GT can be mentioned in the same breath as more recently updated models.
During the same period, just about everyone else in the performance-car world moved on to squeaky new tech: weird, algorithmic steering; rapid-fire, dual-clutch semi-autos (or slick new automatics); artificially aspirated, flat-torque-curve, sonically challenged tinderboxes, and fancy stability programs that would let my late grandmother hang out the tail of a new Stingray at 100 mph, assuming she'd taken a driving lesson since 1919. And even then.
In our modern world, the V8 Vantage — due for a major overhaul within the half-decade — seems quaint. It offers throwback tech like hydraulically boosted steering, fixed damping and an un-boosted, peaky V8. It's the kind of thing people pay big money for in the used-car market. Just ask anyone who's bought an air-cooled Porsche 911 lately how much they paid for it, and prepare to be gobsmacked.
And so, with the V8 Vantage nearing the end of a lengthy product cycle, Aston Martin's product planners devised the V8 Vantage GT, which can be had for around the same base price as a Jaguar F-Type R. The Jag is perhaps more spry and, thanks to its supercharged V8, has more power at lower revs than the Aston, but suffers from light, feedback-challenged steering and no manual transmission. Still, it's the perfect foil to the V8 Vantage, which is why the next great comparo you'll want to read will match up these two cars on a great road.
So here we are. Checking out the V8 Vantage in GT guise, it's clear this is a very smart move on Aston's part. It has heaps of driving character, a gorgeous figure, manual transmission, a high-revving, naturally aspirated V8, feelsome steering and brakes, neutral handling, mechanical limited-slip, and an unfussy, well-damped ride quality. If you like those things, you'll like the GT, which is basically a V8 Vantage S with some packaging decisions made for you.
For one, you can choose from a fixed selection of base colors and accents, two of which were inspired by Aston Martin racing colors of the past – Alloro Green (with yellow), from Stirling Moss's Le Mans DBR1/300; Mariana Blue (with red), from Bobby Parkes's Morecambe Rally-winning DB2/4 – or Jet Black (with gray), Skyfall Silver (with white) or Speedway White (with red).
Color accents show up vividly on the grille "lipstick," mirror caps, cant rails (not on the roadster) and rear diffuser blade, although they can be deleted in all-or-nothing fashion. Also standard are diamond-turned alloys painted in graphite, black headlamp bezels and clear tail lamps with black surrounds. An alcantara-covered steering wheel is a no-cost, and absolutely essential, option. None of the cars we drove had the white stripe you saw on the launch car. (In Europe, Aston sells the GT as the N430, or Nürburgring + horsepower, a moniker they didn't think would resonate with Americans.)
Want a wider selection of colors and options? You'll have to pay $130,000 for the standard V8 Vantage, and then, as usual, the sky's the limit. Also, there's a roadster model for a nearly $15,000 premium. I didn't drive, but if it were my money, I'd stick with the coupe. Here's why.
The GT is a screaming deal if you hold to the basics. Like, don't tick the box marked "automatic." It bumps the price from $99,900 to $105,200, and the seven-speed Graziano "Sportshift II" is fine in manual mode at high speeds and for medium-duty track work, but around town and for casual driving on b-roads in auto mode, it struggles to complement the 4.7-liter V8's power band.
You'll get the manual because where the Aston excels is in the experience of driving. It's a car that has to be driven with attention. It's not some contrived experience fostered by software and actuators and sound resonators; it's a good, old sensory feast of sound, tactility, balance and adrenal hits. If you don't take advantage of this mechanical occasion, you're squandering the value proposition.
It was fun to revisit the V8 Vantage after a few years. There's always a bit of a getting-to-know-you period with driving an Aston. Its road manners seem hidden behind a curtain at first, but after 15 minutes of throwing it around, there's a moment of recognition and from then the game is on.
The six-speed shifter and hydraulic steering are anachronisms of weight, feel and mechanically linked connectedness, requiring some exertion. Steering is quick and boosts accurately, and in direct opposition to the electronically-guided ethereality of modern steering, it feels like operating heavy machinery. The brakes have fantastic initial response for line tuning, and controllable stopping force during deeper stabs at the pedal. It's a very physical car.
Not a precision instrument, the V8 Vantage is nonetheless a fulfilling unit in which to chop down a corner. It displays natural poise, well-tuned damping and body control that downplays its 3,549-lb curb weight. The three-stage, brake-based stability control is rudimentary, but offers all the safety net you'll need, and plenty of extra angle in Track Mode.
The engine is a fruit of the same tree as the Jaguar AJ V8. In its naturally aspirated form – unlike, say, the F-Type R, which uses a blower the AMV8 is a long-game powerplant. Life begins at 5,000 rpm, with a back-loaded torque curve that's become an anachronism in itself. I'm not sure, but I think the AMV8 may have the latest-arriving torque peak (361 lb-ft @5,000) of any high-performance road-car engine on the market today. (Is the Lexus LFA still "on the market"?) That means it's sheer joy to grit your teeth and rev straight up to the fuel cutoff at 7,300, where you bash into the limiter, wishing for just another 500 revs to finish the job.
The interior is still gorgeous, with well-turned leather and those familiar Aston Martin analog gauges, including that confounding reverse-running tach. Ergonomics? Eh, that's so 2014. Eventually you'll figure out where all the buttons you need are, and how to find your way around the cluster and be able to do things like zoom out from the wonky nav screen. Don't worry about any of that. Put it this way, if you are a person who worries about things like having a bit of non-intuitive instrumentation in your vehicle, you can take your money elsewhere and put it to much better use.
(NOTE: WE DON'T GET THE LIGHTWEIGHT SPORTS SEATS. C'mon America. Give us a break with your byzantine safety rules. Or at least sync up your byzantine safety rules with those of the rest of the world. Kthanksbye.)
(See how happy this guy looks? This is a car for driverrrrrs!)
Mileage. Ooof. Don't ask. The price to pay for a high-revving, character-filled naturally aspirated V8 is that you will use lots of fuel, and love every, decadent minute of it.
Ultimately, the V8 Vantage GT, like the V8 Vantage S from which it gets most of its performance kit, is a special car. It's exciting to drive; it mandates huge, dopey grins from drivers, passengers and onlookers, and if you value the raw, corporeal acts – and sounds and tactility — of driving, you can't do much better right now. And at under $100 grand, it's a possibility for many who – dare I say – may be tiring of cars that place hot stats and performance capability over the animal act of driving.
So, would you have a Jaguar F-Type R coupe over a V8 Vantage? Count that decision among the best of problems to solve.
Engine: 32v, quad overhead-cam V8; 4.7 liters
Compression ratio: 11.3:1
Power/Torque: 430 hp @ 7,300 rpm / 361 lb-ft @ 5,000 rpm
0-60: 4.6 seconds
Top Speed: 190 mph
Price: V8 Vantage GT Coupe (manual): $99,900 (as tested)
V8 Vantage GT Roadster (Sportshift II): $119,700
V8 Vantage GT Roadster (manual): $114,400
V8 Vantage GT Coupe (Sportshift II): $105,200