There's nothing more uncool than a driver on the street pretending he's a racing driver. But there's nothing cooler than a street car pretending it's a racing machine. That's where these two 'new' Astons come in.
First up is the DB9 Carbon Edition.
There are no performance changes, just some new tacked-on carbon fiber pieces, mesh grille inserts, and black interior trim.
G/O Media may get a commission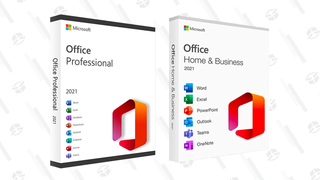 89% off
Microsoft Office Professional 2021 Lifetime License
I love the DB9 (even if your dog can eat it and it's been made out of counterfeit plastic and maybe you won't be able to buy it anymore), so I don't care that this is a special edition in name only.
Second is the V8 Vantage GT. This is a little hard to parse out, as Aston claims the car gets a power boost up to 430 horsepower, but the V8 Vantage has had 430 horsepower available since 2011 (with the Vantage S) and 420 horsepower since 2008. The ad copy for the engine includes this wishy-washy description of how all engines should work all the time anyway.
Meanwhile the aggressive spark method uses sophisticated electronics to ignite the fuel in the engine at precisely the right time allowing the engine to run at its most powerful. It can also recognise higher octane fuel and extract the optimum performance from the increased rating.
That aside, the Vantage GT does get a quick-ratio steering rack and sports-tuned suspension, so that should make this car pretty great to drive.
The key for the Vantage GT is that you can get it in pseudo-race liveries, just like the recently-revealed Vantage N430. In fact, the Vantage GT appears to be identical from the exterior to the N430, because Aston used the exact same photograph for the two cars. Oddly, the N430 has six more horsepower than the US-bound GT.
Whatever. These are all going to be running AMG engines pretty soon anyway. Let's enjoy this old 4.7 liter Ford/Jaguar/Aston V8 while we can.
The interior, I should say, is absolutely gorgeous.
And all imagined sins of this car are forgiven when you see you can still get it with three pedals.
Pricing starts at $99k, Aston claims, which is about twenty grand less than most claimed MSRPs. Is this special edition really cheap? Something doesn't add up.
So while these two Astons are just rehashing very, very old platforms, they're still gorgeous and desirable. And if you're going to get a V8 Vantage, why not paint it up like a racecar? As long as you don't show up to your Sunday drive wearing a Bell, you'll still look cool.
Photo Credits: Aston Martin