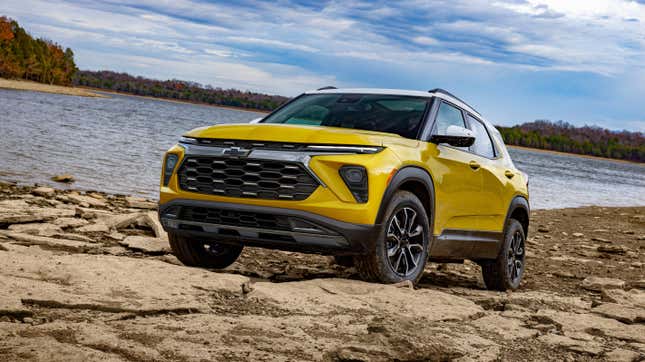 The 2024 Chevrolet Trailblazer is getting a small redesign both inside and out. The small SUV from Chevy won't come with any mechanical upgrades this year, but the facelift has given the 2024 Trailblazer a new look, courtesy of sleeker lights all around, as well as a new grille and bumpers that tauten up the SUV's lines.

The 2024 Chevy Trailblazer Gets Some Light Updates
The changes extend to the new Trailblazer's interior with bigger infotainment screens now standard. The main display in the cabin is 11 inches, while the driver's display is 8 inches — quite the jump from the previous model, which came with an 8-inch center screen and 4.2-inch display for drivers. That bigger display will make use of wireless Apple CarPlay and Android Auto, now on all Trailblazer models.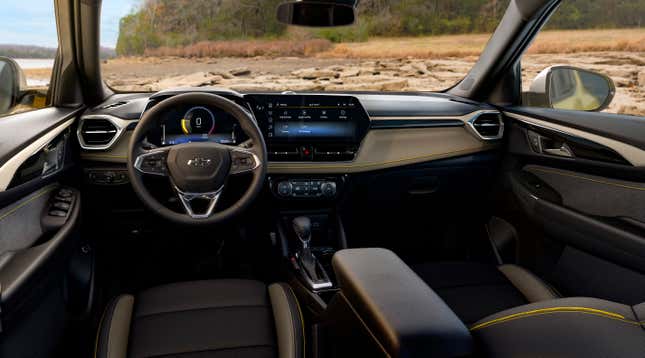 Most everything in the engine bay will stay the same: the Trailblazer will still be powered by a turbocharged 1.2-liter three-cylinder engine that makes 137 horsepower, mated to a continuously variable automatic transmission (CVT). That configuration is standard, but there's an optional turbocharged 1.3-liter three-cylinder engine that bumps the power up to 155 HP that can be paired with either a CVT or a nine-speed automatic transmission. The Trailblazer is FWD standard, but the bigger engine and nine-speed auto add AWD to the mix.

Some previously optional equipment will also be included on all models at no cost, including push-button start, cruise control, and a high-def backup camera.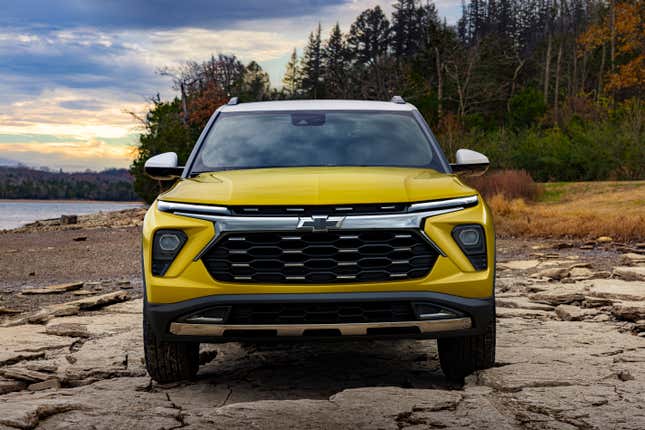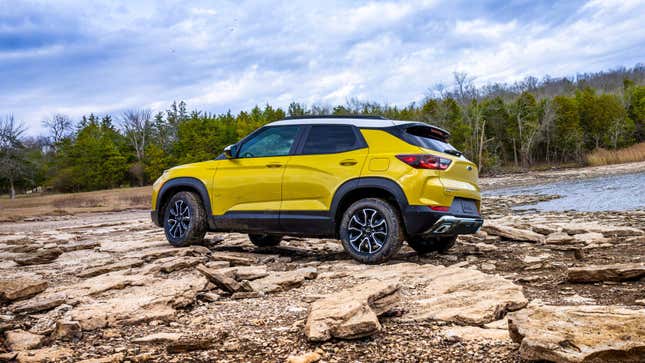 Chevrolet is keeping the two-tone paint as an option on the Trailblazer RS and Activ, thankfully. That ought to liven up the little SUV, but the RS will also come with " blacked-out exterior cues," according to Chevy, for a somber look. That makes little sense to me, but the industry is convinced that blacked-out means sporty. Ah, well. The new Copper Harbor and Cacti green paint options seem to be livelier. The Trailblazer RS will also come with a mesh grille, dual chrome exhaust tips, and 19-inch wheels, all of which are exclusive to the trim.

All of these small changes add up to a higher price. The 2024 Trailblazers base price is up by $1,000, now coming in at $24,395 including destination charges. Likewise, the price of the top RS and Activ trims increased by nearly a grand, now that these both start at $28,395, delivery included. That's $900 over their previous price of $27,495. Overall, it's a mild price bump for a mild redesign to the Chevy Trailblazer.