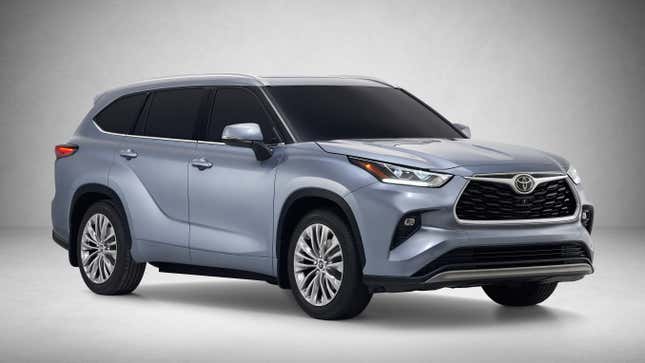 The 2020 Toyota Highlander is clearly trying hard to look tough, but, whatever. The design is inoffensive. What's cool about this car is its efficiency, in a couple senses of the word–the Hybrid version now claims 34 mpg(!) in combined driving. That's not a lot of gasoline to lug eight people around.

The outgoing Highlander Hybrid hit 28 mpg in combined highway and city driving, making the 2020 model a pretty significant step upward in fuel economy. Highlanders have three rows of seating and while lower-trim variants seat eight with a middle bench, the nicer ones will have captain's chairs for a little more comfort at the cost of one seat.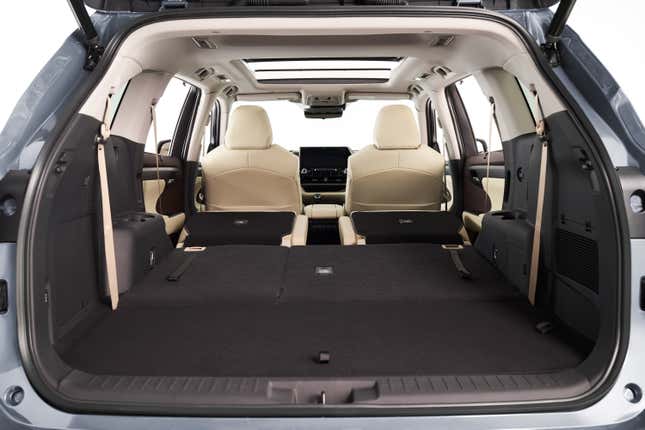 The new Highlander can stash 16.1 cubic feet of whatever behind the third row, and its cargo capacity expands to 73.3 cubic feet if you fold all the back seats down according to the preliminary spec sheet.

The standard 3.5-liter Dual VVT-i V6 engine, which turns out a factory-stated 295 horsepower and 263 lb.-ft. of torque, claims 22 mpg in combined driving but will feel a little swifter than the electric-assisted model. The Hybrid, which is clearly the spec to get, is propelled by a 2.5-liter DOHC VVT-i four-cylinder engine paired with two electric motors making a reported 240 total HP.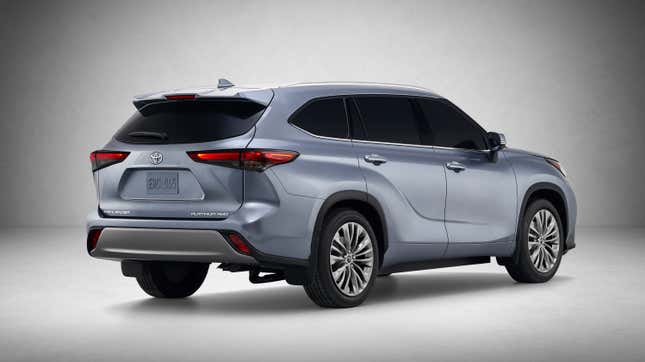 Either powertrain can be ordered with front or all-wheel drive.

But if you want to use your Highlander to tow things, you're going to want the V6, which can have a towing package that includes a heavy-duty radiator, engine oil cooler and improved fan to be able to pull 5,000 pounds.
As far as convenience tech, a suite of safety tools like pre-collision warnings, automatic high beams, radar cruise control, and something new for the Highlander called Lane Tracing Assist which is Toyota's name for lane-keeping.
The Platinum trim, which is the finest finery a Highlander can be kitted out with, will have an expansive 12.3-inch touchscreen for infotainment functions, finally taking Toyota out of the in-car display stone ages I hope.
Lesser Highlanders (there can not, contrary to popular belief, Only Be One,) get eight-inch screens.

I'm pretty tepid on the new 2020 Highlander's looks. It seems like it's caught in an awkward adolescent stage somewhere on a transition from "truck" to "station wagon," but I'm excited at the idea of a large seven or eight-passenger car hanging out with mpgs in the mid-30s.
If parents are going to keep insisting on getting substantial SUVs and crossovers for their families' convenience, at least their fuel consumption and driving costs can be curtailed a bit.