The 2020 Toyota Camry lives up to the car's reputation for providing simple satisfaction. Camrys are comfortable, easy to use, and frugal on fuel burn. Now, for the first time since the '90s, you can get one with all-wheel drive.
(Full Disclosure: Toyota brought me to glorious Utah–I saw a bald eagle!–to drive some of its AWD vehicles. The company put me up in the Montage hotel, where I could never afford to take myself, and paid for exceptional food for me to eat. Pretty standard press car launch party procedure. Except also, Toyota's people kindly asked if I wanted to borrow a pair of skis and have a lift ticket to the adjacent Deer Valley ski resort for a day. Now, obviously, it'd be tough for me to take that and claim it didn't create a warm fuzzy association with the car company. But I am physically incapable of saying no to skiing. It's like tapping a keg in front of an alcoholic–sliding on snow is a drug and I am hopelessly addicted. So I shredded courtesy of Toyota. That said, it's still my job not to care what Toyota thinks of this writeup. And more importantly: It's my job to give my most candid impressions that are relevant to you as a car enthusiast and potential buyer.)
To answer your first question: You can't have a V6 AWD Camry, it's four-cylinder only for now. Second: AWD on this car, as ever, is no substitute for snow tires. If you're planning to try and plow through the fluffy slushy white stuff, getting a set of dedicated snow wheels on your front-drive car is going to be much more effective at maintaining traction than running all-season rubber and AWD. You can't argue with physics.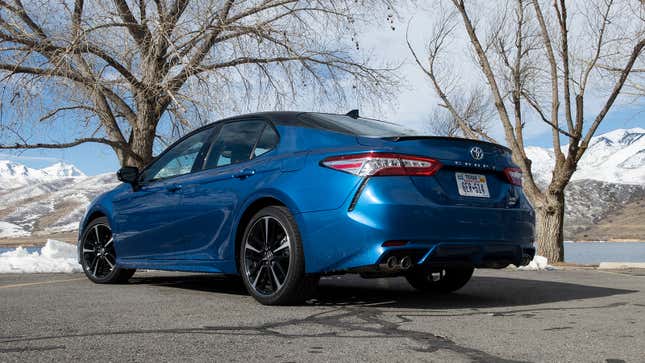 With that out of the way, we can discuss the merits of Toyota's various all-wheel drive systems.

Not All AWDs Are Created Equally
You probably knew, or might have guessed, that the AWD systems in Toyota's cars and compact SUVs are not the same as the 4WD systems in its trucks. But we don't need to revisit "AWD vs 4WD" again today. This time, we can get into how Toyota's various all-wheel drives work.
The lower-spec RAV4, and as of this year, the four-cylinder Camry and Avalon, can be spec'd with what Toyota calls "Dynamic Torque Control AWD." Lower-spec Highlanders have essentially the same setup too, with a driveline disconnect.
With this system, the vehicle is front-wheel drive most of the time but can send up to 50 percent power to the rear axle when the car's computers detect slippage. A setup like this ostensibly exists so you can have the benefits of all-wheel drive occasionally with the frugality of front-wheel drive usually. Turning more wheels takes more fuel, after all.

Or, if you're cynical, it was probably the cheapest and easiest all-wheel drive system to port to the Camry so Toyota could slap an "AWD" emblem on the trunk of its popular sedan before Honda did, and snipe some Accord sales from pearl-clutchers who think AWD is necessary in their next car because it snowed a few inches last year.
Top-trim RAV4s and Highlanders can get what's called Dynamic Torque Vectoring AWD. Notice the different word there–vectoring–which refers to the fact that torque can be vectored between the left and right rear axle. In plain talk, that means the vehicle can smartly split power between its rear wheels to make use of whichever has more traction. The Camry, which does not have torque vectoring, lacks this ability.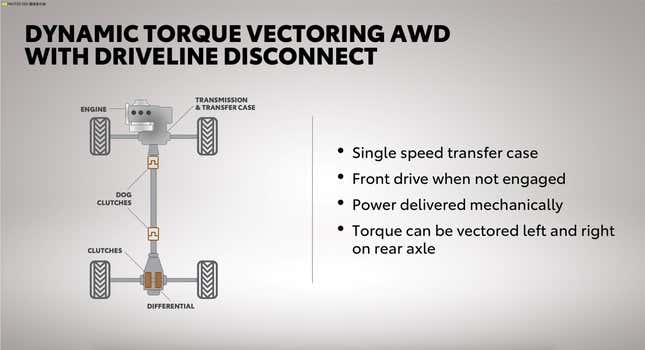 Toyota's hybrid SUVs have Electronic On-Demand AWD, which are front-drive most of the time but can use their electric motors to power rear wheels when desired. The Prius AWDe has a similar system. On that car, the extra drive wheels are used even more sparingly to maximize efficiency.

On The Road In The AWD Camry
The current iteration of the Camry, the eighth-gen, has been with us for a few years now but it still feels handsome and fresh on the outside. The cockpit is fairly basic and will feel approachable to anyone who's been driving since the '90s, but I'm not about to critique a mass-market car that starts at around $25,000 for not being enough avant-garde. In fact, I rather like the car's user-friendly setup.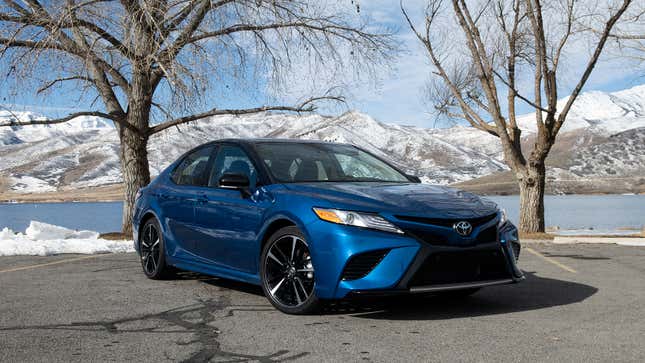 The vehicle's main weakness is its engine. The 2.5-liter four-banger Toyota's named "Dynamic Force" claims a modest 206 horsepower and 186 lb-ft of torque. It's great that you can squeeze almost 40 mpg out of this thing, but man, you can't squeeze much else. Even with the car's smooth eight-speed automatic deftly holding gears as long as it can to provide you with power.

At about 7,000 feet above sea level, where we held our road test, the poor thing huffed and heaved and screamed its way up inclines with a valiant but not exceedingly impressive effort that left me really wishing I were in a Camry V6.
Prevailing lore (or at least the Garrett website) tells us that non-turbo cars lose about three percent of their power per 1,000 feet of elevation. And though I'm somewhat dubious of the accuracy of that exact figure, the four-cylinder Camry is not enthusiastic about mountain climbing no matter how many wheels are being powered.
That being said, there would have been no reason at all for the car's system to engage its rear axle on our loop around the roads near Park City. The one time we were really hoping for inclement weather on a test drive, all we had to work with was dry pavement.
Toyota's media team did get a great batch of pics from when the roads were snowy a few days earlier, though. So to help you imagine the car dashing through the snow, peep these:
But to simulate shittier conditions for us, Toyota arranged for a snow-covered field to be partially plowed in the shape of a little road course.

Naturally, every test pilot's first instinct was to deactivate traction control, keep the car in second gear, and see how many drifty turns could be linked together. Look, I'm only human, and I was not immune to these temptations. (Findings: Yes! The Camry can be skidded when you drive it like a goofball!)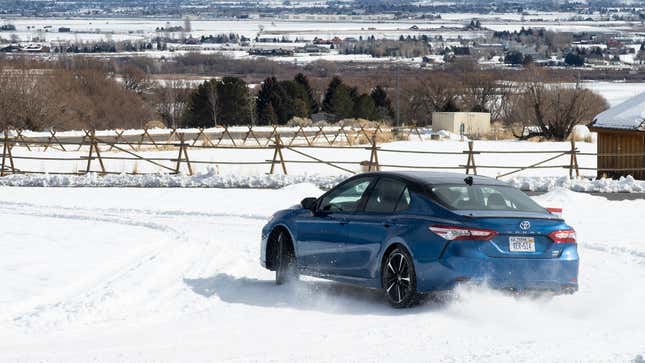 But on another lap I was also able to test the limits of the Camry's AWD system in a slightly more realistic way. Moving off from a stop on a very slippery incline, for example, the car was not readily capable of doing. When turned a little too quickly, the Camry had a hard time overcoming understeer. Put another way: There still wasn't an abundance of bite on the icy terrain.

That's not so much a failing of AWD as it is a clear indicator of how much more important proper tires are than the number of driven wheels. Our test sleds were on Toyota's stock all-seasons, which just can't claw into snow the way chunky winter rubber can.
When driven gingerly though, as one should realistically behave on a very slick road, the Camry AWD made its way around without incident.
Vroom
I still haven't driven a V6 Camry, ever, but I did get a ride from Park City's Montage hotel to SLC airport in one. And even from the right seat, the car felt so much more competent than the four. (Editor's note: The current V6 Camry is a laugh, a lark, a Looney Tunes cartoon on wheels. Rare is it to find a modern car that feels genuinely overpowered, but the 301-HP V6 Camry is it.)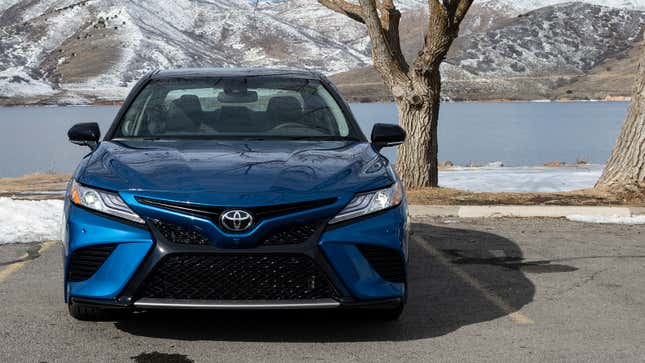 As much as I like the idea of Toyota investing in sedans by diversifying the Camry lineup with a four-cylinder AWD model, I'm not convinced an occasionally active rear axle really adds a whole lot to the driving experience. The V6 probably does, but of course, it also adds a lot to the price.

A nicely equipped Camry XSE four-cylinder retails for about $30,000 while an XSE V6 is more like $35,000. Pricing hasn't been confirmed for all-wheel drive as I write this, but it's expected to be about a $1,500 option, which still makes an AWD Camry notably cheaper than a comparable model with 301-HP.
If you're really keen to give up a little bit of fuel economy for some added traction, the AWD Camry is cool. A savvier move might be to buy a dedicated set of winter wheels and tires for your front-drive Camry. There's something to be said for the peace of mind that comes with all-wheel drive though, even if it is sort of an "AWD Lite" that's no active all the time.
If you're looking at Camrys and are willing to spend a little extra for powertrain upgrades, I'd recommend stretching for the V6. Then again, if you don't spend a lot of time more than a mile above sea level and are just looking for a good getaround car, I bet you'll find the four-banger servicable.
But, if you really want to drive your Toyota sedan in rough weather, pair some grippy rubber with the new AWD option and you'll probably be chugging your way through just about anything. Just don't be in a hurry.