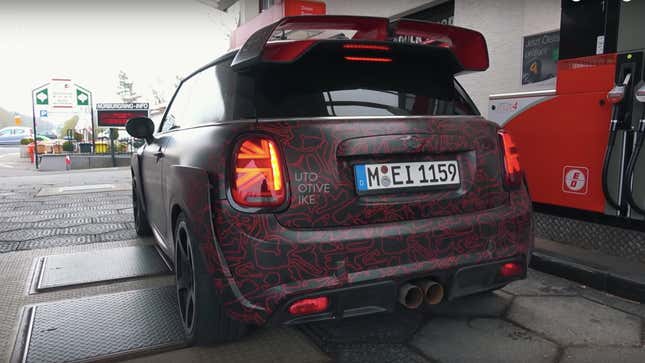 Generally speaking, BMW tends to be better than most automakers at translating its concept cars into production cars. That the BMW i8 exists at all is proof of this. So after a few years of missing out on cool Mini concepts—looking at you, Superleggera Vision and Rocketman—it's good to see the upcoming 2020 Mini John Cooper Works GP will keep the concept's crazy bodywork.
Listen To The Lexus RC F Sing Through The California Mountains
As a little refresher, here's how that concept car looked: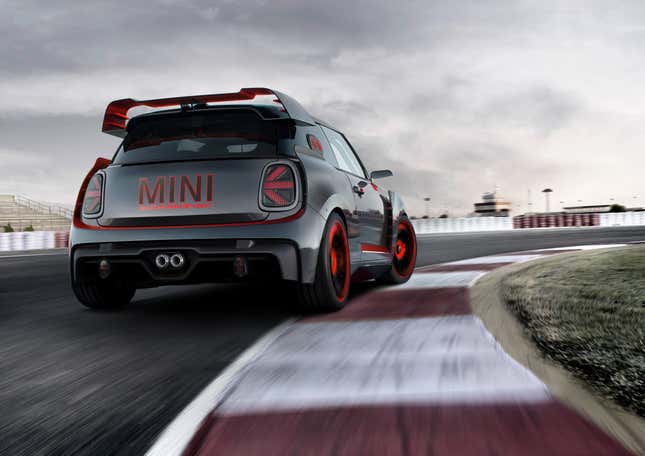 Nice. But who would have guessed those wild side skirts and wing would stay on the production car?
Evidently that appears to be the case, per this new spy video from the Nürburgring shot by Automotive Mike:
It's definitely shaping up to be the wildest-looking Mini yet. And the most powerful—the company has confirmed the GP will make 300 horsepower from a turbo 2.0-liter four-cylinder engine. Granted that's not as wild as some hot hatches these days, like the Civic Type R or Ford Focus RS, but the Mini is still smaller and lighter than all of them.
We still haven't seen the final production version of this car. I thought we would at the New York Auto Show that happened last week, but that ended up not being the case. Later this year seems likely.
I guess I'm just worried about price. I love Minis but they're seldom cheap, with less-hot JCW models easily ringing up into the $40,000 range. My guess is the GP will be around $50,000, making it a very fun and very quick car for a very, very specific kind of buyer.
Oh well. It definitely looks (and sounds) ridiculous in the best way.