If you were hoping the upcoming revival of the Toyota Supra would get a manual transmission, you are just setting yourself up for disappointment. Either way, a new interview with Tetsuya Tada, Toyota's Global Chief of Engineering, suggests the new Supra will get a dual-clutch transmission instead.

The interview comes from Infoseek via the Supra Mk. V forum, and a rough Google translation reveals Toyota's global chief of engineering mentioned that the Supra will be getting a DCT transmission, further diminishing all hope of a manual option. Here's the translated quote:
[Interviewer]: By the way, is MT prepared for the next SUPRA?

Mr. Tada: At the moment, it is not; it is just a dual clutch transmission. I think whether it is not fun if MT is a large power car like the next SUPRA. Raising the torque of the engine will make the shift feel worse. If so, it is very doubtful whether MT specification is necessary. However, I think that there is a meaning of MT adoption if it is said that even general people will taste the sequential type transmission installed in the racing car.
The new car is being developed in partnership with the upcoming BMW Z4, and the previous generation of that included a seven-speed dual-clutch transmission. BMW also includes DCTs as an option for many of its performance offerings. But! It was rumored, via Car And Driver, that the new Z4 could get a manual option. So what the fuck, Toyota?
G/O Media may get a commission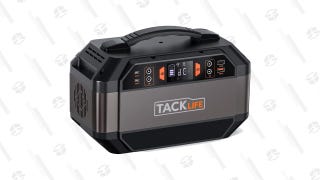 Tacklife Portable Solar Generator
Before we get too upset, Tada was seemingly careful with his wording, and didn't completely rule out a manual. It's just looking less and less likely. Ok, it's definitely unlikely.
The roughly translated interview also revealed that development of the new Supra began shortly after the reveal of the Toyota 86, which Tada worked as chief engineer on. Tada also said the car is pegged to be fully revealed later this year and that it's being benchmarked against Porsche.
Tada sees the Supra as a pure sportscar, where its Z4 step-sibling is more of a luxury model. That's all great, except, for some reason, the latter is getting the preferred transmission options. How unfortunate.
But as my colleagues have argued about before, what is there to be that upset about? Be happy. We're getting a new production Toyota Supra in a time where the very thought of that seemed impossible just a few short years ago. It probably won't even suck.
Take the DCT. Learn the DCT. Embrace the DCT. Enjoy it.
H/t to Cam!