The Chevy Colorado ZR2? Good. Good for being a truck, good for offroading. The Chevy Colorado ZR2 Bison? That's what you get when Chevrolet partners up with American Expedition Vehicles (most well known for making wild off-roady Jeep pickups), and festoons it with armored plates for ultimate off-roading potential. Even better.
You may have heard of American Expedition Vehicles, aka AEV, before. They're mostly known for doing some extensive modifications to Jeeps, turning a humble Jeep Wrangler into the AEV Brute, the 475-horsepower luxury Wrangler pickup you've always wanted:
They've tinkered with Ram pickups as well, which we've heard (but not confirmed, though I'm sure Jason Torchinsky is working on it) require prophylactics to drive.
G/O Media may get a commission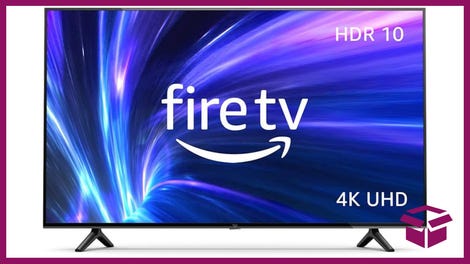 42% Off
Amazon Fire TV 50" 4K Smart TV
Having seen all that Grade-A American beef, Chevrolet apparently found partnering up with AEV enticing. But since this isn't a full-fat AEV conversion, it's a bit leaner than the aftermarket company's usual beef. A bit, in fact, like bison.
The main difference between the regular Colorado ZR2, which is already pretty extensively mud-prepped, is the addition of five skidplates.
"For maximum protection of key undercarriage elements while driving over rocky, jagged terrain, Bison features five skid plates covering the engine oil pan, fuel tank, transfer case and front and rear locking differentials. Designed by AEV, these skid plates are constructed of hard, durable hot-stamped Boron steel," Chevrolet said in a press release.
Weirdly, I know a bunch of people that have cracked engine oil pans and differentials, completely ruining their day, because they went off-roading without a properly-plated pickup personal transport. One major thing to remember when you're off-roading is to put your tires on top of the rocks, in large part so that any sharp and jagged edges don't pierce your truck's underside. But we're all human after all, and sometimes you miss something, or the obstacle just isn't avoidable. Without armor protecting your underbelly, your rig is pretty vulnerable.
AEV kindly went through the trouble of providing the ZR2 Bison with new bumpers and fenders as well, but they're not entirely just for looking tough. Chevy and AEV say they actually are the real deal, with integrated recovery points on the rear bumper (because getting stuck happens to even the gnarliest trucks), and tubular protection on the corners mounted directly onto the chassis, just for when you happen to bash into things.

And on the inside, AEV decided to plop their logo onto damn near everything, from the headrests to the floormats.
I'm sure you've seen that superb-looking snorkel by now. I know, I know, it's great. But sadly it doesn't necessarily come with the truck, as it's a dealer-installed accessory. And there is something odd about it in Chevy's press release that I'm still trying to figure out. It's this bit, right here (emphasis mine):

Customers will also be able to purchase an available third-party accessory snorkel for ZR2 Bison from AEV, ideal for air filtration while driving on dusty trails. This feature is compatible with all Colorado pickup variants.

Now I'll shamefully admit that I'm not the most off-roady person in the world. But I was always under the impression that snorkels were primarily used for water fording, and not for dust filtration, so I'm a bit confused. I've reached out to Chevrolet on the snorkel thing, and will update if we hear back.
I dunno. I'm really just jazzed you can get this thing with a diesel.
Update 12:27 PM: Yep! Chevy says it's more for dust than for fording anything. Phil Leinert, a spokesman for Chevrolet, clarified:
You interpreted the purpose of the available accessory snorkel correctly in that it's more for air filtration while driving on dusty roads than for water fording.

ZR2 is a "segment of one" in that it's equally good at rock crawling as well as desert running, in addition to having excellent on-road driving qualities. ZR2 Bison is optimized more for rock crawling with its five hot-stamped Boron steel skid plates and stamped steel front and rear bumpers, but without sacrificing much in the way of on-road drivability.