The 2019 Acura MDX A-Spec sounds sporty, but don't get your hopes up for Porsche Cayenne-pushing performance. It's an aesthetic treatment. That doesn't mean the MDX isn't nice to drive, though. And I should know—I put about 2,000 miles on this vehicle cruising all over Texas.
(Full Disclosure: The fine folks at Acura needed me to test out the new MDX so badly that it sent one to my place with a full tank of gas, said to drive it all over the damn place, and was totally cool with me and my now-wife loading it full of stuff to trek from Austin to Marfa for our wedding.)
The MDX is designed to be a practical American-mover, and at that task it excels. And it's a welcome fixture in a refreshed lineup. From losing the hideous grille beak to sharpening the styling language across the board, Acura seems to have heard cries for more visually-appealing cars.
Acura's SUVs are among the last models in its lineup to get the refresh, and now the MDX and updated Acura RDX definitely look closely related. Which is a good thing, I think.
G/O Media may get a commission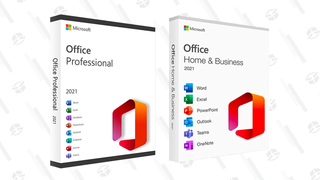 89% off
Microsoft Office Professional 2021 Lifetime License
What Is It?
The Acura MDX is the automaker's bigger SUV and has been a solid seller since its introduction in 2001. Based on the same platform Honda uses for its popular Pilot SUV, the MDX can seat seven passengers and pack a ton of stuff inside its expansive cabin without having to be as cumbersome to drive or fuel-thirsty as body-on-frame SUVs like the Chevrolet Tahoe or Ford Expedition.
Competing in a crowded three-row luxury SUV segment, the MDX finds itself stacked up against the likes of the always-popular Lexus RX, Infiniti QX60 and Audi Q7.
Specs That Matter 
Powering the 2019 MDX is a decent 290 horsepower 3.5-liter V6 mated to a 9-speed automatic transmission. Weighing in at 4,275 pounds, the MDX A-Spec is lighter than I expected—there are plenty of sedans that heavy these days. According to the spec sheet, the front-drive base model is even leaner at 4,032 pounds.
The Apex Blue one I tested rang up at $56,195 with the Technology Package (which adds navigation, AcuraLink advanced phone pairing, premium audio, blind spot information, remote engine start, LED puddle lights, parking sensors, and rear cross traffic monitor) and the A-Spec Package (styling pieces, sport seats with Alcantara inserts, sport pedals, ventilated seats, 20-inch alloy wheels, and LED fog lights).
As A Daily Driver
The MDX's ride quality and handling will seem exceptional to the average motorist. After two long treks of nearly eight hours across Texas, I loved that the seats were supportive, comfortable, and part of a cockpit that just fit me correctly. This seven-seater seems squarely aimed at suburbanites who have owned Honda or Acura models in their past, and now want lots of room with a more enjoyable driving experience than a minivan might be able to provide.
Touch points and seat positions are easily overlooked by a lot of car companies, but the MDX's are spot on. Sure, there are nearly two dozen controls on the steering wheel to get distracted by, which I also complained about when I reviewed the 2019 Acura ILX recently, but at least they're all easy to use. Toggles, buttons, and thumb-wheels included.
Interior seating in the first two rows is great, offering an abundance of space in comfortable seats. I wouldn't suggest putting adults in the third row for anything other than the occasional quick trip, but the friends I stuck in the middle row during a pair of hour-long drives said they had more than enough legroom and liked the seat positioning.

On the topic of storage space, I was surprised at how much the luggage MDX gobbled up when my now-wife and I loaded up all of our stuff to travel from Austin to Marfa, Texas for our wedding. We folded the third row down, and loaded up the middle row with a wedding's worth of florals and a pair of weekender bags behind the front two seats.
The back cargo area stacked four cases of my favorite beer, two cases of water and Topo Chico, two big boxes of supplies for wedding guest welcome kits, two roller bags and two backpacks. With all of that packed securely, I could still see out of the rear window. Specifically, Acura says there's 38.4 cubic feet of usable cargo space behind the second row.
Some Highlights
The 2019 Acura MDX seems like a strong value in its class if you don't need the A-Spec or Technology packages—with a starting MSRP around $45,000—though the price point has snuck up a bit over the past two generations.
Acura interiors may seem plain at first glance, but they're intuitive. As a lot of car companies seem to be making dashboards and controls overly complicated to pack in new features, Acura's layout looks refreshingly simple to me.
Acura made a dramatic change a couple years ago when it implemented a new button-based gearshift setup, but once you get used to it, it's great. Its compact design also frees up a good bit of room on the center console, and hides away something you don't need dominating interior visual space.
Infotainment screens in many other cars seem to be afterthoughts from a design perspective. Mazda and Mercedes have been fond of slapping screens on top of their dashboards, for example. Porsche and Audi might design a cool-looking interior, but they're tough to figure out when you're trying to go between audio, navigation, or Apple CarPlay controls on the fly.
Not everyone's a fan of Acura's dual-screen stack set up, but I actually I loved that I could run Waze via Apple CarPlay on top while the lower screen showed my audio display. When covering over 400 miles a day twice in the MDX, this layout was awesome and easy to use.
Weak Spots

Two generations ago, the MDX was seriously well-equipped in the mid-$40,000 range. The new model packs a lot of features, but as you work your way into the $50,000 neighborhood you're also lined up against the best-selling Lexus RX and the rather good Audi Q7. We already mentioned that this MDX A-Spec Touring tester lists at $56,196, and that's not cheap. The MDX is probably going to have strong long-term reliability and good resale value compared to an Audi, though.
The 2019 MDX's 3.5-liter V6 engine is reasonable, but the 290 horses in there feel a bit soft at the lower end of the rev range. Maybe the 9-speed gearbox isn't helping performance either, but I want another 40 flexible horsepower and more low-end torque in a car this big.
For the average suburb dweller toting kids to school and soccer practice, the power delivery is nice and smooth, has a subtle yet respectable engine note. The engine and powertrain are probably going to last forever with routine maintenance, and provide more than adequate performance for their target buyer.
Putting 2,000 miles on the 2019 MDX I tested, I was able to get a solid read on fuel economy and averaged 21.1 MPG according to the vehicle's display. That seemed a little on the low side, with the EPA's estimates at 19/21/25 city/highway/combined and the vast majority of my miles having been spent on interstate highways across Texas in November.
Does 'A-Spec' Mean Sporty? 
"A-Spec" sounds like a high-performance variant, but it's mostly been a cosmetic upgrade since it was a dealer-installed option on the 2003 RSX and 2004 TL sedan. Back then the TL A-Spec got a lip kit and a spoiler to look a little more aggressive, along with a suspension tweak and sport tires. Car & Driver bestowed the honor of "mixed review" to the package which apparently cost a hefty $5,200 at the time. The first car to have an A-Spec factory option was the 2016 ILX.
Today's MDX seems better than "mixed," but as far as the A-Spec upgrade goes, it really just makes the car cooler looking. It stands for "Accessory Spec," after all. Like I've said, it does not suck to drive though. It's easy to maneuver in a corner, considering its size and curb weight, and the Alcantara seats are a nice touch inside, but this not a performance car. If you need to get your track day or canyon carving fix, Acura still offers the NSX.
The MDX's steering is extremely light, which is great for parking, but I wish it would tighten up even more with the sport dynamic mode activated. Even though I may have whined about having only 290 HP, the power band is flexible, and doesn't feel like it tapers off at the top end.
I do wish the A-Spec package came with a set of stickier tires with shorter sidewalls, as the all-season Continentals my tester sported were fine, but they aren't performance compounds. Acura could stand to upgrade the brakes too, as the MDX's brakes were hardly exceptional when I needed to apply a good amount of pressure to scrub off speed on the highway for slow traffic.
A couple weeks before I had the MDX tester in Texas, I was part of a full-line drive program with Acura at its factory and proving grounds in Ohio, and was able to take the MDX out on a gravel road course. On the loose, rocky surfaces, the Super Handling All-Wheel Drive system in the MDX is confident, and it predictably danced around the course without any fuss.

I wouldn't see myself taking the MDX on any sort of overland adventure, but the SH-AWD's trick electric clutches do a fine job of working the rear differential to help give your outside rear wheel more torque to better rotate the car when needed, while helping manipulate the power output to all four wheels when any traction loss occurs. The system itself is quite subtle, and doesn't feel overly mechanical when you're pushing the MDX anywhere near its limits, which is a good thing.
The Verdict
It may not be a truly performance-oriented SUV, but the 2019 MDX A-Spec is really good. It's not exciting to drive, but it's predictable and easy. Its looks and proportions are clean and just stylish enough, and as a result it will age well. At its price in the mid-$50,000 range, you still get a good batch of features for your money.
Engine type
Premium Unleaded V-6
Transmission/Drive
Automatic w/OD