If you put every standard-issue crossover on the market right now into a blender, you'd have a broken blender. But if you did it figuratively, you'd end up with something like the 2018 Kia Sportage SX. It's simple, welcoming and just fancy enough to make you feel good. Just don't expect it to be outstanding in every way.
(Full disclosure: Kia had a Sportage SX dropped off at my apartment with a full tank of gas for me do use for a week. This was last year, before I was dealing with some medical issues, so that's why it's a 2018. Still, enjoy.)
Most modern Kia reviews are obligated to start with something like "Kias are way better than they were 20 years ago." And yeah–modern Kias are a far cry from the stapled-together soap box cars of the '90s that seemed predestined to end up as pizza delivery beaters.
That said, the original Sportage is the only early American-market Kia I have to admit I kind of miss.
G/O Media may get a commission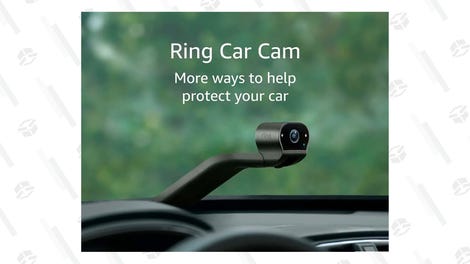 Looking at this adorable trucklet up top, you might be tempted to call the OG Sportage a straight knockoff of the Toyota RAV4 or Honda CR-V. But it was actually developed at the same time, with Mazda and Ford, because while "crossovers" hadn't really been invented yet, compact SUVs were just getting popular.
Today, all small car-based SUVs are pretty much classified as "crossovers" and none of them are half-convertibles. But the Sportage SX still feels pretty breezy inside, at least if you order the optional panoramic sunroof. With that big skylight slid all the way open, you get a lot of the pleasures of drop top driving without any of the wind. Which is kind of nice.
But while the original Sportage was cutesy, the current fourth generation car that we have now is mature and practical.
Specs That Matter
The Sportage is a relatively trim 176.4 inches long, seats five and has a Kia-claimed 30.7 cubic feet of cargo space behind the rear seats. If you only need to carry two people, you can drop the back seats and unlock almost double the haulage area. That easily gobbles up small piece of furniture or all your luggage for a long vacation.

You can order all-wheel drive or front-wheel drive, either of which pairs with a six-speed automatic transmission, but the main decision you need to make is between two engines: A 2.4-liter four-cylinder rated at 181 horsepower and 175 lb-ft of torque, which I haven't tested, and the SX Turbo trim's 2.0-liter turbo rated to a significantly stronger 240 HP (237 with AWD) and 260 lb-ft of torque. (Differences for the 2019 model are negligible, by the way; there is a bigger screen option for the LX package now but that's about it.)
That extra power makes the engine upgrade pretty appealing, and it doesn't come with much of an efficiency penalty. Kia says the AWD naturally aspirated engine can do 22 mpg in combined driving while the turbo does 21.
Unfortunately, both those figures kind of suck for a car this size. Rivals like the Ford Escape, Toyota RAV4 and Honda CRV all do better in EPA estimates.
And it's not like either engine can blow the cold brew coffee out of your cupholder or haul a massive load, either. The Sportage is only rated tow a maximum of 2,000 pounds or carry about 1,000 inside it.
As for performance–it's fine.
Meanwhile, if you're thirsty for more specific details, check out the full spec sheet straight from Kia.
Beautiful Simplicity
My favorite thing about the Kia Sportage was how welcoming its interface is. I'm in and out of new and old cars constantly, and there's a lot of variance to the pitch of their learning curves.
A '90s Honda is completely self-explanatory. A new Volvo requires a tutorial class. BMWs and Benzes make you work for it. A new Kia, or Hyundai for that matter, has a whole lot of the fancy tech that makes a new car intriguing, while still being as easy and intuitive as a car you grew up with.
A blind spot warning system, lane departure and autonomous emergency braking are part of the SX trim's stock package and they all seemed to work as advertised. I must confess, I didn't test the parking assist system. If you can't park a 180-inch car on your own, you should maybe think about sticking to the bus.
Beyond the driver aid suite, my test car was only accessorized with some leather trim and cargo netting, which I really liked. Your days of having loose apples rolling from side to side every time you take a turn are over! Look how organized you could have your groceries back there:
Back in the front seat, everything you'd need quickly is available with a hard key. The infotainment software does exactly what you think it should, and I never felt frustration in a week of working with it. This is a vehicle built for the purpose of practicality. If you want to take advantage of a new car's suite of toys but don't want to have to think about how to use them, you're going to feel good in the cockpit of this Kia.

Practically Sized
The Sportage drives small but doesn't feel claustrophobic in the cab. Four adults can occupy its seats in comfort, and a weekend's luggage for everybody would easily disappear in the cargo hatch.

Meanwhile, in the dozens of parallel parking jobs I had to do with this car, the Sportage seemed like it could pretty much sneak into even the lean scraps of street parking, which is hugely helpful for city living.
And yes, the slightly elevated ride height everyone's always citing as a big appeal of crossovers does make navigating traffic a little less stressful. And I will admit that this is easier to get in and out of than a similarly-sized sedan.
Gaze Upon Heaven And Move Upmarket
Panoramic sunroofs have been around for a long time, and have worked their way into pretty much everything from sports cars to pickup trucks. But some are still better than others, and my goodness, the optional immense invisible roof is really quite spectacular.

It's barely interrupted by one thin crossbar, and the way the roof curves makes it seem even larger than it is. And it pretty much occupies the entire ceiling from just ahead of the driver's hair to right on top of where the rear passengers sit.
The roof takes forever to open because it's so freaking large, which is the Sportage's one opportunity for designed drama and it's delightful. If you buy a Sportage and want to skip the roof, I beg you to reconsider. It takes early morning and twilight drives to a new level of nice.
On The Road
Driving the turbocharged Sportage SX is generally effortless, if unremarkable. Acceleration and braking are more than adequate for normal driving at and around the speed limit. There's enough juice in reserve to make passes, usually, and the steering is sufficiently responsive.

There's not a lot of excitement to unleash if you hold the gas pedal to the floor, but I can't imagine many people looking to buy one of these will care. Noise, vibration and harshness are all pretty well ironed out, which anyone could appreciate.
It's probably not a good idea to talk about the non-turbo version without driving it, but based on my impressions of this SX I think it's safe to assume the Sportage that's down about 60 ponies would be much more lethargic.
The Sportage is a pleasant pod to shuttle yourself around in, and it responds well enough to inputs to be satisfying in commuter driving. It's just too bad that it wants to drink so much fuel while going about its business.
Quiet And Comfortable
The SX trim I tested had a cool two-tone decorative dressing going on on the seats which I really liked. That seat, by the way, was a really nice place to park my butt.

Between the Sportage's solid visibility, smooth ride and supportive seat I felt like I could cannonball across America in this vehicle easily. That should mean running to your kid's school, the grocery store, and occasionally grandma's house upstate in one of these would be pretty painless.

Verdict
The 2018 Sportage doesn't really have a sense of humor or any hidden talents, but it's a friendly daily driver that's just the right size and never frustrating to be stuck in.

That panoramic sunroof I gushed over is cool enough to elevate the experience of owning one a lot, and really does make the interior beautiful with natural light as long as you don't open it at high noon.
Unfortunately, the Sportage's weak fuel economy really puts it at a disadvantage against the all-wheel drive 2.4-liter Honda CR-V (which gets a superior 27 mpg in combined driving). The Toyota RAV4 and Mazda CX-5 also get around on less gas.
But I will say the Sportage SX felt damn decent inside, and its no-nonsense interface is really appealing.
2018 Kia Sportage LX FWD Specs
Engine type
Regular Unleaded I-4
Transmission/Drive
Automatic w/OD