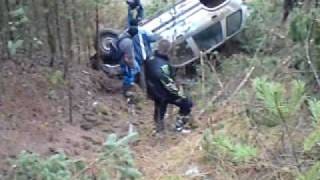 The Kia Sportage may be an underrated compact SUV, but it's not for off-roading. This enthusiastic Polish Dakar wannabe finds out the hard way, nearly starting a forest fire trying to get it to turnover. (H/T to Mateusz) [via Motofilm.pl]
Remember when Kia was used as a foil to modernize Yugo jokes? With the Forte, the Forte Koup, Soul, Sorento and 2011 Kia Sportage, the brand's becoming relevant, at least in looks. Don't think so? Check out the current Sportage.
This spy photo from Auto.it purports to be the 2011 Kia Sportage. We'd be more likely to believe it if the shot didn't make it look so much look like the 2011 Kia Sorento.
The aging Kia Sportage, though not actually sporty, is finally getting a facelit, as seen here in photos snapped by the intrepid spy photographers of KGP. Exterior upgrades appear to include new front and rear clips as well as what could be a new vent-like design element near the A-pillar. Inside, there's the…
Obama-mania is spreading like a virus into advertising as Comedy Central's "The Daily Show" found in this Dallas Area Kia dealer ad for the Sportage. Of course John Stewart ridicules the spot, which features not only a likeness of the Illinois Senator but a rip-off his "Yes we can!" catch phrase. If this is the kind…